Yesterday, the paparazzi managed to photograph evidence that Shakira vain feared that after giving birth she will not return to their previous sexual forms. 36-year-old fiery singer and her boyfriend Gerard Pique together resting on a Hawaiian beach, where Shakira has arranged a mini-fashion show of swimwear: first, it was in a bright pink top, underlining her tan, black a bottom of and translucent loin cape, and then changed them to black mini bikini is the most wonderful way emphasized her perfectly flat stomach.
So everyone could be sure that the due diligence and hard work, you can quickly reach the most magnificent results. Undoubtedly, such an example will inspire many pregnant women and women who have given birth, and we also remember other star moms with even more startling results of the return form after the birth.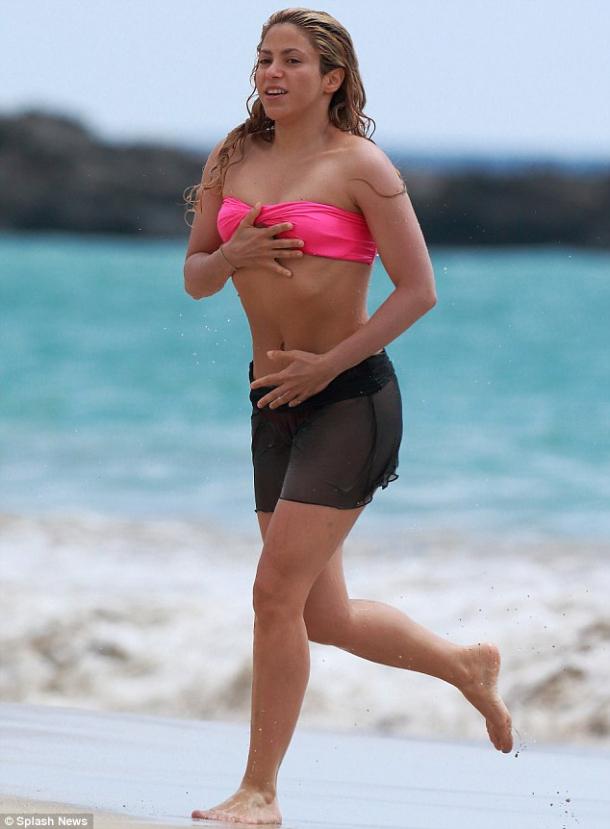 1. Heidi Klum.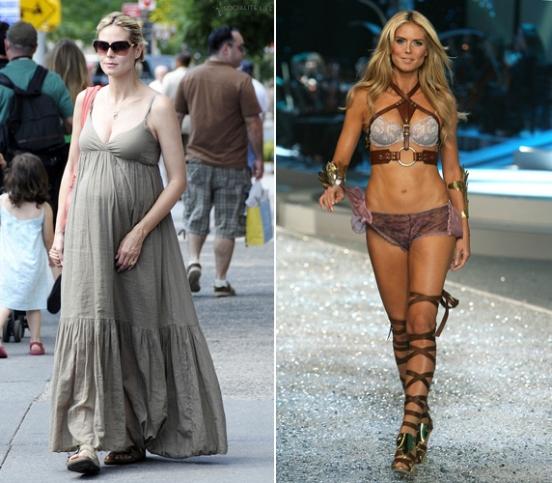 This incredible German - the most famous record-holder for the restoration of different forms. No one better than Heidi does not know how to quickly regain form after the birth - she committed this deed as much as four times. In each of his pregnant Heidi gained up to 20 kg, and after every delivery, including the fourth, after 3-5 weeks, appeared on the catwalks of Victoria's Secret shows in all its splendor and magnificence of the figure.
With age, more and more difficult to recover the shape. In the 36 years after the birth of their fourth child I had to work hard. But I'm sure, as it was not difficult for you - return the weight once, or extra weight will stay with you forever.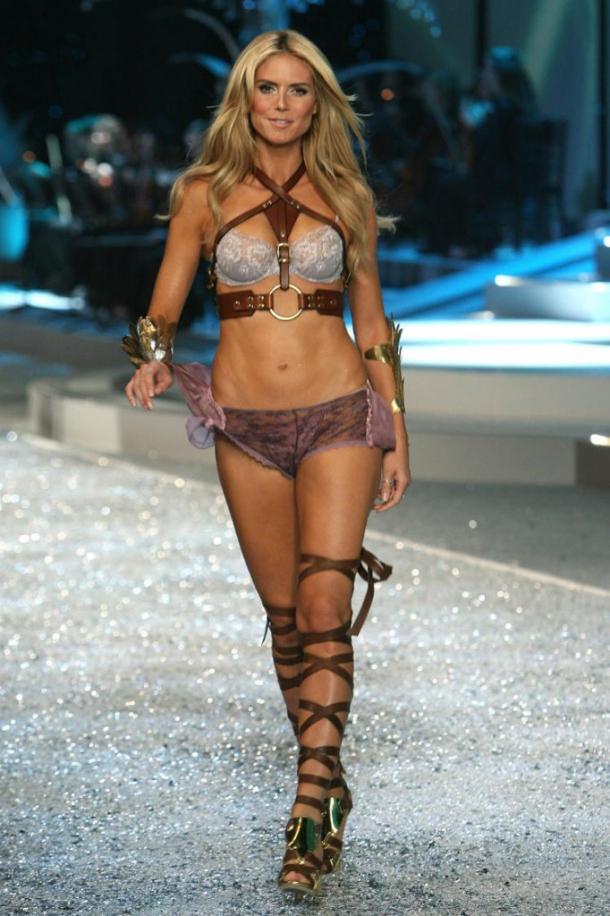 Secret supermodel in daily twice a day for sports with a personal trainer and a strict feeding schedule, which also developed her coach called "New York's main plan for the improvement of the body» («Ultimate New York Body Plan»). In addition, Heidi weekly pictures of themselves naked to specifically assess the results of each week.
2. Uma Thurman.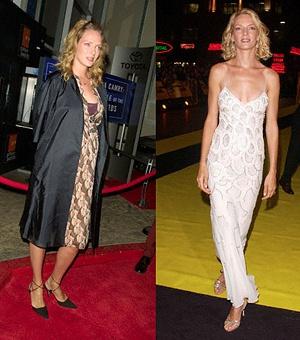 Quentin Tarantino wrote the screenplay for the cult film specifically for Uma Thurman. And no other actress in the role he did not want to see. Therefore, for the sake of her shooting postponed for a year that looks contemporary realities of the real victim. But Uma repaid him a true appreciation of the imminent return of its beautiful form, and after she recovered after giving birth to eleven kilograms.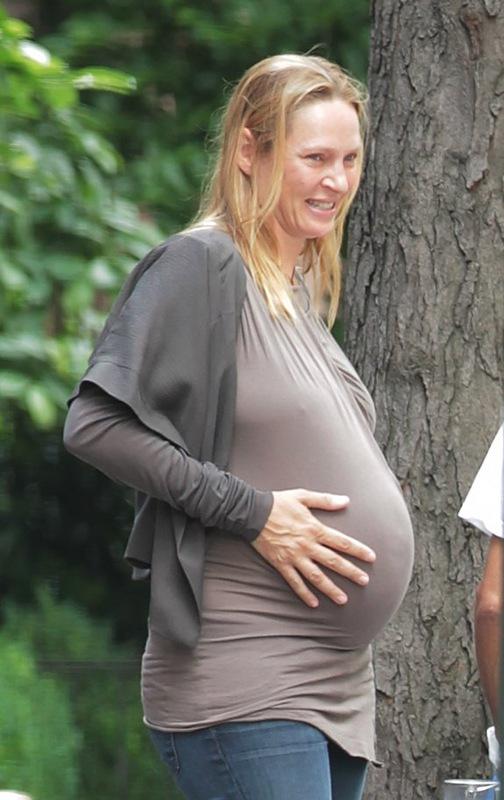 But just six weeks after the birth of her son she appeared on the set of the movie "Kill Bill" in all its former glory murderous. Slim, elegant and sexy.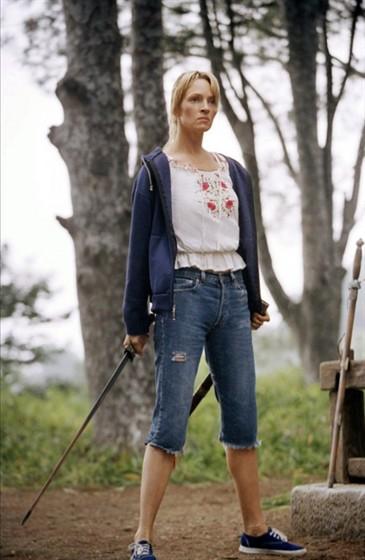 Mind, not sparing himself, worked from nine to five in the afternoon. She attended treatment with a sword, yoga, master of kung fu. For her, picked up a diet based on the philosophy of Zen Buddhism, in which food represents only way to maintain life, and not a source of enjoyment. The actress was forbidden to eat the bitter, salty, spicy, fatty, fried. In the minds of the diet included only rice, fish and meat, steamed beans, fresh and cooked vegetables and green tea.
3. Alessandra Ambrosio.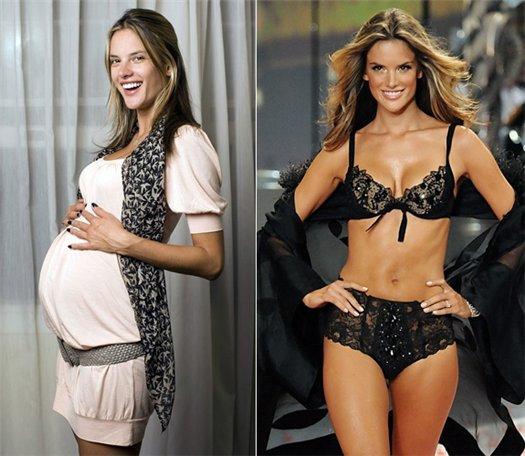 Another one "angel» Victoria's Secret also fueled the thought of the work he loves. And the return to the podium was to become not only a triumph, but also fast. And let it gained only 10 kilograms, in contrast to the same Heidi Klum, for the return of former sexy famous figures require more work and willpower. Especially because she is not a fan Alessandra gym and exercise, but ...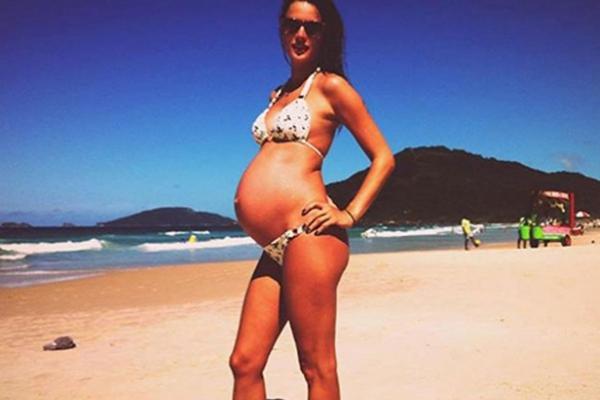 But after only three months after the birth of a daughter, "Angel» Victoria Secret vengeance boasting stunning body at the next show of the famous underwear brand: During pregnancy, my body has become sexy curves, which I really liked. Now, when I returned the form, I admit, a little volume, I would not hurt.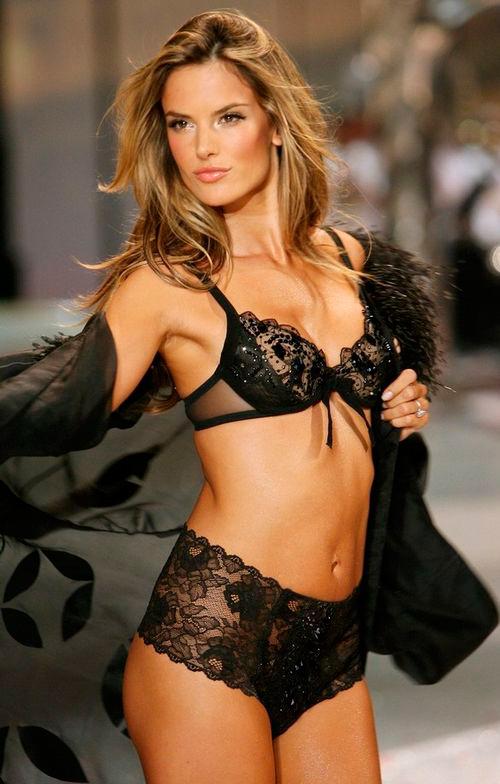 After the model has shared his secrets: the three months she worked every day under the guidance of her coach hired Liandra Carvalho: I was engaged in strength training, I took lessons in capoeira and samba. It's pretty fun, but it takes a lot of effort and energy.
4. Gisele Bundchen.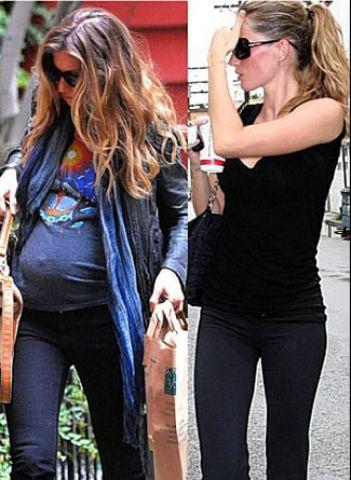 The most highly paid supermodel world once again only confirmed his hard work and fantastic commitment, regaining superfiguru as soon as possible. By the way, unlike many, Giselle and during pregnancy did not allow herself to relax too and indulge their whims, which are common to all pregnant women. On the contrary, the Brazilian beauty has continued to actively support the shape and strictly monitor their pitaniem.Dumayu that the main mistake many women is that during pregnancy they turn your body into a "dustbin". I am very careful to ensure that it, and scored less than 15 kilograms.
That is why the excellent results were not long in coming: I recently went to a kung fu. And three times a week engaged yogoy.I Gisele got what he deserved - it has never looked so incredibly sexy as in the campaign Calzedonia, two months after childbirth.
5. Nicole Kidman.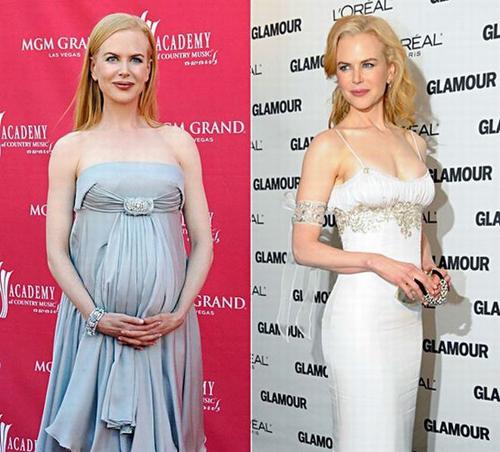 Not only that, it was the first birth of the actress, who has already turned 43 years old, so she still managed to return to the original slim figure in just a month. But she, too, has recovered to just over 10 kilograms.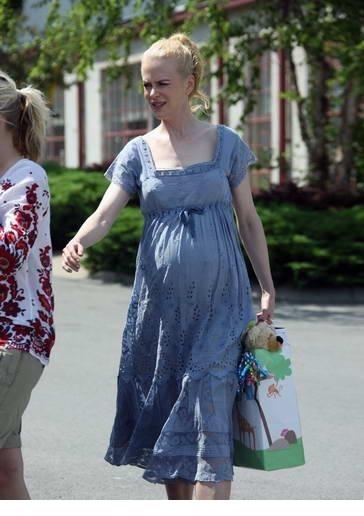 But the Australian star has come into shape very quickly, which surprised even the paparazzi. A month after the birth of Sunday Rose young mother looked even better than before pregnancy and gladly allowed herself to put on a beautiful tight-fitting outfits.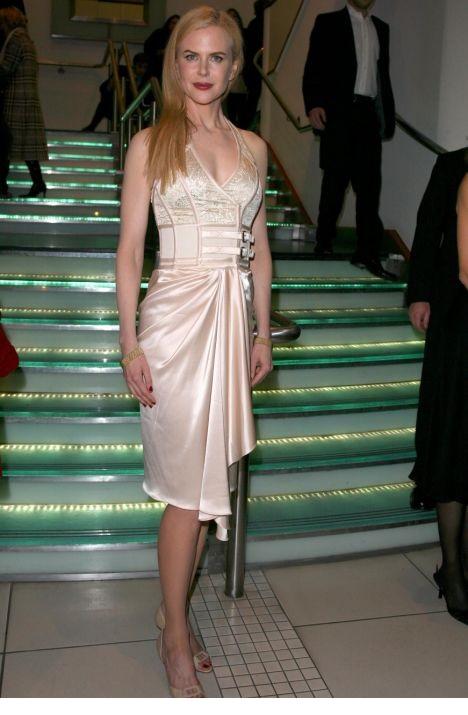 His secret Nicole calls yoga, which she threw up to the birth, as well as an incentive to participate in the musical "Nine," for which she was preparing immediately after a daughter into the world. Therefore, the actress was dancing every day for several hours a day. In this regard, the choreographer Paul God even when he moved to for some time to the actress's house to not be distracted by Nicole trip to the studio and back. I am by nature a very thin, but can not imagine life without sports.