I think that will not be mistaken in expressing thoughts aloud, nostalgic for normal fighters, part of the population, namely: "We all have been waiting for the new grinder from Stallone!" And it will be true. Well, and waited. Group slightly fighters led by the aged Barney Ross, nicknamed Chizo (Sylvester Stallone) goes to some another "Honduras" to save the inhabitants of the country from a bad ruler. In a very, very large amount of money of course. Modestly armed (we will not take into account small firearms), whether they get into trouble, or they create such a terrible brawl, which can survive only hardened fighters. Corpses lie the mountains, the river poured bullets, explosions follow one another, stopping only to military friends were able to spread a couple of catchwords, without explicitly not normative vocabulary. And of course everyone wins in the end.
Also, along with Barney destroy the army of the dictator and Lee Christmas (Jason Statham), Yin Yang (Jet Li), Gunnar Jensen (Dolph Lundgren), Hale Kaesar (Terry Crews), Toll Road (Randy Couture), Tool (Mickey Rourke) and Lacey (Charisma Carpenter). But the most interesting thing that appeared on the screen and the outstanding figures of the world fighters: Arnold Schwarzenegger (Trench) and Bruce Willis (Mr. Church). Even promelknuv on the screen, they create a special mood in a film such as "We do not remove anywhere." In conclusion, we can say the words of the song "Do not get old soul veterans!". Well, does not age!
The Expendables (The Expendables), US
Directed by: Sylvester Stallone
Cast: Sylvester Stallone, Jason Statham, Jet Li, Dolph Lundgren, Eric Roberts, Randy Couture, Steve Austin, Terry Crews, Mickey Rourke, Gisele Ite, Charisma Carpenter, Bruce Willis, Arnold Schwarzenegger and others.
Produced by Guymon Kesedi, Boaz Davidson, Danny Dimbort
Operator: Jeffrey L. Kimball
Writers: Dave Kallahem, Sylvester Stallone
Composer: Brian Tyler
Premiere (World): August 3, 2010
Premiere (RF): August 11, 2010
Budget: 80,000,000 $
Posters for the film: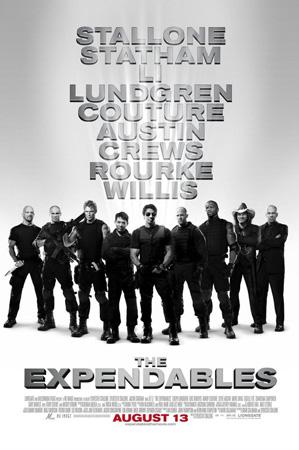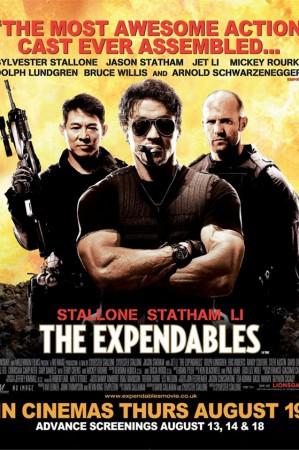 Stills: