Last weekend in Tver and the Tver region occurred traffic jams caused by heavy snowfall.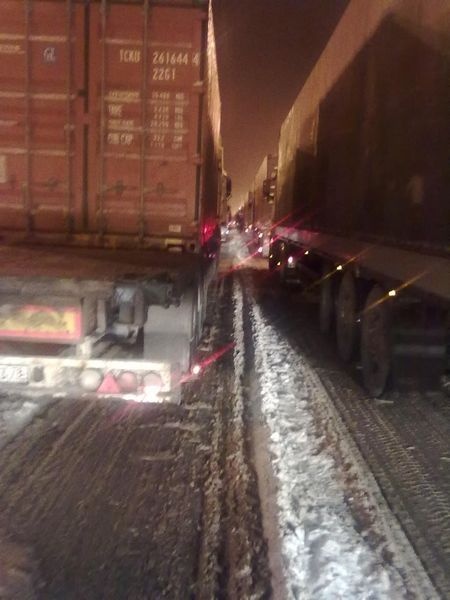 These messages we moluchali on Friday and over the weekend, is not so smooth, as reported on television:
30.11-02.12. 2012 is the third day at the country's main road connecting Moscow and St. Petersburg, hundreds of cars are in traffic, which, as reported Vesti.ru, stretched for 200 km. "No food, fuel ends. People do not see any aid, which allegedly proves. Condition of the driver close to mental collapse, "- said one of the drivers that are on the highway M-10. Volunteers from Tver search group "Owl" engaged in the collection of water and food for the drivers stuck in a traffic jam on the highway "Russia", according to Lenta.ru.
"What a fucking government!?!? Simple Tver guys and girls carry about food, water, cigarettes, bought with his own money and handing us! And this snickering and bold zavorovavshimsya top bitches not fucking have to! The fourth day the snow can not clean up, we're living in Africa !? "- wrote in the group in the social network Vkontakte.
What is actually happening on the highway M-10 is not clear - reports that everything is in order and reports of hundreds of trucks, which remain in place, replace each other. Contradictory information and that there is now Lenigradke really nobody knows.
Tvergrad.ru: For three days, heavy-walled up in a giant traffic jam on the federal highway M-10 in the Tver region. And, apparently, many of them will have one more night in a traffic prison.
Eugene Heller: "bowl of soup has 120 rubles a pack of cigarettes from 200 rubles, parking 500-1200 rubles for refueling finishes, the local population carries people to the stores for instant noodles ... And The Marauders CAFE raise prices by 3-4 times !! !!! "
Here are some photos taken in the last two days: