Russian idols famous bodybuilder and actor from the United States - Arnold Schwarzenegger.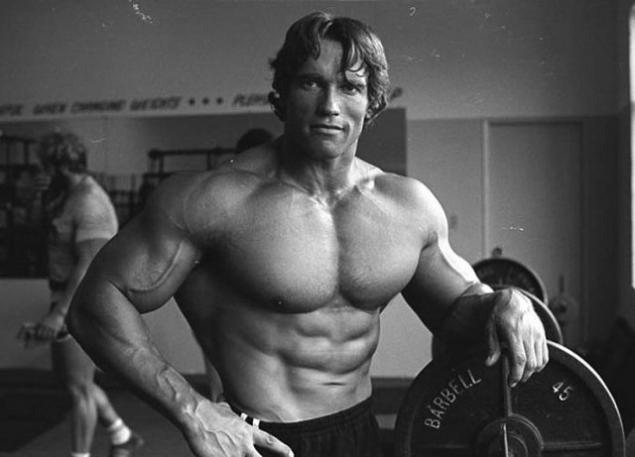 Arnold Schwarzenegger - the idol of millions of Russian guys '80s and' 90s, and to this day is an idol for many. He - sample enviable physique, the personification of the true "screen" courage.
Almost all of our young men in the house hung a poster on the wall with an iron Arnie. His twenty times photocopies of photographs adorned in all sports clubs basement. His biceps and really did look of the guys men, forced to drag three hours post made of scrap screwed at the ends of the brake pads from the locomotive.
He had all the chances to become President of the United States. But, unfortunately, under the Constitution, the one who was not born in America, does not have the right to be head of state.
We thought, and who was the idol at the very Arnold? Who was the impetus for him? Whose posters hung in the "rocking" in Schwarzenegger?
Our Russian athletes! Yuri Vlasov, Vasily Alexeev and Leonid Zhabotinsky. How sad that young people today do not know these names.
Yuri Vlasov
A living legend! Great warrior! A role model of a whole generation of people around the world.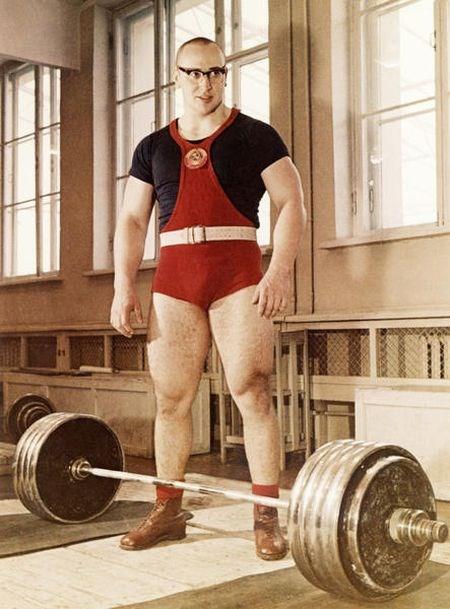 In 1960, at the Rome Olympics athlete set a record among the four heavyweights. Swedish newspaper "Idrottsbladet" then wrote: "Vlasov - a sensation of sensations! His performance was so stunning, so fabulously unusual, that it can not be compared to any single event in the history of the Olympic Games. In world sport Nobody was so great and inaccessible. He - the standard of the athlete and a brilliant representative of his people & quot ;.
During his professional career has set 31 world record. Olympic champion in 1960 in weightlifting in the heavyweight division. Silver Medalist of the Olympic Games in 1964. The standard-bearer of the USSR team at the opening and closing of the Olympics 1960 opening game in 1964. World champion in 1959, 1961-1963's. European champion 1959-1964 period. Champion of the country's 1959-1963. World record holder in the 1959-1967 years. After leaving the sport, he left his future weightlifter developed a unique system of training.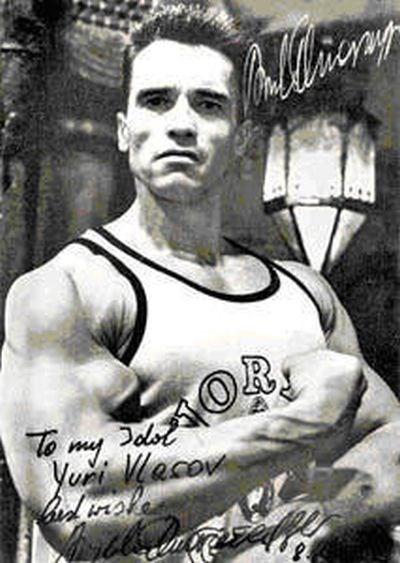 To understand how great was the respect for the Vlasov in the USSR, it is enough to know about this case: in 1961 TV invited to the studio three legendary people - cosmonaut Yuri Gagarin and Gherman Titov, Yuri Vlasov and athlete. Gagarin and Titov came first and waited for the start of filming, sitting on the couch. When I entered the captain-engineer Yuri Vlasov, two major instantly jumped up and snapped to "Attention!»
Vlasov and Schwarzenegger met in 1961 in Vienna at the World Weightlifting Championships. Each Vlasov Austrian weightlifter Heltke asked "moral support" of his 13-year-old student. Schwarzenegger remember this meeting for a lifetime. In 1988 he came to Moscow for the shooting of the film "Red Heat". First went to visit Vlasov. Donated to the Russian athlete Schwarzenegger photos says: "Yuri Vlasov, my idol, with love and bow».
Leonid Zhabotinsky
Another man of legend. Two-time Olympic champion - 1964 and 1968 (in the 1964th won the most Vlasov). During the four years has the title of "the most powerful man on the planet" (World Champion 1964-1966, 1968). European Champion - 1966, 1968 Champion of the USSR - 1964-1969. World record holder - 1963-1970. Set 21 world records.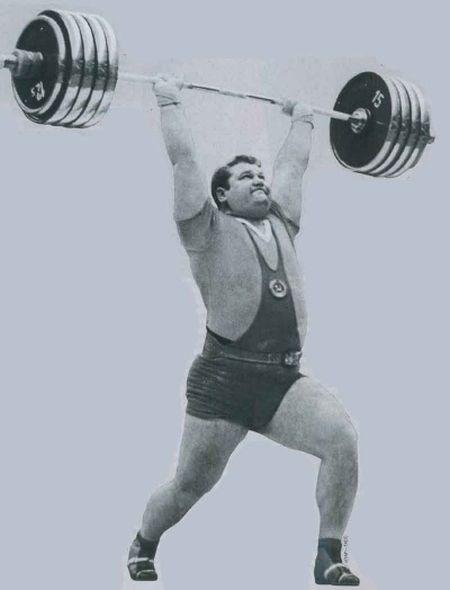 "I was rooting for you since childhood. Even during the Tokyo Olympics, although there were Americans Shemanski and Gubner. For them, of course, I also experienced, but for some reason I wanted to win was you "- these words said Jabotinsky Schwarzenegger during their meeting in the US, where Jabotinsky came at the personal invitation Arnie.
Vasily Alexeev
Olympic champion in weightlifting in 1972 and 1976. Eight-time world champion. The six-time European champion. Seven-time champion of the USSR. The holder of 80 world records and 81 records of the USSR!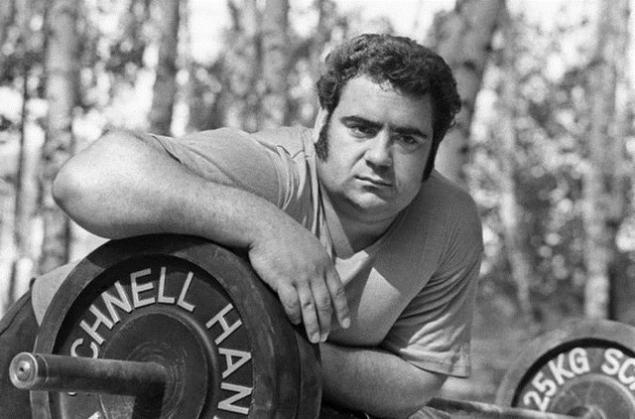 Opened the era of "shestisotnikov" first conquered the peak shestisotkilogrammovy.
At the 1970 World Cup in the United States put in place the main competitor American Dzhozeba Dube, who promised to "defeat the Communists." Alekseev lifted 500-pound barbell, six thousandth American audience stood up and gave a standing ovation to the Soviet athlete! They hugged and cheered as if their athlete won!
After retiring from active athletes, Alekseev continued his career as head coach of the USSR. He set another all-time record - when it no member of the team did not receive any injuries, and no one received a score of zero in the competition.
And who knows what would have been the Iron Arnie what he became, if our guys also starred in the movies? Known it may be, and it would be, but for the most part of the world fame just had to share with our heroes!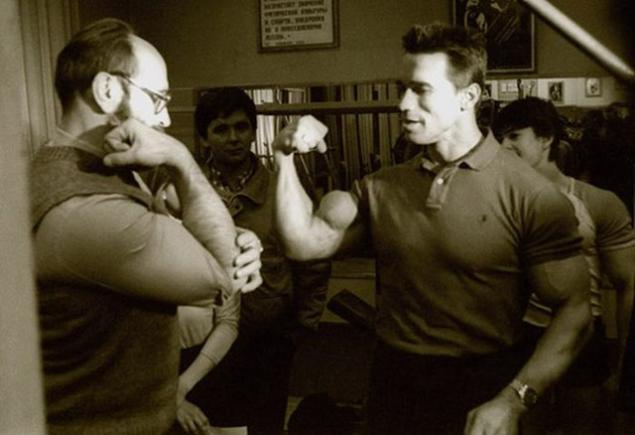 Stadthalle hall was packed. Duel most powerful people on the planet crowned world championship weightlifters 1961. Before going on stage to our legendary Yuri Vlasov came his longtime companion Austrian Heltke and said that he has a very strong boy. And if it is morally Vlasov "frighten", it will be very ... From teen will sense.
When passions subsided on the platform, to Yuri Petrovich led slender long-necked creation of thirteen. "For him, I was like a god, he was in love with power - remember about that meeting Vlasov. - I showered him then a whole slew of words - was in great heat of the moment, and probably why they sounded very convincing: Never, under any grief, trouble, spine damaged, broken arm - do not give up! Train and victory will be for you forever. And thank. You have excellent bone, muscle, look. The main thing in sports - not a coward! »
... In 1988, Vlasov called and reported that Schwarzenegger finished filming "Red Heat" does not want to fly away, passed the ticket until he sees.
With great surprise I saw Yuri Petrovich this huge man who reminded him of the meeting at the World Championships in Vienna. After a long voltage Vlasov remembered. Then Schwarzenegger admitted: "You know, your words have defined my life. I then became a champion, I married Maria Shriver of the Kennedy clan. I have all gone differently, so I think you're the one who owe everything. In memory of this meeting our wonderful athlete and writer and publicist have a photo of teen idol 80 with the inscription: "Yuri Vlasov, my idol, with love and a nod".
And the Arnold of that meeting recalled: "It was still a child when my friend and I arrived in 1961 in Vienna for the world championship in weightlifting. We are, by and large acquaintance, held in the locker room. And here I saw Vlasov. Directly emanated from him somehow invincible serenity. Everything since then he became my idol. I even shook his hand then. Actually, to be honest, because of him engaged in weightlifting, and then athletic gymnastics. Many times won the championships. Always next to me was Vlasov. I have something and flew to Moscow with the idea necessarily meet this living legend "...