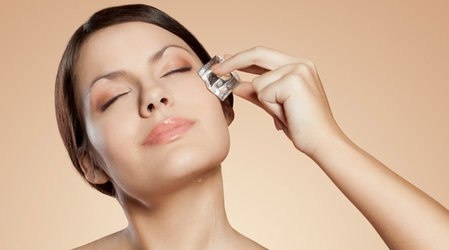 1 tbsp. spoon of green tea, 1 sheet nori for cooking and sushi rolls (cut into pieces) or 1 tbsp. Spoon seaweed (algae), 1st. 1/2 teaspoon fresh or art. spoons dried mint, 1 tsp. lemon juice, 1, 5, or mineral glass of ordinary water.
Water boil. 1 cup cool to 80 ° C, then brew it in green tea.
Pour boiling water mint and nori.
If you want both, strain the infusion, but this is optional - natural inclusions is now in vogue and looks very organic.
Connect infusions, let them cool to room temperature and add the lemon juice.
Pour the tonic on the forms to be frozen, place in the refrigerator and allow to completely freeze. Use the tonic every morning to your face faster "woke up" and skin was fresh and supple. Ice, you can simply wipe the face, but more often advised to wrap an ice cube in a soft natural fabrics and face massage on massage lines. Do not massage a long time, not to get sick because of the strong supercooling.