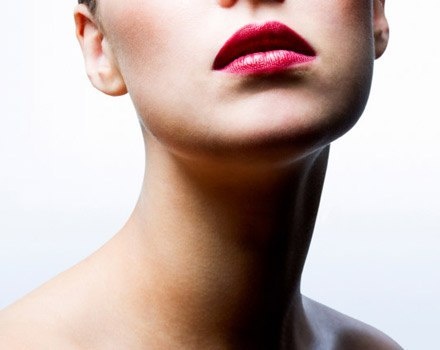 How often can see the following picture: sitting in front of you young girl with a beautiful figure and perfect skin and neck and décolletage she covered a variety of wrinkles, look flabby and repulsive. Unfortunately, it is this area gives the true age of the woman as subject to aging is much stronger. But do not despair, skin neck and neck can take care of, and the aging process, if the time to get down to business, it is easy to reverse.
Care for neck need daily, as well as skin care. Sebaceous glands are much smaller, therefore, the skin in the area more vulnerable to adverse environmental factors. In addition, regular exercise, close or too loose underwear and unhealthy diet can cause premature wrinkles on the neck and around the neckline. That is why it is very important for women to know how to properly care for this area to keep it young and beautiful for a long time.
Beginning with 25 years requires periodic skin care neck: moisturizing, toning and hydrating mask, and after 30 years of treatments should be mandatory and aimed at rejuvenation and intense power. Masks for the neck can be cooked in their own home, their effect did not give way to the salon counterparts.
However, if you need a crash course humidification or power, it is better to turn to professionals. Beauty salons experts pick up the individual program to restore your skin, and the components of salon masks and creams will have a rapid impact and help you regain the elasticity of the neck and smart appearance.
Go to the beauty salon constantly, unfortunately, can not afford to every woman. That's why regular skin care in the neck and the neck should be at home. Very good nutritious and has a tonic effect mask of banana. The flesh must pyurirovat and mix with olive or linseed oil. The resulting mixture was applied to skin for 20 minutes and then washed off with warm water. For intensive rehabilitation in a mask of banana can add cheese and heavy cream. Dairy products make the skin soft and velvety, enriching the upper layers of calcium and banana tones and gives a healthy look.
One of the most popular masks with strong moisturizing and nourishing effect - a mask of egg yolk. Yolk mixed with honey and olive oil, the resulting mixture is gently applied to the neck and neck for 15-20 minutes. To moisturize the skin enough to impose one egg yolk with no additional ingredients, but in case you need additional power, it is useful to add the butter and honey. Incidentally, the oil may be not only olive, linseed but also, peach, or any other.
Do not forget that every mask must be imposed on cleansed skin. Care for neck and neck area is best with a special nutrient gel or lotion, which do not dry it, and provides additional moisturizing effect. In addition, for best results, the mask must be alternated with a series of contrasting compresses and gentle massage.