32-year-old Austrian daredevil Reinhard Kleyndl (Reinhard Kleindl), to achieve the world record, decided to pass on a rope stretched between two skyscrapers at a height of 185 meters.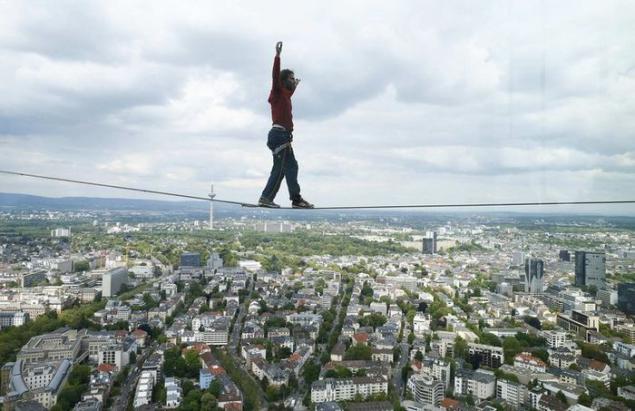 Watch your feet! Austrian Reinhard Kleyndl tightrope walker balancing on a rope stretched between two skyscrapers at a height of 185 meters. Frankfurt, Germany, May 25, 2013.
Reinhard, using only his hands for balance, took two 30-meter polyester rope assigned to the two wings of the U-shaped urban skyscraper at 185 meters above the hundreds of cheering supporters. This presentation took place in the German city of Frankfurt skyline during the festival, which began on April 25.
After the end of a walk, Kleyndl shouted with joy and at the same time admitted that he was afraid of height.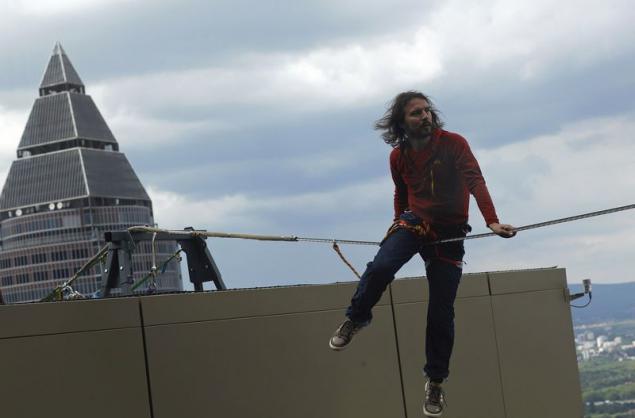 "The effect of height was worse than I expected. The straight lines of the building seemed to be endless, "- said the Austrian.
Earlier Kleyndl studied particle physics, but parallel fond kanatohozhdeniem. Before becoming a professional tightrope walker, he must repeat his achievement even three times in two days at the festival of skyscrapers, which began on Saturday.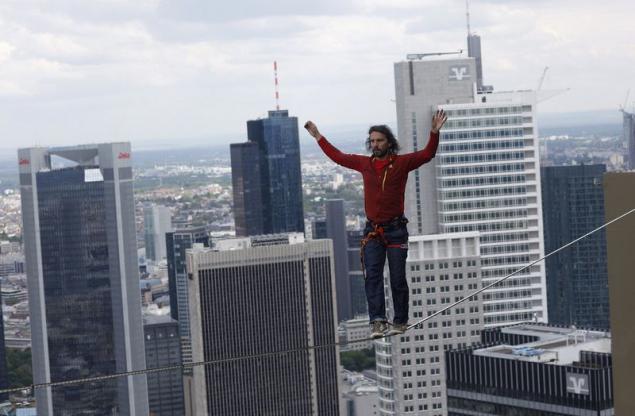 The event is expected to one hundred thousand visitors. They will be able to enjoy a variety of theatrical performances, participate in outdoor celebrations, flying in balloons. Visitors will have the opportunity to inspect high-rise buildings that are closed at the usual time to visit and enjoy the city views from the breathtaking heights. Spectators are expected performances of rope-walkers, urban climbers, skateboarders and musicians, light shows, launching hot air balloons and many other spectacular sights.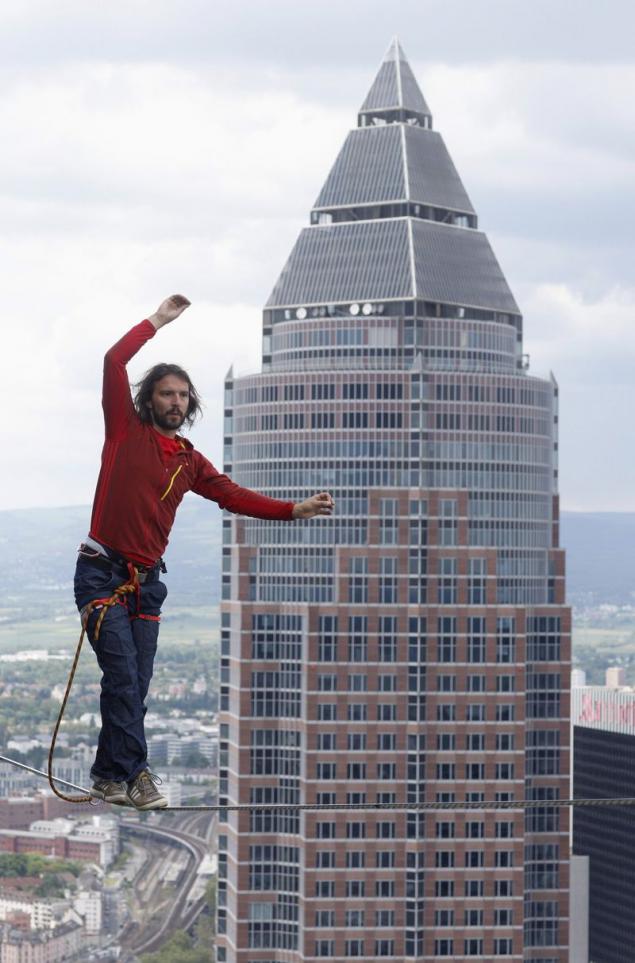 Frankfurt wonder chosen venue for such an event. It is located on the territory of Frankfurt, one of the highest buildings in Europe. This year the festival will take part skyscrapers hotel «Jumeirah Frankfurt», a height of 25 floors.
It is not known if the record Kleyndla will be counted as on-site were no official representatives who would it count. By the way, the previous record was set by a group of French on line about 120 meters above the ground, between the twin towers Les Mercuriales in Paris two years ago.
Source: vova-91.livejournal.com