Chinese people are very serious about the Mayan predictions.
They are ready to meet the December 21, 2012 fully armed.
Let's look at the invention, which cost a lot of money and are able to protect them from natural disasters.
1. Rescue compartment Dean Huashan
Late last month, a Chinese newspaper West China City News published an article about the people of the city of Chengdu, who spent the first test of his hiding place in the event of the world. Dean Huashan container was placed next to the 10-story hotel, designed for demolition. While undermining the building housing the container a little hurt. Author of the project is already working on the bugs, updating the design of its rescue container. Chinese compartment is made in the shape of a cuboid length of 3 meters, a height of 2, 7 m, a width of 2, 3 meters and a weight of 2, 5 tons. Designed container for five people who, according to the creator, can independently be there fully closed for more than four days. What to do then the author does not specify. In the case of really major disasters this project automatically becomes the crypt.
2. Project "Atlantis»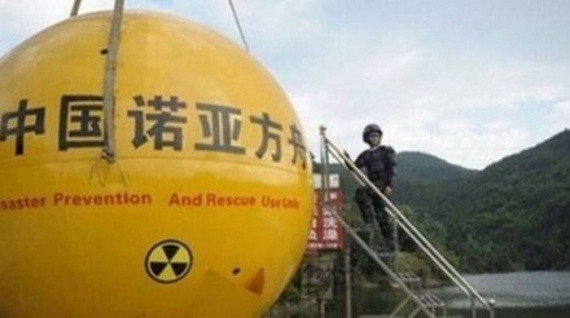 Businessman from Yiwu city of Zhejiang Province named Jan Tszunfu using a commercial event, designed the project of salvation called Atlantis and has already received more than 20 orders for it. Capsules can be Jan various modifications, their price is from 1 to 5 million yuan ($ 159-800 thousand.). According to the specifications, the "Atlantis" in the shape of a ball weighs about 6 tons, able to withstand temperatures up to 1700 degrees Celsius and the impact force of 350 tons. Four-meter diameter sphere does not pass radiation and afloat. a first ball-shaped diameіrvypolnenny 4 meters in diameter and weight, and also can not fly, and even radiation passes.
3. "Noah's Ark" Lou Chzhenhaya
November 23, the Chinese edition of China News reported that a resident of the Xinjiang region named Lou Chzhenhay, fearing that during the Apocalypse their village was flooded, spent all their savings, more than one million yuan (US $ 159 thousand.), To build the ark. Vessel weighing 80 tons, length 21, 2 meters, a width of 15, 5 meters, a height of 5 and 6 meters and a displacement of 140 tons, is equipped with three diesel engines with a total capacity of 540 horsepower. Project Ark Lu has developed an entirely himself. He has long been studying the "Book of Changes" and divination, and I am sure that the Apocalypse is really close. I wonder what he will do with his ark, when you realize that he spent all his money, and the end of the world did not come?
Source:
www.epochtimes.ru
-