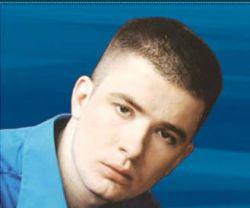 Caused a stir with his performance at "Eurovision-2007" Danilko projecting the image of Verka Serduchka, answered the trickiest questions of readers of the newspaper "Your day».
Two hours Andrei received more than 200 calls from all over the world and gave his opinion about the sensational scandal of his song "Lasha Tumbal».
To the surprise of Andrew, many of the callers in the live broadcast of Russians supported him and confessed boundless love.
Support
 - Andrew, hello! My name is Oksana, I am from Moscow. Andrew, I live in Russia, but I think that the scandal, which is now inflated - just some nonsense. I did not hear the words in the song "Rush Lip-dai", but even if you have them and sang - nothing in this terrible there. What are your future plans, and when you act in Moscow?
 - Thanks you. I really did not sing "Rush, gud-bye," and is the fruit of a sick imagination of people who have hearing problems, and they need to see a doctor. I'll soon be singing in Moscow. I now have a lot of concerts in Moscow, and I think we will soon see you.
 - Hello, my name is Nara, I am from Moscow. Andrew, do not worry! Everything will be fine. You are a talented person. Let all the bad things will be left behind, and a good front. You're probably worried because of the fact that Russia is so bad now applies to you?
 - The scandal started a not Russian, but a group of people who for some reason I was wicked.
Success or failure, I always pick up the same. It's all dusty foam. I work for you. And the film, which is now hovering around me ... Everyone knows where it is. Smart people understand that this is done to discredit me.
 - Hello, this is Irina. I live in Berlin and I can say that here on your performances left a remarkable impression. Many Europeans are looking for your songs, but you have a very bad works. You will do something to promote themselves in the West?
 - After the competition I received many offers from well-known western companies that want to release my album. I will work. I think that in a month - two my drive will appear in the West, and you will be able to buy it. Just ask: do not succumb to provocation. And ... hello Berlin !!!
Maxim from Moscow asked a question that is perhaps most fans care about the artist:
 - Andrew, you are planning next year to perform at "Eurovision»?
 - I had such an idea. Moreover, I would like to make a star on the head twice. And if everything goes and be successful song ... I'll go next year. Wants it to be awakened sleepy. I had the important task of the "Eurovision": not to win, but simply to amuse the audience.
Clothing
 - Andrew, hello, this is Maria Ivanovna from Donetsk. Andrew, you were the best! I congratulate you. We would like to buy your suits. This can be done?
 - After the speech in Helsinki suits my impossible to buy due to the fact that they are very shabby! (Laughs.) But in the near future there will be icons, t-shirts, and you can buy them.
Oleg from Stavropol Danilko compared with the "Orange Lady»:
 - Thank you for the pleasure you brought us the "Eurovision". I see that you have grown out of the indoor slippers, which are all in the Ukraine, you are done. You know, in your way, I somehow learned Yulia Tymoshenko. It's so?
 - I always say that art should be an ellipsis. Each person must be associations that accompany performances, film, music and so on. D. It is very good that different people in different ways saw Verka Serduchka, and the boom is now happening in Europe - it's super. And the best indicator - are children. If they felt the negative of my songs, they'd never danced it. I think that with the release of a new program that will be above the level of this lather scandal that hovers around me, come to naught.
Private
 - Hi, this is Natalia from Krasnodar. Andrew, do you have a girlfriend?
 - No, I'm finding. Sometimes I answer this question as a joke.
 - I want you to answer seriously.
 - I'm talking through a serious joke: my whole life like that. I'm still looking for that unique.
A girl named Olga arranged artist currently questioning:
 - Andrew, and when will your new instrumental album?
I think soon. And will be released as two clips with a very famous person. In one of the clips will be removed and the Jura (the young man, with whom Danilko as attributed to the rumor, had a romantic relationship. - Ed.).
 - And why the Jura only one clip comes off? You and he will not be friends?
 - Make friends. I chose Yuri because it is very similar to me in 18 years. He sometimes calls me and asks, when I shoot it in the video, they say, come soon, I'm already starting to forget.
 - Do you have the song "22". This number has something to do with your life?
 - Yes I Am. It's the birthday of the person with whom we studied together in the circus school. He had great influence on me in terms of creativity. If this man did not appear at the time, everything would probably be different.
- You're talking about a girl?
 - No, this guy is my friend. You know, we have studied together for six years, but our relationship as something snapped after one of the conflicts. He now works in Germany. Now we have a good relationship with him and we talk on the phone sometimes.
In general, all the names of my songs are associated with certain stages of my life. Incidentally, the figure is 22 accompanying me all my life. I sit in the hall to seat 22, the hotel take number 22 and so on. D.
 - Do you really not have a girlfriend?
 - No. But I will say that I am not alone, although it is not a family. Of course, there are different skirmishes on the personal front, but it's not a serious relationship ...
Competitors
 - Hi, this is Wah, Georgia. How you been? We are worried about you!
 - Oh, hi, gamard zhoba. Everything is fine, thank you. By the way, your girlfriend from Tbilisi Sopo I liked the competition. She is very sweet and charming, and I would like everything to be good at it.
 - Hello! This Ilya from Italy. Andrew, as you Serbia?
 - Sherifovich very talented. I understand that we were not given to the first place: it's all politics, difficult situation in our country has played a role. Now the election is imminent, and to hold the competition, you need a lot of money. I think the committee "Eurovision" play it safe and gave first Serbian, and she deserves it. Second place - it is also very cool. For me the most important thing is that the song caught the whole of Europe. It's nice to any artist.
Criticism
Peter V. from Voronezh was one of the few who did not praise Serduchka:
 - Andrew, you would go from Russia! You have filled their pockets, and now very quietly spit on this country. So, good-bye! Forever!
 - Peter, are not you ashamed to say such things? You now succumbed to the zombie. Strange, but it's not true. Do not you understand that?
 - Hi, my name is Irina, I'm from Pyatigorsk. And what does "Lasha Tumbal»?
In fact it is gibberish. It's like "mambahara mamburu" (The words of the song of the "leg cramped." - Ed.). But there is a word "bash Tumbal", it means the Mongolian frothed milk. I just decided to add a couple of letters. Literal translation: I want to see you whisking butter.
 - Hey, it's Maxim, Sergiev Posad. Andrew, you really did not sing "Rush, gud-bye»?
 - Damn, I do not sing. This is just nonsense and lies.
 - Well, okay then. Then, we love you and respect. And honestly, I'd like to see you sometime. Tete-a-tete.
 - Well, come now like me and the boys and girls. Maxim, thank you for the kind words, I am pleased to hear them.