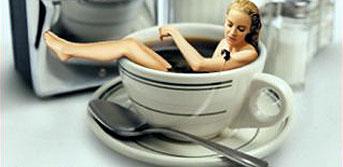 Monday. Morning.
So-so. He dressed and left the house and dragged her to work. And who will have breakfast?
Where is my porridge ?! Yeah, come on, smoke more! But I tell you right now kulbitik! Opa! Bad, huh? Needless to smoke on an empty stomach. What happens at all ?!
Day. Well, everything is clear, on Saturday, she thought she had cellulite and Monday we're on a diet. Pancake! And I asked someone at all ?! Well, no, I do not bang with me, such experiments will not work! Turn average wildness. Uh! No, beauty, shove your kefirchik currently know where! Enhances bubbling, add sound effects, preparing for illustrative somersault.
Evening. I WANNA EAT!!! I WANT ZHRA-amb! GIVE FOOD! I demand a pork chop !!! ZHRAAAAAAT !!!
Night. Fuck you, and not a dream! I do not shut up, very stupid - I'm hungry. Do I want to, you know ?! I purple to your diet. I want. There is. Come on, yeah, try to go to sleep! Borschik would now, with sour cream! ..
Tuesday. Utro.Ta-a-ak! .. Continues to torment me so? Again, I no porridge, huh? Your cabbage leaf esophagus with hunger digested before I even did not reach anything! Damn, well, I got a fool! All night long envied stomach Natalia Krachkovskaya ...
Day. My strength is running out, sending impulses to the brain, the brain sends these impulses in the ass, ass yet so simple no one returned. Damn, what do you do? Kefir again. NOT LOVE !!!
KEFIR
Evening. Burle last strength - does not pay attention to me, snake!
Night. And tasty, if a young potatoes fried in butter, with a golden crust and with sour cream, and, behold, the mushrooms. Very tasty, you can fry ... burll!
Wednesday. Morning.
Perepalo little salad - grows well on land such rubbish! .. Began to forget the taste of porridge - something gentle, warm, enveloping Bu urlll!
Day. Hooray!!! Kefirchik! Kefirchik! I also want to, do not take away, AAAA! Kefir MORE !!!
Evening. From I have nothing left - me neigh pelvic organs. I ssohsya shrunk! Barely digested two radishes, losing skills.
Night. Here, I remember when we lived with parents every night for dinner was soup! And salad. And second, a side dish with meat - we Dad's stomach in two voices murmured with delight! Oh, and what you suffered independent life ?!
Thursday. Morning.
If I could not smoke! I'm sorry, dear, I involuntarily - well, never mind, I'm empty, so potoshnit and let go ... And where I put salad ?! SALAD WHERE ?! Lawlessness!
Day. Great, yogurt! It is necessary to you to digest more slowly, and then sit here until tomorrow and then another, like a fool.
Evening. I talked with the intestines - they are all there, too shocked to say the stocks at the end. You can not so - recently selected! Oh, oh, be careful! Such large plum - and me ?! Damn, everything went to digest!
Night. These wacky plum - FSE not dopevevavivayu them all worn out! ..
Sorry guys, I send to you that I can not - you are really there to do more to deal with them, you there 8 meters, and I am one!
Friday. Early morning.
We sit in the toilet, accompanied by plum.
Morning. Wow! I got yogurt! Can plum RIGHT her brains ?! Often have!
That would be potatoes for lunch! With chicken!
Dinner. Kefir.
And the birthplace of gastric juice generously gave to drink you!
Evening. We are sitting in a restaurant with some guy and sniffing someone else's food. Well. Come on!
Order yourself something! We ate all week not ... Quiet! He told her that she was very thin! What does she want to eat! What it looks great! Well?! Ai, umnichka! Ah, but a man !!! There is! Pronyaev! Now I'm going to eat !!!
Late evening. Nuuu rages ... ... chtto something in me ponameshshshl la ... Et something we w-what?
Mushrooms and the uk! Martini Bu burlll about, vodka! respect! As well, my friends! Shut up, the liver, vssse under control! ..
Night. Farewell, mushrooms! Vodka, goodbye! Potatoes! .. I hope you choke, Ihtiantdr! When I think how much good is lost!
Oh, mineralochki, come on! we were just on a diet.