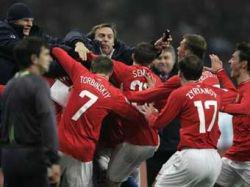 The Russian national team beat England in the final qualifying match of Euro 2008 Group E Team Guus Hiddink, playing during the match, managed to snatch victory with a score of 2: 1. This result means that the Russian team retains a good chance of getting into the final of the European Championship.
Now, the Russian team 21 points after ten games held, and while the team remained in third place in the group. Ahead of the Croatian national team (26 points, 10 matches) and England (23 points, 11 games). These teams will play in November of each other. Russian national team left to play matches against teams of Israel and Andorra. In case of victory in both meetings Hiddink's team regardless of the outcome of other meetings will participate in Euro 2008.
Playing in the "Luzhniki" took place with the territorial advantage the Russian national team, but in the first half, the British acted sharper. They possessed the ball less, but much more quickly brought him to the gate of the Russian team. At 29 minutes after rebate head by Michael Owen returned to the composition of the England team Wayne Rooney struck the gate of Vladimir Gabulov.
The Russians could not confound the opponent's defense, although Diniyar Bilyaletdinov was the moment to score: after the transfer of Andrei Arshavin, he was in a better position, but his shot hit one of the defenders. Dangerous blow inflicted and Konstantin Zyryanov, but his shot was parried by goalkeeper Paul Robinson.
At half-time and the beginning of the second half, Hiddink has made changes in the composition instead Vasili Berezutski and Aleksandr Kerzhakov on the left Spartacus Dmitri Torbinski and Roman Pavlyuchenko. With their output on the pressure on the gates of the British was strong, and in the 69th minute after the transfer of Arshavin miraculously Zyryanov out, but that knocked in his own penalty Rooney.
Spanish referee Luis Medina Cantalejo awarded a penalty, which is surely realized Pavlyuchenko. After 73 minutes, the leader of the championship race bombardirsky Russia successfully played on finishing and led the Russian team forward. Score 2: 1 is preserved until the end of the match, although both teams had opportunities to score more. Live broadcast of the game led the first channel.
A source