6th
International Finance Centre (Tower 2)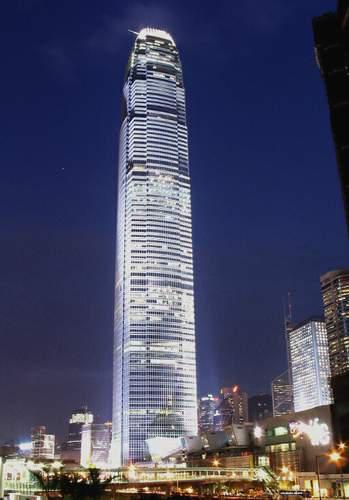 Construction was completed in 2003, designed by Cesar Pelli, is a building with a height of 420 m. Is now the highest in Hong Kong. The building has 88 floors (extremely auspicious number in Cantonese culture En.wiki Numbers in Chinese culture), and 22 trading floors.
Skyscraper was built to house it in financial firms. For example Financial management of Hong Kong is located on the 55th floor. The building is equipped with a high-tech telecommunications and floors almost no columns. It is understood that the building will be stationed 15,000. It should be noted that the floor 88 is not a real number. There are some "floor - a taboo," such as 14 and 24, that sound like "just mёrty" and "easy to die" in Cantonese, respectively, which are unacceptable. The upper floor of the second international financial center a little above the city attractions - Victoria Peak.
5th
Jin Mao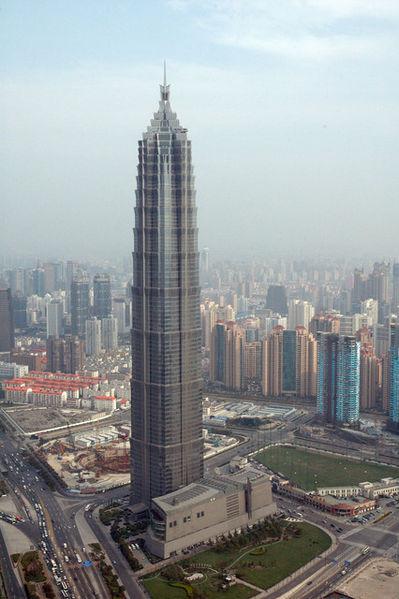 One of the tallest skyscrapers in Asia, is the hallmark of Shanghai. It located in Shanghai Pudong. The upper floor is a five star hotel Grand Hyatt.
Height - 420 meters.
Number of floors - 88 floors.
Start of construction - 1993.
Completion of construction - 1998.
4th
Sears Tower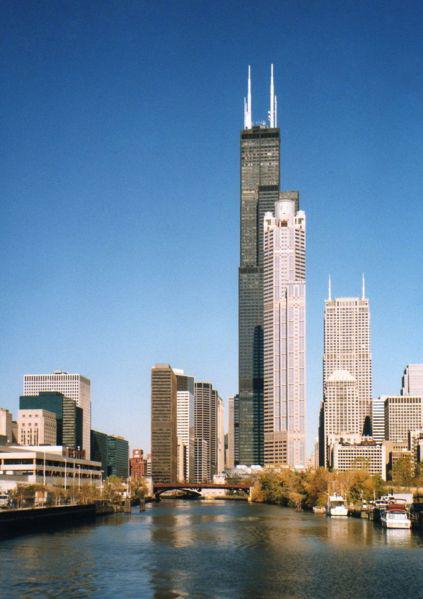 Sears Tower (Eng. Sears Tower) - the skyscraper, being in Chicago, USA. The height of the skyscraper is 443, 2 meters of floors - 110. Start of construction in August 1970, the end - May 4, 1973.
The building consists of 9 square tubes forming the base of a large square building. It stands on a stone Coating concrete piles driven in the underlying solid rock. At 50 floors rise 9 welded steel pipes. Then the building begins to narrow. More seven trumpets go to the 66th floor, and five raised to the 90th floor, and only two pipes form the remaining 20 floors. The roof has two television antennas.
Building area - more than 418,000 m², equivalent to 57 football fields. The skyscraper 104 high-speed elevators, which divide the building into 3 zones and help people to navigate in it. The refractory lining of the frame is covered with a black aluminum with more than 16,000 windows of dark glass. Six automatic machines for cleaning windows clean the whole building 8 times a year.
3rd place
Petronas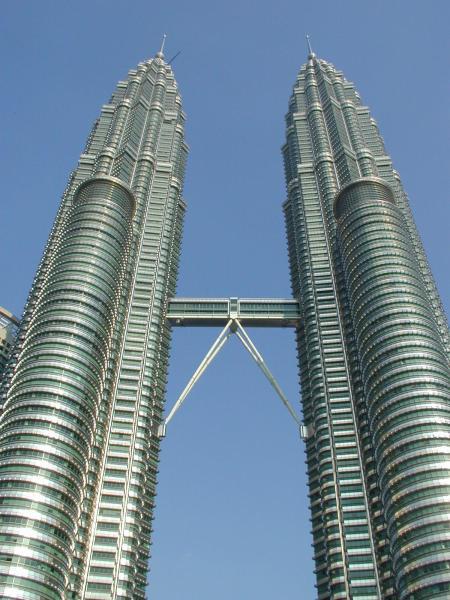 Petronas - 88-storey skyscraper. Height - 451, 9 meters. It located in the Malaysian capital Kuala Lumpur.
It features not only a colossal size, but also the complexity of the design. The area of ​​all the premises of the building - 213 750 m², which corresponds to the area of ​​48 football fields. Sami tower occupy 40 acres in the city. The Petronas Twin Towers are offices, exhibition and conference halls, art gallery.
The construction of "Petronas Towers" cost the main customer - the state oil company "Petronas" - 2 billion. Ringgit (800 million. Dollars). Some of the costs assumed by other Malaysian companies, distributed among offices a two skyscrapers. It is interesting to note that the two towers are connected by a covered walkway to a bridge.
2nd place
Taipei 101