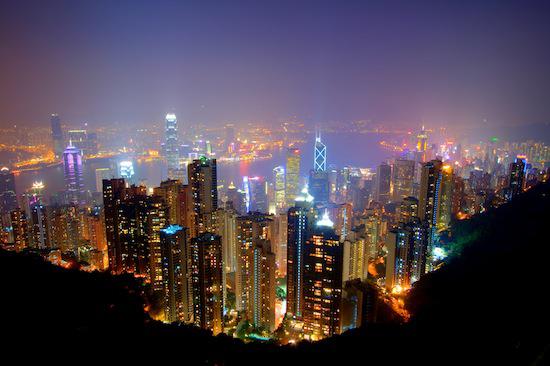 Write our regular readers of Alexei and Maria Glazunov:
We present our 60 facts about Hong Kong, where we traditionally talk about those moments that we remember most, during our travels around the country, as well as give some general trivia.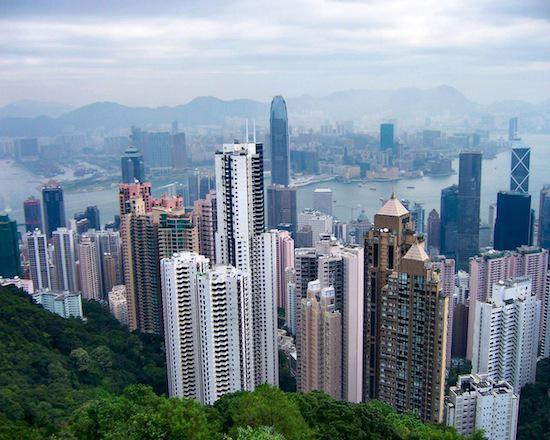 1. is a stand-alone Hong Kong Special Administrative Region of China since 1997 (before that time, more than 150 years was under the jurisdiction of the UK).

2. The internal politics and the economy Hong Kong Tutor and management of foreign policy and defense are assigned to China.

3. In Hong Kong, there are no many standard taxes, including VAT - it attracts both shoppers and foreign investors.

4. In Hong Kong, the two official languages ​​- Chinese and English.


5. Three-quarters of the area of ​​Hong Kong is covered by forests, while the population density in the remaining part is very high.

6. Hong Kong is located partly on the mainland and partly on the island - Lantau and Hong Kong. In between you can move along the ground (buses and taxis), underground (metro) and water (ferries) - the last option the cheapest.

7. Bus in Hong Kong kruglfosutochnoe - on many routes have night buses (marked «A»)

8. Most buses in Hong Kong - double-decker. A trip to the mountain serpentine them (such as climbing to the peak of Victoria), especially if you sit on the second floor in the first place, comparable to the attraction.

9. for travel on any transport, including taxis, is convenient to use a magnetic card Octopus. This card can also pay in many small shops and bakeries, as well as some cafes.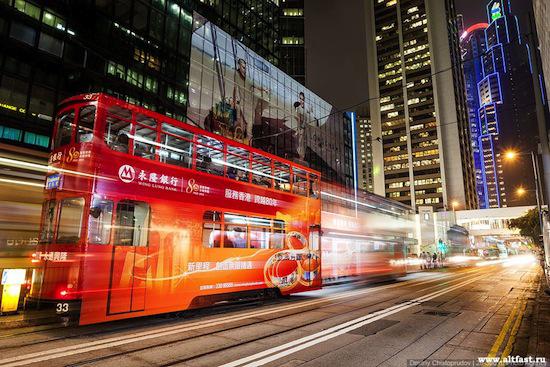 10. On the background of modern skyscrapers looked unusually old, narrow double-decker trams ("dabldekery"), preserved from the 1950s. Directions to the tram is 2HK $ (8 rubles) - in any direction and at any distance.

11. The metro system in Hong Kong is very thought out - there are both underground and surface areas. Everywhere hang maps and clear signage in English. Many stations have wi-fi, and even on some computers with free internet access.

12. Many stations have a place from two to six outlets, the distance between the top of which can be very important, so it is better to specify in advance what specific output you need.

13. Like many in Hong Kong - Airport extensive, but it is comfortable and well thought out. In waiting rooms quiet and comfortable - laid out with carpet flooring, nice soft music playing, there are outlets and free wi-fi. Soft benches without handles even allow you to sleep if there is a need.

14. in Hong Kong are very common above-ground pedestrian crossings. Going "Mid-Levels" is one of the longest in the world and is a system of ladders eksalatorov and bridges for pedestrians.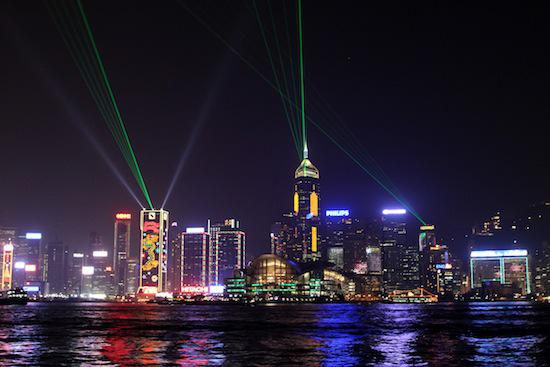 15. As in Singapore, Hong Kong has the evening laser show. It is carried out, but only once a day, but it is recorded in the Guinness Book of Records as the most massive, permanent show.

16. Hong Kong people love to eat - cafés and restaurants, a huge number, with all the cuisines of the world are represented - from the Tibetan and Nepalese to Mexican and Italian. Although the Chinese, of course, is the popularity of the leader by a wide margin.

17. in the evening and during lunch, most cafes overflow to get in, sometimes you have to stand in line.

18. Prices for food are quite high relative to most countries in Southeast Asia. Dish in the cafe is mediocre 40-60HK $ (160-240 rubles). The most simple food in the street eatery can buy 25HK $ (100 rubles). Cheaper only sandwiches and ready-made meals in the chain stores, such as "7 Eleven».

19. The restaurants are popular sets consisting, for example, a main dish, soup and drink. Sets are numbered (A1, B2, and so on. D.), And, as a rule, are equipped with pictures, so do not even speak the language, you will not be hungry, you just tell the letter with the number chosen dinner. But vegetarians have more difficult - the picture is not always clear which of the prepared dish.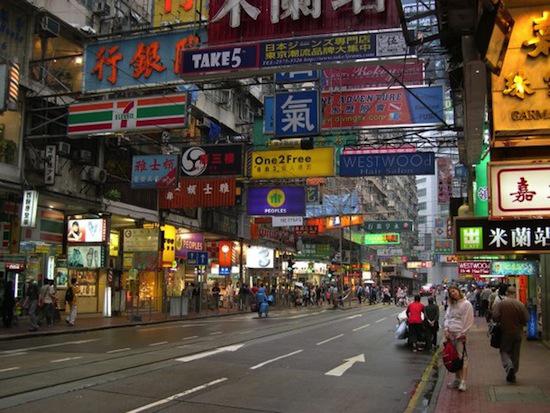 20. The overwhelming majority of people in Hong Kong - a Chinese, who are very fond of meat and, consequently, most of the classic local dishes - meat, both in expensive places, and in cheap cafes.

21. For fish lovers find a dish to taste is not difficult - in Hong Kong, a huge selection of Japanese food as restaurants and take-away. Value for money / quality - one of the best in Asia.

22. In the majority of cafes and restaurants for dinner comes with a free included in the room Chinese herbal or green tea (usually without restrictions).

23. Hong Kong - a paradise for lovers of flour. Each shopingmole, in subway stations, and indeed in every street are many bakeries, pastry shops, with a huge selection of pastries and cakes (from 5HK $).

24. in Hong Kong is very popular network minimarkets "7 Eleven» (seven-eleven). They work 24 hours a day and are at every step.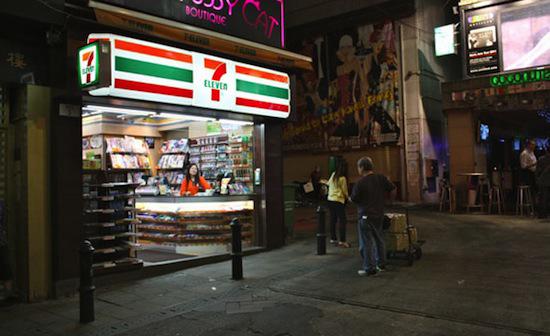 25. On the streets of the city a lot of Chinese shops that sell in bulk dried mushrooms, seaweed, nuts, dried fruits and many other products of unidentified species, common in Chinese medicine.

26. The most grand celebration in Hong Kong - Chinese New Year. He comes in early February, but the exact date is calculated according to the lunar calendar. To prepare for the holiday, many begin in a few months, at the time of grandiose sales - with particularly good discount to buy sweets, for example; very popular here Ferrero Rocher chocolates and Lindor, who, among other things, and in normal times cheaper than in Russia and Europe.

27. cash withdrawals at ATMs in Hong Kong can be no commission (on the part of the Hong Kong Bank)

28. Prices for products sold by weight in street stalls and grocery stores do not indicate per kilogram, and for the British pound (455 g)

29. Most Chinese inscriptions in the city are duplicated in English

30. We Filipinos living in Hong Kong have a tradition - every Sunday they have picnics on the pedestrian bridge. They sit on cartons and closed by them from the wind. The first impression at the sight of this picture - beggars on the steps, but if you look closely, you can see that many of them are sitting with tablets or even laptops, chatting and eating brought by with food - rice, cakes, pizza and so on. P.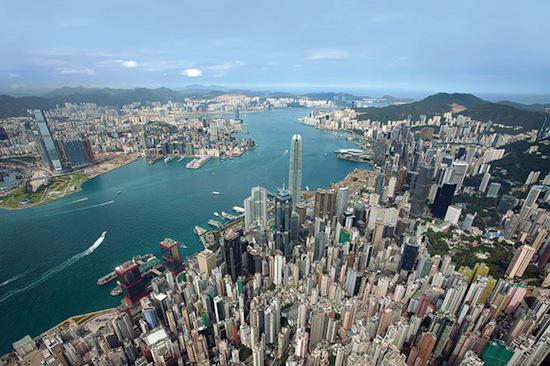 31. Despite the fact that the center of Hong Kong is very densely built up, the city authorities are trying to green any available piece of land. Shrubs and trees can be found even on the roof of the shopping center.

32. Phototechnique in Gonknoge considerably cheaper than in Europe and Russia (and even than in Thailand and Singapore). According to a particularly good price you can buy a camera with Chinese firmware, without the support of the European languages. The main limitation of such equipment - guarantee it is valid only in Hong Kong.

33. In Hong Kong is one of the largest stores Apple Store.

34. The price of Apple technology in Hong Kong are the same as in the United States. All new products appear here shortly after America, and in view of the contract system and wages, the new iPhone can afford almost everyone. The previous model can generally be obtained free of charge at registration of the contract.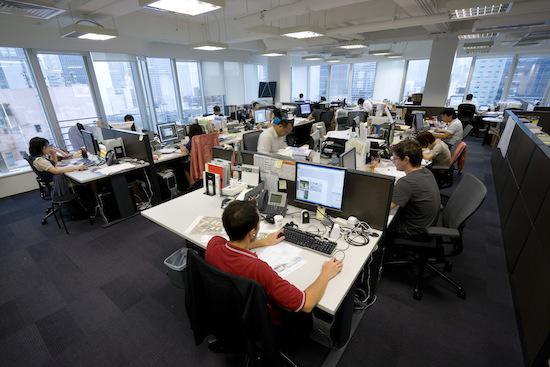 35. In Hong Kong, people live and work different nationalities - including office workers a lot of Europeans and Americans, among staff - Filipino. With a choice of two, similar competency, applicants for the position, the company prefers Chinese Europeans or Americans, t. To. His salary is lower by an average of 25%.

36. The standard of living here is much higher than in other Southeast Asian countries, but also accommodation and food is much more expensive.

37. The average salary in Hong Kong - 12-15HK $ (48-60 rubles). The figures seem to be good, but taking into account housing prices, accumulate the amount needed for a down payment mortgage is incredibly difficult. At the same time in Hong Kong you can earn very good money, but this requires a high qualification and experience.

38. Property prices in Hong Kong - one of the highest in the world (one of the main competitors - Tokyo).

39. The cost of renting a studio apartment in the central area of ​​approximately 15000HK $ (60,000 rubles) per month. On the island of Lantau 7-8000HK $ (28-36 ths. Rubles), you can rent a spacious, 2-3 bedroom apartment.

40. Quite a lot of people living in so-called state. homes. But to get an apartment in such a house is not easy (really need to have a very low income level). Moreover, even among those people who meet this requirement, there is nehvataka, they had a long waiting list.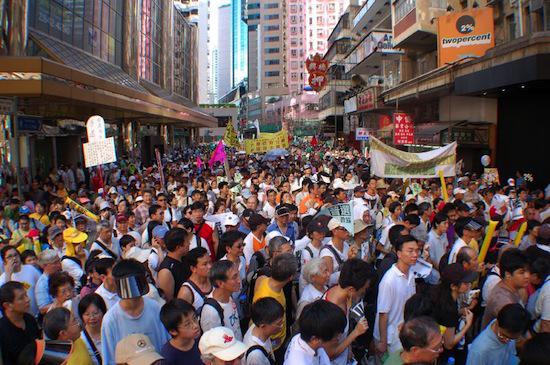 41. The young people who are not lucky enough to live in public housing, and which are the so-called «first-time buyer» (t. e., those who have not owned any private property), terribly indignant here on this occasion - organize demonstrations, and so on. d., but there is no fundamental solution to the problem was found.

42. The demand for housing in Hong Kong is extremely high. In recent years, mainland Chinese are very worsened the situation for its speculation with apartments in Hong Kong - they buy and hold an empty area, just to make a profit on this.

43. Prices for hotel accommodation, accordingly too high. For a night in a decent room will have to pay from $ 100 (USD), and for $ 25 (USD) can be removed unassumingly small room 2 × 3 meters, but with the comforts and vayfay in Kowloon. If we consider the 4-5 star hotels, they are considerably more expensive than in Europe.

44. However, many goods are cheaper than in Moscow, and even than in mainland China (at one time it was the opposite, but those days are long gone).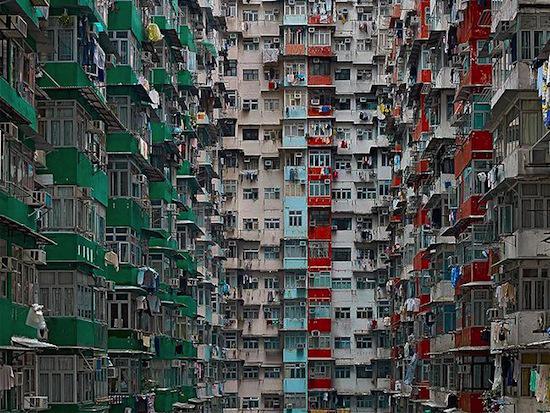 45. Chinese living in Hong Kong seemed to us not too friendly (compared to local Europeans and Americans) - although they do not always show, but it is clear that they feel their superiority over white. Most of them speak English, but are reluctant to speak it. Well aware only when it suits them.

46. At Kowloon have Indian Quarter, where you can eat quite cheaply, change money at a favorable rate and buy all sorts of little things cheap.

47. Casino is prohibited in Hong Kong, but for those who like gambling, there are special floating casino - ships that go out every night of the territorial waters of the country, and in the morning are returned.

48. Some city streets are reminiscent of New York's Times Square, due to the abundance of neon signs.

49. With an ID card, you can free up on the 55th floor of an office tower in the heart of IFC, where in good weather a beautiful view of the city. There is also the Museum of money.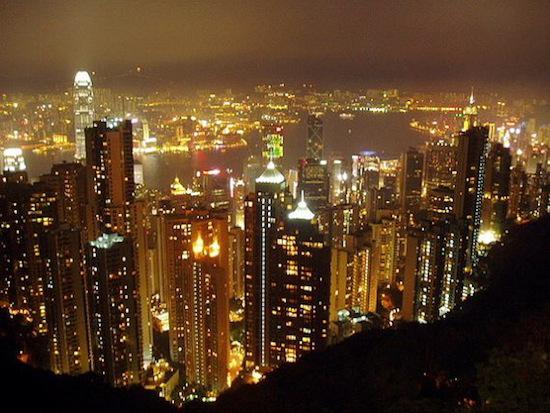 50. The most breathtaking views of the city skyscrapers opens at sunset hours with Victoria Peak (428 meters above sea level).

51. In Hong Kong Avenue of Stars has - similar Hollywood namesake, with prints of hands of the Hong Kong film stars live and commemorative plaques of those who did not during his lifetime to be noted on the Mall.

52. On the Avenue of Stars is a monument to Bruce Lee, next to which every tourist of Chinese origin is committed to take a picture, try to repeat his stand.

53. Hong Kong - a very clean city, though not as CHISTYULYA as Singapore. He is one of the cleanest big cities in the world.

54. In Hong Kong, the fastest in Southeast Asia online.

55. On the island of Lantau, on a hilltop, set the world's largest statue of a sitting bronze Buddha, to which the lead car and the cable car, as well as hiking trails, which locals like to arrange trekking.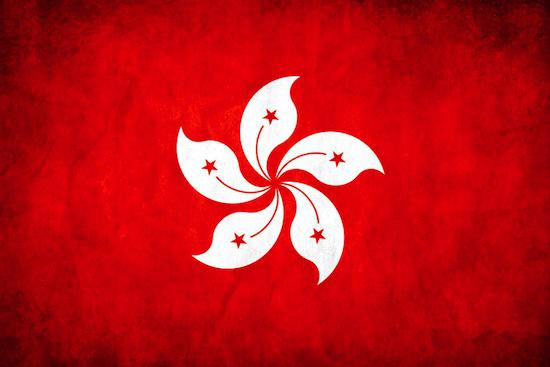 56. In general, for hiking on mountain terrain, Hong Kong - an ideal city. On the island of Lantau lot of paths and routes have on the Hong Kong Island.

57. On the roads of Hong Kong, with its population of more than 7 million people, very few traffic jams, more than 80% of all private transport account for public transportation.

58. The Chinese culture in Hong Kong is very important, the construction of buildings is conducted in accordance with the principles of "feng shui».

59. Bridge Tsing Ma Bridge, linking Lantau Island of Hong Kong and the mainland, among all the suspension bridges in the world, takes the 8th place - the length of its main span of 1377 meters.

60. The last few years in the city do not build buildings lower than 30 floors.

61. In Hong Kong, there are more than 100 skyscrapers (buildings higher than 150 m). For comparison, in New York today, 83 of the skyscraper.

Alexei and Maria Glazunov

via factroom.ru