In the final match of the junior Russian national hockey team (players under 18) have conceded peers from Canada with a score of 0: 8.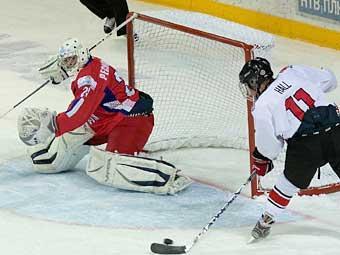 Russian junior national team on Wednesday defeated by Team Canada in the finals
world hockey for players under 18 years old, who finished in Kazan. The decisive meeting ended
with a score of 0: 8 (0: 5, 0: 2, 0: 1) in favor of the players from the Land of a maple leaf, which essentially removed all
questions about the winner in the first period, reports RIA "Novosti».
Unfortunately for the Russian fans, the game could not equal. It is extremely unfortunate action team
Russia's defense led to the fact that its main goalkeeper Alexander Pechursky seat in the gate
your changer Danilo Alistratova already 16 minutes into the game when the score was 0: 4 in favor of the guests. First
Canadians throw on goal Alistratova also reached the goal, only exacerbating the already difficult situation.
Despite the devastating account, Russian goalies can not blame the defeat, as in the defense
All the home team at times acted just ugly. Thus, the account was opened in the Nicolas Deschamps
when the Russians played at most, four goals were scored by Canadians in equal compositions, and
two goals were in the Russian gate at a time when the home team played ice in the minority.
The architect of the victory was the famous Canadian coach Pat Quinn, under whose leadership the home team
Canada won the 2002 Olympics in Salt Lake City and the World Cup 2004. He has also twice been
coach of the year in the NHL.
It was the most devastating defeat in the finals of the Junior World Championships, as well as personal
meetings inveterate opponents in these tournaments.
Thus, the winners of the Junior World Championship became Canadians, Russians won the silver
medals, and the US team - bronze.
Note that during the tournament teams of Russia and Canada met in the group stage and then win
(4: 2) won the Russians. The defeat in the final for the Russian team was the only one in the world championship.