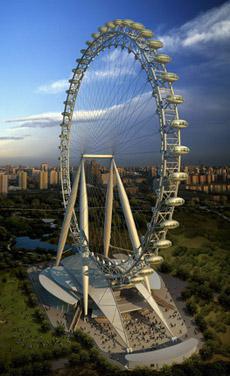 The first stone in the foundation of the Great Wheel of Peking (Beijing Great Wheel) laid this past Monday (November 5) in the Chinese capital.
It is expected that upon completion of construction in 2009 will be above the wheel Beijing and London (London Eye) and Singapore (Singapore Flyer), as its height will be 208 meters.
It was originally planned that the wheel will open to the Summer Olympics in 2008, but due to changes some details of the design had to postpone the opening. By the way, a giant attraction will be located near the areas where the competition will take place in beach volleyball.
At the wheel will be installed 48 cabins for up to 40 people (all of them are equipped with air conditioning). Each of them - the average size of a bus and weighs about 18 tons.
'The Ferris wheel would be a harmonious addition to the appearance of the city and maybe even someday become a symbol of the city "- says CEO Stefan Metter Great Wheel (Stephan Matter).
At the London wheel, designed the same Danish company and was built in 1999 (and at that time became the largest), a total of 32 cabins for 25 visitors, and for an adult ticket costs £ 15 ($ 31, 5).
The Beijing Great Wheel will cost the country about $ 300 million and pre-ticket price is £ 6 ($ 12, 5, or 100 yuan).
"Thus, it will ride on even cheaper than in Europe attraction" - adds Metter. The makers claim that the thrill of riding on this Ferris Wheel will be the same as on the flight.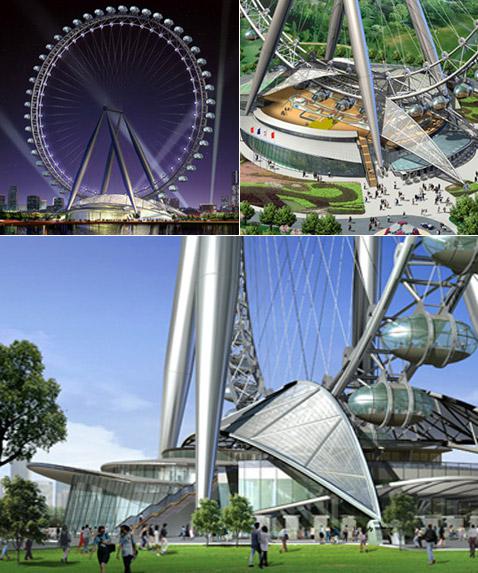 By the way, this is not the first such attraction surpassed London Eye (height 135 meters). In May 2006, in the southern Chinese province of Jiangxi has been opened Star of Nanchang (Star of Nanchang, the provincial capital of the title) a height of 160 meters.