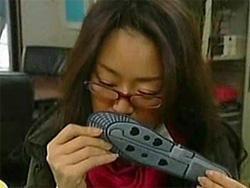 In Japan, where it is assumed Razuvaev when entering the room, have developed a special mint insole, designed to deliver its host of unpleasant foot odor.
Tokyo shoe company SAI International, which owns the idea of ​​this useful development, argues that miracles insole is enough. According to manufacturers, this insole easily interrupt stable smells not only the legs, but also the wearing of socks, reports Reuters.
This miracle insole placed in the boot, then the owner using a pump effect, with each step just pumping out a pair of insoles saving menthol flavor.
President of the Developer Yukio Aoyama Miscellaneous New great future and believes that mint insole is a bestseller in business. "Entrepreneurs are prefer to wear leather shoes, and I believe many worried about the smell of feet" - said Aoyama.
In Japanese restaurants, where customary to leave your shoes when entering, agree that shoes with mint aroma can solve delicate problems of business representatives. "Many of our customers are female, seems to worry about the smell of feet and refuse to take off their shoes," - says the 59-year-old restaurant manager in central Tokyo Hisako Vashio.
Even when space is available, clients refuse to stay and leave the restaurant. Vashio believes that the reason smell coming from their limbs.
A pair of mint insoles costs only $ 28, and the fragrance of them will come in six months, promises Aoyama.