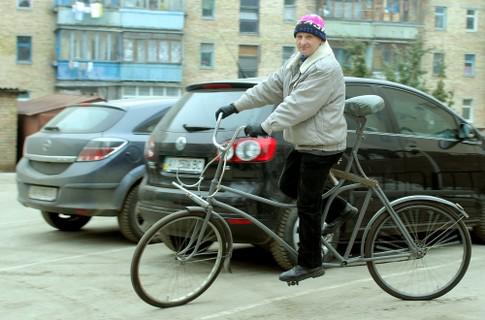 Kyivlyanyn Vladimir Hahel assembled by hand bike for the tallest man in the world, Leonid Stadnyk (growth of 2, 61 m!). Bicycling has a length of 2 to 30 m, a height of 1 to 40 m and weighs 23 kg. Vehicle surprise two seats: one high, especially for a man-giant, the other removable for people of average height. Kiev "Kulibin" makes a gift without a fitting using only the dimensions Stadnyk indicated in the press.
As the trunk - the ceiling, the frame - an ordinary water pipe. "The idea that Lena still needs a transport appeared August 10, when it is hard," sighed "on television:" In the regional center can not go - not on anything. Now, if I had a bike ... "
To dream of the giant Vladimir took the water pipes, 30 toothed sprocket with a children's bike, the tires purchased and attached parts made from lamp-ceiling rack. All the work took 4 months.
Giving gifts Stadnik held on 24 February in the town of Brovary.
A source