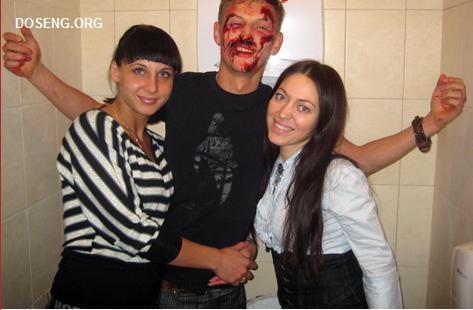 It's time to tell the world how it was. In fact, Pasha Will live healthy and unharmed.
The idea to make video came a month ago, with first got the idea to beat the well-known phrase "Beats, then love," which inadvertently dropped Eugene Agabeyov. Pasha immediately picked up the idea, and as a result was born this shocking video.
For the filming, we invited a charming girl, and part-time professional make-up artist. Her name is Julia Sergeeva. Thank you, Julia!
That would not shock the employees Comedy Club, all participants moved to the resident housing, where just was Aleksey Lyaporov. After some persuasion, agreed to participate in Lech shooting.
Brand new water closet was covered with blood, as if there someone cut into pieces. Blood was naturally cinematic.
After these rzhachnye filming our secretary Marina drunk all the tea and helped launder Pashkin face. Thank you, Marina!
In general, it was fun!
So:
Actors: Pavel Volya (clear), Aleksey Lyaporov (beating), Andrey Kuznetsov (camera, editing), Eugene Agabeyov (idea, voice).
v-177.flv [2, 43 Mb]
Source