While intravenous injections were carried out since the middle of the XVII century, the syringe was invented only in 1853. Curiously, designed a machine for injection (syringe) just two people working independently of each other: a Scotsman, Alexander Wood (Wood) and Frenchman Charles Gabriel Pravasi (Charles-Gabriel Pravaz).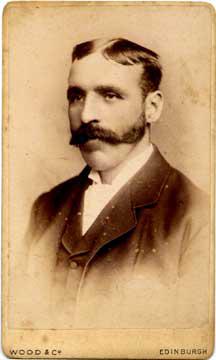 And the name of their offspring «spritze», which means "to inject, splashing," came up with the Germans.
"The injection into the subcutaneous tissue invented in 1853 by Alexander Wood of Edinburgh and used in Germany since 1860 for this upotreblinetsya the same syringe as injection into the vessels.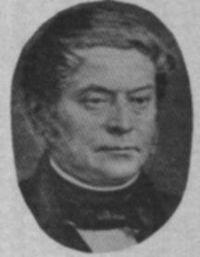 Pravats invented the syringe, in fact, for surgical purposes; Wood is credited with the use of a hypodermic syringe »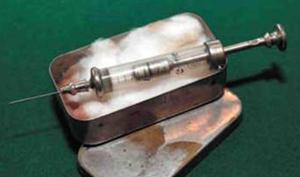 ​​
Dr. Wood's experiments on the use of the syringe were due to his desire to relieve their patients' pain.
Recognized at the beginning of the XIX century general anesthesia chloroform or nitrous oxide and ether, patients tolerated bad, many even died from an overdose, recently opened painkiller morphine when administered orally is almost absorbed. And then it dawned on Wood: that if you try to make an anesthetic medicine just under the skin?
Development of a new method took several years, especially had some trouble on the creation of device for injections. Wood based his injector Pascal, supplemented it and improved.
Triumph Scottish doctor was the release of his article, "A new method for the treatment of neuralgia by direct injection of opiates in pain points" in the scientific journal "Edinburgh Gazette Medicine and Surgery».
A more modern Aneli syringe was proposed in 1857.
Completely made of glass syringes appeared in 1894, they constructed a French glassmaker Fournier (Fournier).
This idea was immediately commercialized by the French company Luer / Luer (this is the company, not the inventor, as erroneously stated in many sources Runet) - in the years 1894-1897 were introduced in solid glass syringes reusable rather simple device.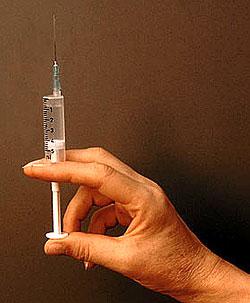 Glass syringes manufactured of various sizes - from 2 ml to 100 ml. The syringe has a cylinder with graduations, hollow piston ending cone. This design is well tolerated disinfected by boiling unassembled. Luer syringes company produced from thermally and chemically resistant glass, they can be sterilized in hot air sterilizer (syringes vyderzhivayuli temperature of 200 degrees).
Conical proposed by Luer, soon became the international standards, and thus spread the word type attachment to the cylinder of the syringe needle.
In 1906, it was designed reusable syringe type "Record" with a glass cylinder, a metal piston and a metal needle.
The glass cylinder with graduations on both sides has been seamed in metal rings. In the lower ring on the screw-thread steel cone for fixing the needle to the top - was part of a metal piston with a rubber O-rings.
Sterile syringes packaged usually dense brown paper - kraftpaket. " It relied reusable syringe needle. From the long-term use and multiple heat treatment they tupilis, so really 70-80 prick procedure was more painful than it is today.
A needle before sterilization flush and special wire, it was called "mandrel».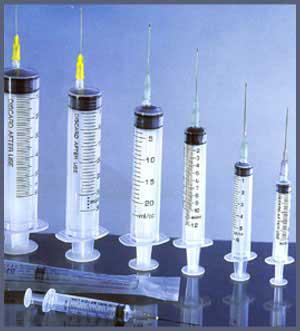 In pharmacies sold special containers for storage of sterilized syringe. This container is a special stand for the storage of the syringe in disassembled form and a pencil case for two injection needles.
In the Soviet Union, the guys who managed to extract reusable syringes, used them on one thing - the most important as - how bryzgalku. This is the best long-range weapons were used during the games in the yards, and at recess.
In 1949-1950 Arthur Smith (Arthur E. Smith) has received a US patent for disposable syringes made of glass.
And in 1956, Colin Murdock (Colin Murdoch), a pharmacist from New Zealand, invented and patented a plastic disposable syringe.