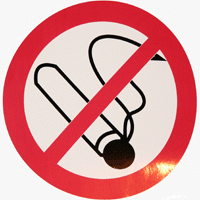 These facts affect !!!
Russia most smoking country in the world here are some facts and figures:
1) 70% of Russians - smokers, compared to the United States 24%
2) in 1996 were sold in Russia, and hence of cigarettes smoked 250 milliard, and in 2006 325 milliard. 10 years Number of cigarettes sold increased by 50%
3) The average price for a pack of cigarettes in Russia 15-20 rubles, while in the US in terms of our money to about 100, and in France more than 200 rubles!
4) But the most important thing you need to know kurilshiki is that a year in Russia 400 thousand. Man dies from the disease in some way related to smoking (lung, mouth, gartani ...)
5) Today, every third student in Russia smokes
6) The average age of dying kurilshikov 38y.o.
I do not smoke, and the desire to try these numbers otschibayut fuck.