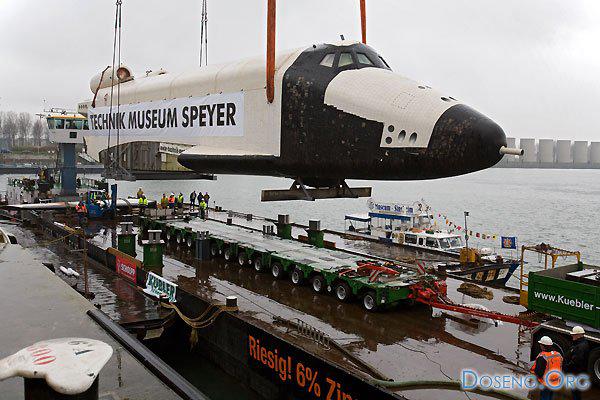 The Soviet equivalent of the American "Space Shuttle" - a reusable space ship "Buran" was delivered on Saturday at the Technical Museum in the German city of Speyer, reports the BBC.
Space Transportation Korablin "Buran". (Photo: Fred Ernst / AP)
In 1984-1988 years the ship made 25 test flights, however, are not in space, but in the earth's atmosphere.
Until 1999, it was exhibited in Moscow Gorky Park, then went to a ride on the Olympic Games 2000 in Sydney, and from there went to Bahrain, being bought by a local millionaire. In the end, 10 million Germans bought it to include the cost of transportation to the destination.
Transportation shuttle is a separate engineering task: height "Buran-2" is 17 m, length - 36 m, diameter - almost 8 m, weight - about 105 tons. At first shuttle sent March 6 Bahrain Sea to Rotterdam - by Portugal and France across the English Channel. From there on three barges - upstream of the Rhine. There he was assigned back to the detached wings.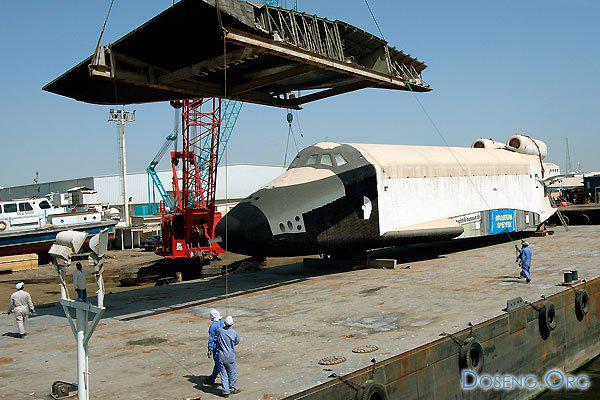 The route from Rotterdam to Speyer took 650 km. According to BBC, «admire the ship came a crowd of residents of Duisburg, Düsseldorf, Cologne, Bonn, Koblenz, Mainz and Mannheim." In Speyer ship arrived on April 12 in the Russian Cosmonautics Day, where with the help of a giant crane it handled in a special transporter. For swimming in the Rhine watched the shuttle about 15 thousand people.