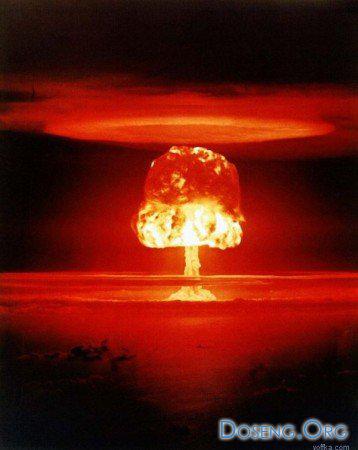 - Eptit! - Said Stalin. - Atomic bomb!
Beria modestly lowered his eyes. Kurchatov bit late, but still lowered his and began nervously tugging at his beard.
 - This is what explodes? - Stalin asked, tapping the tube side of the iron bombs.
 - Still, Comrade Stalin! - Kurchatov said, feeling that the question is directed to him. - How ... how will!
 - What pi ** Anet! - Supported Beria.
 - Here in fact invented - Stalin said, puffing. - What strongly explodes?
 - I'm telling you, Comrade Stalin - how to give!
 - What pi ** Anet! - Again supported by Beria and made terrible eyes behind his glasses, as if to say that if you really pi ** Anet, so really pi ** Anet.
 - And he thinks Comrade Zhukov?
Zhukov, like dozing off, but woke up in time.
 - Living thing - said Marshal, ringing orders. - The army needs.
 - So, - wisely remarked Stalin. - But you have to experience it. Yes, Comrade Voroshilov?
 - Always, Koba - supported Iron Commissar.
 - And on whom? On zhidah?
 - On zhidah not worth it - boldly said Beria. - We are already experiencing gases. Once obtained dishonestly.
 - Really, really - I thought Stalin, releasing locomotive smoke. - May offend Jews, yes. Thank you, Comrade Beria for the timely remark. You, by the way, do something no Jew will, Comrade Beria?
Stalin, as usual, successfully made a joke and everyone laughed. They laughed, shaking beards, Kalinin and Kurchatov, Zhukov giggled, laughed Voroshilov and Beria smiled thinly and said:
 - No, Comrade Stalin, I Mingrelian.
 - Samegrelo - * ui on the stove warming - once again successfully joked Stalin and society a little laugh. Finally, Stalin rang pipe bomb and on notice:
 - Laughed - it was good, but we have not decided on whom to test our atomic bomb.
 - On the Japanese? - Voroshilov asked quizzically. - The Japanese have a lot of prisoners, and the war is not over, the new channels. The Germans, too, with the war still remain.
 - Germans are with the Japanese people have experienced - said Stalin. - Germans with the Japanese, we already beat. Atomic bomb is necessary to experience some of the nation that we have from the bitiya has not been studied. Correctly I say, Comrade Kurchatov?
Dick to Kurchatov said.
2.
The bomb was placed on a plane and taken to throw. On the plane were pilots: three times Hero of the Soviet Union, Comrade Kozhedub and three times Hero of the Soviet Union, Comrade Pokryshkin.
The commander of the crew was Kozhedub because during the war he shot down 62 enemy aircraft and Pokryshkin - only 59. Therefore Kozhedub said roughly Pokryshkin, talked with the technicians:
 - Good bullshit, Comrade Pokryshkin! It's time to throw a bomb to fly!
 - I'm sorry, comrade Kozhedub - said Pokryshkin and climbed into the plane.
Kozhedub turned the ignition key, press the pedal, pulled the lever and the red star plane sped along the concrete strip of private airfield.
 - That flew - Voroshilov said, wiping away a tear.
The plane was flying very high. Kozhedub even dozed off from the monotony of the landscape outside the window, and Pokryshkin boredom began reading verses:
 - Late fall. Rooks flew.
Forest bare, empty fields.
Only one strip is not compressed.
Sad thought suggests it ...
 - What kind of poetry reading, Comrade Pokryshkin? - I asked, without opening her eyes, Kozhedub.
 - Comrade Stalin verses whose else - said Pokryshkin.
 - Oh well. You steer yet, and I take a nap. Fly far away yet?
 - Fifteen hundred kilometers - said Pokryshkin by consulting it on the map.
 - Well podremlyu. Wake how to throw a bomb will become.
"But you * ui" - I thought Pokryshkin vengeance.
3.
Decided to throw a bomb to America, this was a great idea of ​​Comrade Stalin.
But he could not imagine that Truman also built the atomic bomb, and carry it just reset the Soviet Union. Not even the Soviet Union, and Moscow to kill Comrade Stalin and the Politburo.
But Truman could not guess that Stalin and the Politburo had already left in large underground bomb shelter that was built just in the hope that bitch Truman nevertheless decides to drop an atomic bomb.
Aircraft running American pilots "Enola Gay" was flying just to meet Soviet planes. "Enola Gay," so called because it flew aboard geyasy. This is not surprising, because in America has always been a lot of geyasov, so finding a suitable among pilots was not difficult. This was a subtle mockery Truman over the Soviet people. They say that the Americans arrive, drop bombs and die Stalin and the entire Politburo. The Russian people know about it in the morning newspaper, and tell each other: "Did you hear? Americans somehow bombed Stalin's Politburo and all with him! "-" That geyasy! »
And there really geyasy. That is insulting any occasion.
In general, geyasy flew toward Soviet aircraft Kozhedub Pokryshkina and listening to Glenn Miller, and Soviet pilots that never existed. The course is about the aircraft crossed over Japan.
4.
 - Look, comrade Kozhedub! - He said Pokryshkin pushing commander leg side. - See: plane!
 - What's that? - Kozhedub surprised, opened his eyes. In fact, towards the big plane flying with the American mind.
 - It is the Americans fly, comrade Kozhedub - strengthened his suspicions Pokryshkin. - Flying in our direction! And for us - Moscow!
 - Come on, we ask them - decided Kozhedub and opened the window.
 - Hey, guys! - He yelled the American, sticking his head. - Where are we flying?
"So we tell him," - thought the Americans, and said aloud:
 - Oh. Catan.
 - We are too - Kozhedub lied, and he pointed out that under the tail of the American aircraft bomb suspended healthy, probably nuclear. Hidden inside, he said Pokryshkin:
 - Atomic Bomb driven, geyasy. Call Comrade Stalin.
5.
Stalin sat in the underground bomb shelter and argued with Voroshilov, pi ** Anet bomb or not pi ** Anet, when the telephonist came and said:
 - You, Comrade Stalin.
Stalin asked sternly:
 - Who?
 - It Pokryshkin, Comrade Stalin! - Hastily spoke to the pilot tube. - Then the Americans, Comrade Stalin! They geyasy also carry a bomb!
 - What you have become over her torpor? - Asked Stalin.
 - Yes, we're going, Comrade Stalin! Just stayed. One wrong turns ...
 - Hmm ... Well, wait there a little bit, I will consult with his comrades.
He closed his hand up, Stalin said:
 - Pokryshkin calls. He says Americans also carry a bomb, geyasy.
 - Shoot down - said Voroshilov. - Now raise the fighter regiment.
 - All you have to knock down - said gruffly Stalin. - This fool can. Let's get this. Enter me on the second phone Truman.
And he opened up the phone and says Pokryshkin:
 - You hold them there for a short time, and we will take a decision.
 - Yes, Comrade Stalin!
6.
Pokryshkin closed tube with his hand and said Kozhedub:
 - Pussy what you want, Comrade Kozhedub, and it is necessary to detain an American plane. Stalin decided.
Kozhedub again leaned out the window and says:
 - Hey, guys! What have you got under the tail hangs?
 - The bomb - the Americans say.
 - Why so much?
 - Oh, - meet the Americans - just. And you?
 - And we, too, - says Kozhedub.
Below the Japanese came to think that. Steel anti-aircraft guns to shoot, but all in vain - the aircraft is high. Emperor Hirohito called Kamikaze, told them to fly and shoot down enemy planes. But the suicide bombers, as everybody knows, is the ritual sang songs, drank sake, bandages tied ... Japanese, one word.
7.
Meanwhile, Stalin joined with Truman.
 - Hello, Mr. Truman?
 - Mr. Stalin? Like health, the weather?
 - Your prayers. Then this is the case - our one airplane flew over Japan ... ...
 - Well, on health.
 - And here is your meet ...
 - So we have a war with them.
 - A bomb why?
 - So we have a war with them! You, too, especially the bomb.
The Americans, too, called geyasy Truman, of course.
 - So we have a war with them, - said Stalin. - Now bomb on them and throw.
 - So throw.
 - No, you first!
 - You fool.
 - We?! For once cheated ?!
 - Yes to fig.
 - And you guys up.
 - But you Communists, the Communists can not be trusted.
 - And you bourgeois, bourgeois, too, can not believe, even as Lenin ordered.
 - Yours, Lenin asshole!
 - And your Jew and geyas Lincoln and Washington condom and Jefferson dolpaep and its constitution ass erase Independence Day. And in general, I go to * ui. Now I hook - wisely said Stalin.
It was found that Truman did not say silent.
 - Well, Mr. Stalin, - he said. - We throw a bomb. But you throw!
 - Throw, throw, - assured Stalin.
8.
Americans really dropped the bomb and flew home. Bomb fell and how pi ** Anet!
The next morning the Japanese all over the country come to read newspapers and talk to each other: "Did you hear? The Americans threw the bomb on Hiroshima! "-" That geyasy! ".
And there really geyasy. That is insulting any occasion, even for the Japanese, even though zheltoryly folk.
And our next fly over Japan.
Then Stalin and Truman calls so angrily said:
 - Hello! Mr. Stalin! It's not fair!
 - Naimel! Naimel! - Stalin was delighted.
 - It is unworthy - says Truman.
 - You never know.
 - We did not agree.
 - And Figl?
 - You, too, promised to give up the bomb!
 - And do not cast. Right now you skins, ha ha!
 - Then we'll throw you another! We still have!
 - For a moment, Mr. Truman, I have to consult with the Politburo - Stalin said, more seriously.
 - It may even be that they have a second bomb - said Beria, listen.
 - And we did not?
 - Not yet, Comrade Stalin - frightened Kurchatov. - But soon I will do!
 - Late - he waved Stalin. - And what will we do?
 - Let there be reset. I told you, on the Japanese will experience - proposed Voroshilov.
 - Okay. Just not right away. Let Truman poobsiraetsya there a little - said Stalin and again contacted with Truman.
 - Hello, Mr. Truman? In general, we think.
9.
The red star on the plane circled Japan, producing combustible residues. Three times heroic crew was finishing the last can of corned beef, when the ground finally received a message: "Huyachte where closer. Stalin. "
 - What is it with us? - Happy unshaven Kozhedub, pulling closer map. - So ... Osaka ... Yokosuka ... Nagasaki ...
 - Something they all bitches da piss - fastidiously Pokryshkin said, licking the inside jar. - What was the last bedwetter there?
 - In-ga-saki - read Kozhedub.
 - That's pi ** and they - said Pokryshkin pressing.
10.
So in 1945, it has not happened nuclear war between the two great powers.