This year marks 65 years since the day when the first in the history of the atomic bomb dropped on the Japanese city of Hiroshima, followed by another bomb destroyed the port city of Nagasaki.
Further details about this terrible event.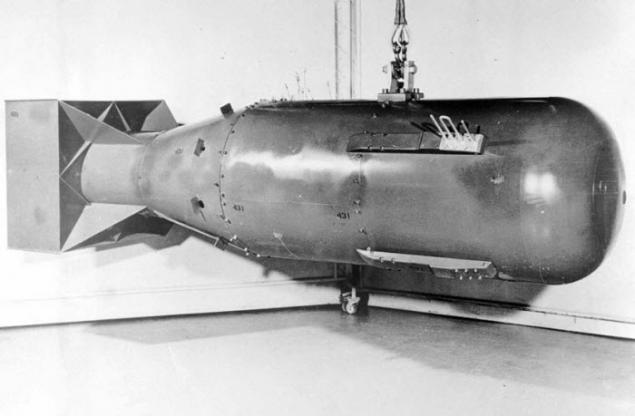 In this photo released by the US government in 1960, captured the layout of the atomic bomb "Little Boy» (Little Boy), which was dropped on Hiroshima on August 6, 1945. The size of the bomb was 3, 2 m in length and 73 cm in diameter, weight - 4 tons, and the power of explosion reached 20 000 tons of TNT. (AP Photo)
August 6th, 1945 at 8:15 am during the Second World War, the US bomber B-29 "Enola Gay" dropped the atomic bomb on Hiroshima, Japan. About 140 000 people were killed in the explosion and died in the following months. Three days later, about 80 000 people were killed when the United States dropped another atomic bomb on Nagasaki. Japan surrendered on August 15, marking the end of World War II. So far, the bombing of Hiroshima and Nagasaki remains the only case in the history of the use of nuclear weapons. The US government has decided to drop bombs believing that this will accelerate the end of the war and eliminate the need to conduct long bloody battle on the main island of Japan.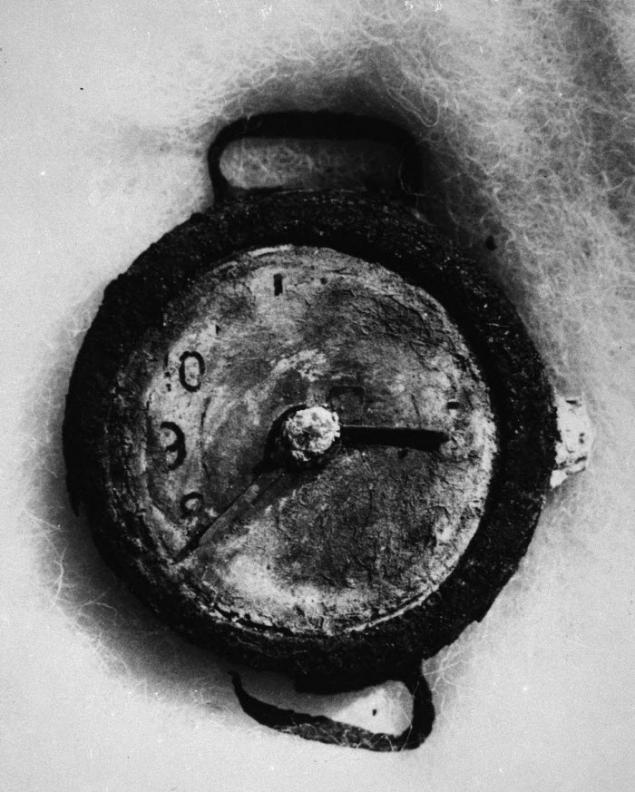 Watches, which were found among the ruins, stayed at 8.15 am on Aug. 6, 1945 - the explosion of the atomic bomb in Hiroshima. (AP Photo / United Nations)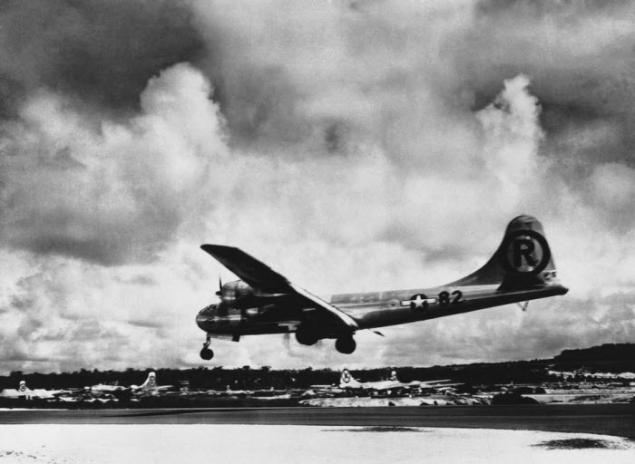 Flying Fortress "Enola Gay" landing on the base on the island of Tinian after the bombing of Hiroshima on Aug. 6, 1945. (AP Photo)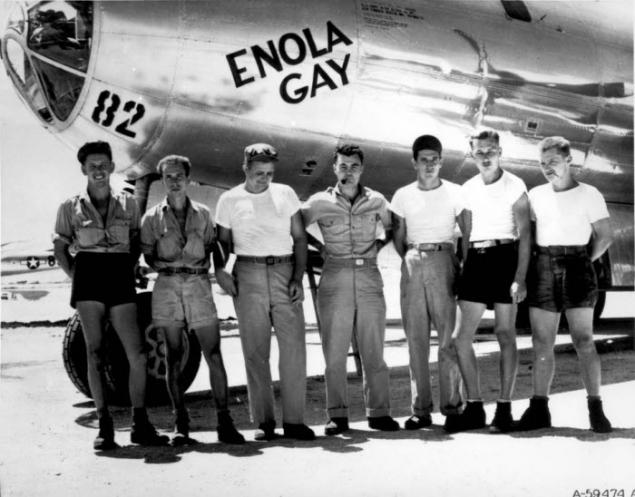 In this photo taken on the Mariana Islands and the provision of the US Air Force ground crew captured B-29 bomber "Enola Gay", which was dropped on Hiroshima atomic bomb "Little Boy" August 6, 1945. The pilot Colonel Paul W. Tibbets is located in the center. It was the first case in the history of the use of nuclear weapons during the war. (AP Photo / U.S. Air Force)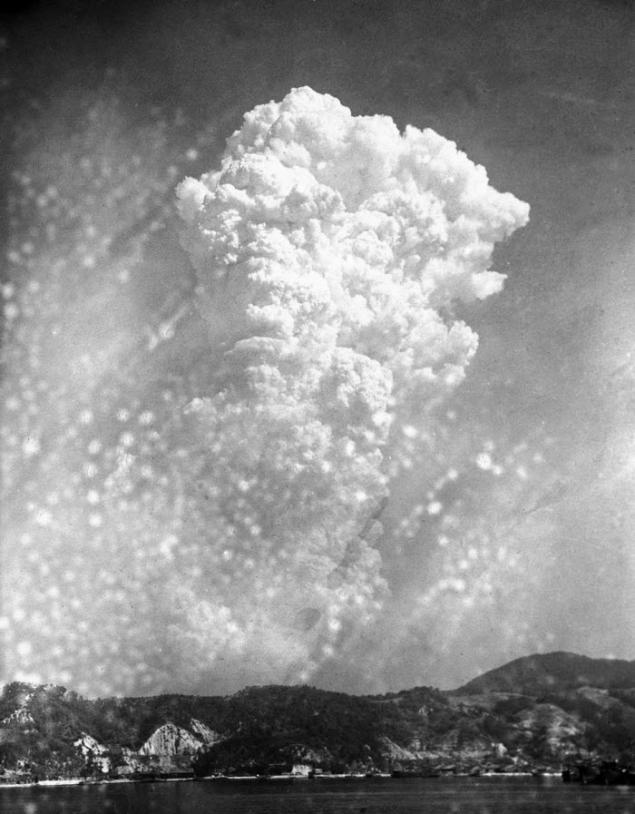 Smoke rises above Hiroshima on Aug. 6, 1945, after it was dropped on the atomic bomb. (AP Photo)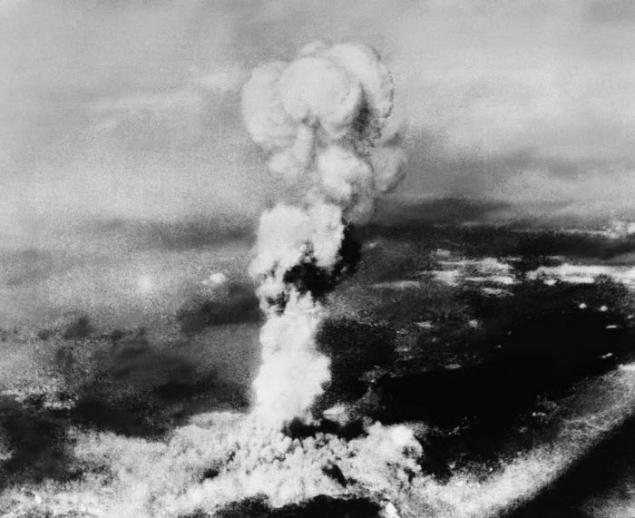 In this photo taken from Yoshiura on the other side of the mountains to the north of Hiroshima, Japan, is seen smoke rising after the explosion of the atomic bomb in Hiroshima, August 6, 1945. The picture was taken by the Australian engineer. Notice the spots left on the negative radiation, which almost destroyed the picture. (AP Photo)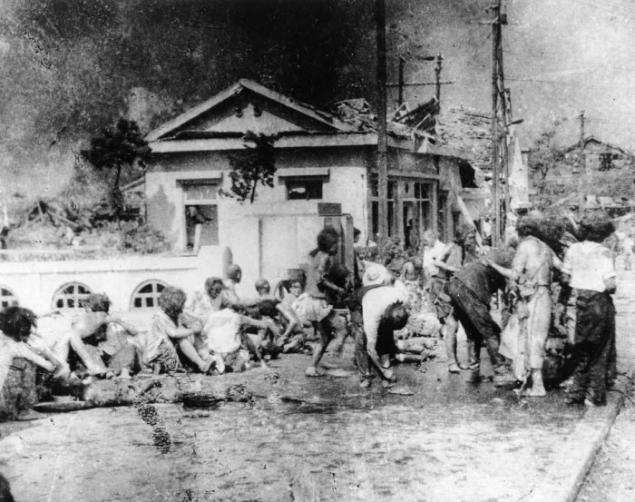 Survivors of the explosion of the first atomic bomb ever used in warfare, awaiting ambulance in Hiroshima, Japan, August 6, 1945. The explosion immediately killed 60,000 people and tens of thousands have died later from radiation exposure. (AP Photo)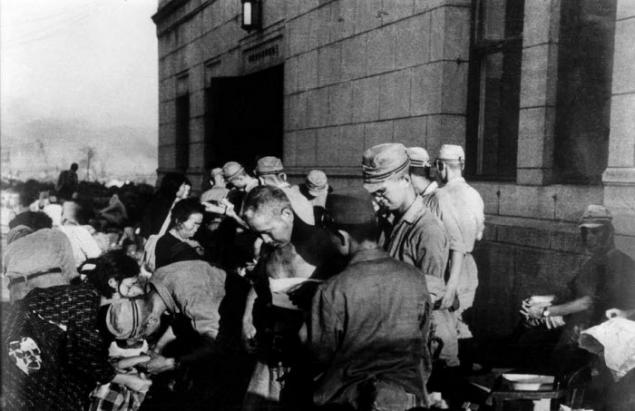 Military physicians provide first aid to the survivors shortly after the US dropped the first bomb ever used in military action on the Japanese city of Hiroshima on Aug. 6, 1945. The explosion immediately killed 60,000 people, tens of thousands more died later from radiation exposure. (AP Photo)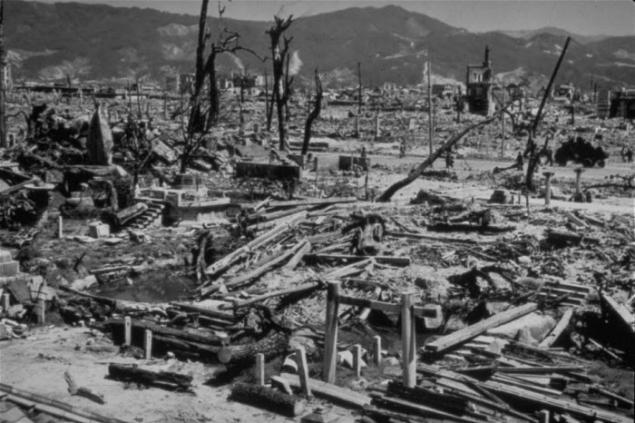 Ruins - all that was left after the explosion of the atomic bomb in Hiroshima, Japan, Aug. 6, 1945. US President Harry Truman gave the order to use nuclear weapons capacity of 20 000 tons of TNT to speed up Japan's surrender and end World War II. Japan surrendered on August 14, 1945. (AP Photo)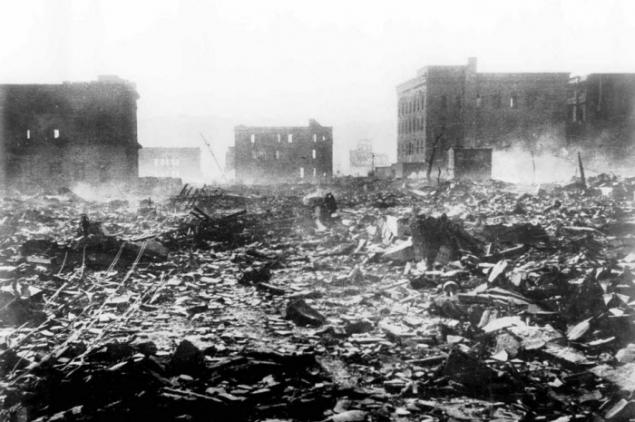 The shroud of smoke spreading over the ruins of Hiroshima, Japan, August 7, 1945, the day after the explosion of the atomic bomb. (AP Photo)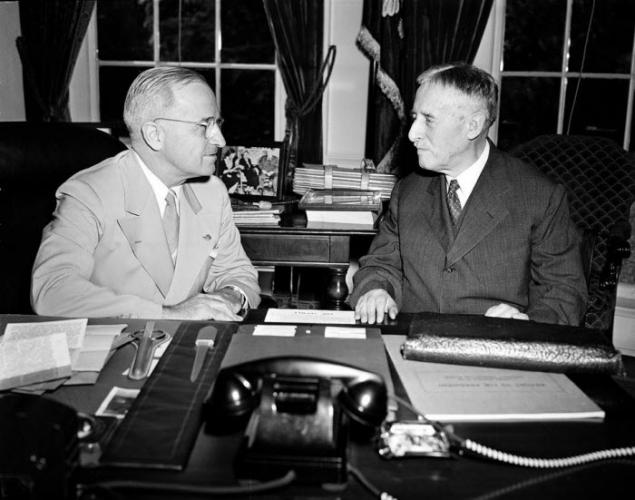 President Harry S. Truman (left) sits at his desk in the White House with Secretary of War Henry L.Stimsonom returning from the Potsdam Conference. They talk about the atomic bomb dropped on Hiroshima, Japan. (AP Photo)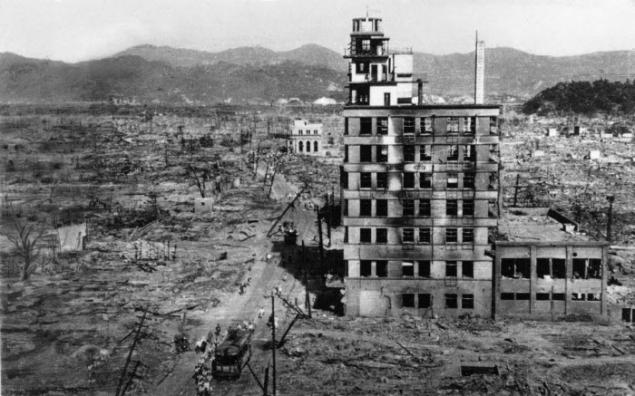 In this photo, the Japanese city of Hiroshima visible frame of the building standing among the ruins of August 8, 1945. (AP Photo / Mitsugi Kishida)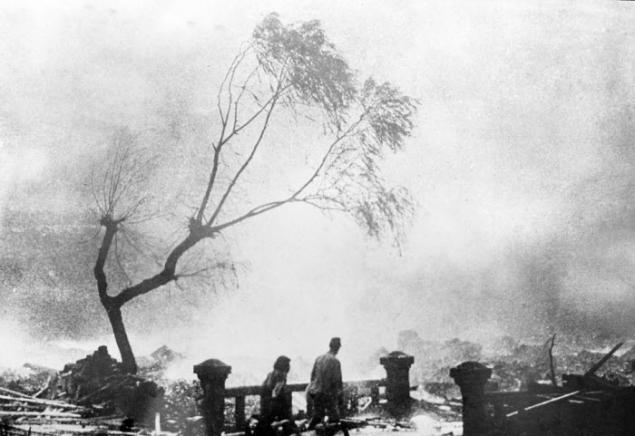 People who survived the atomic bombing of Nagasaki, are among the ruins, while in the background a raging fire August 9, 1945. (AP Photo)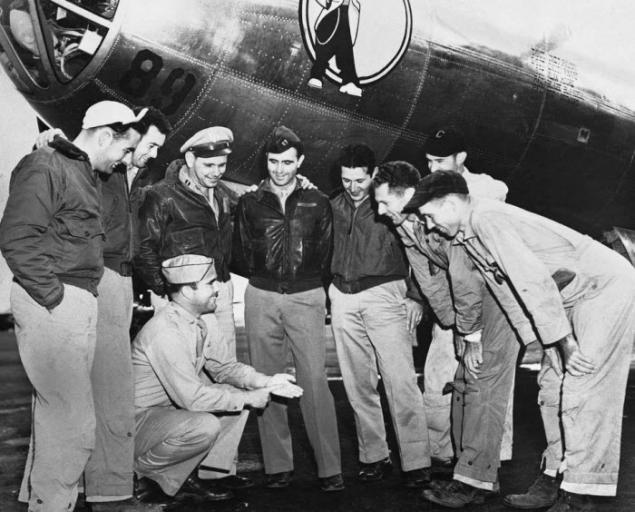 Crew members «The Great Artiste» B-29 bomber that dropped the atomic bomb on Nagasaki, we gathered around Major Charles W. Sweeney in North Quincy, Massachusetts. All crew members took part in the historical operations. From left to right: Sergeant R. Gallagher, Chicago; Staff Sergeant AM Spitzer, Bronx, New York; Captain C.D. Albury, Miami, Florida; Captain J.F. Van Pelt, Jr., Oak Hill, West Virginia; Lieutenant F. J. Olivi, Chicago; Staff Sergeant E.K. Buckley, Lisbon, Ohio; Sergeant AT Dehart, Plainview, Texas, and Master Sergeant JD Kuharek, Columbus, Nebraska. (AP Photo)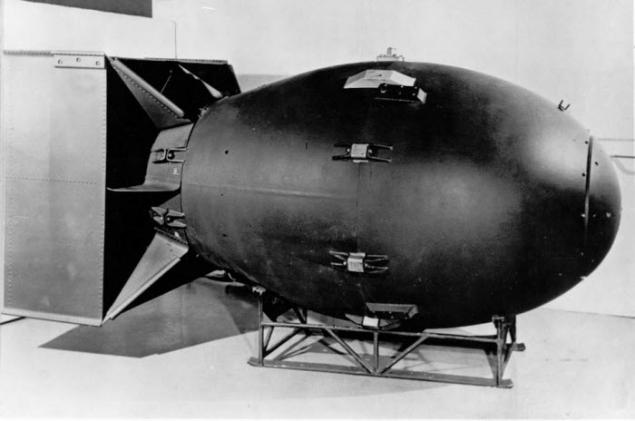 This image layout of the atomic bomb that exploded over Nagasaki, Japan during World War II, was published by the Commission for Atomic Energy and the Department of Defense in Washington on December 6, 1960. The bomb, "Fat Man» («Fat Man») had a length of 3, 25 m and a diameter of 1, 54 m, it weighed 4 to 6 tons and reached the explosive power of about 20 kilotons of TNT. (AP Photo)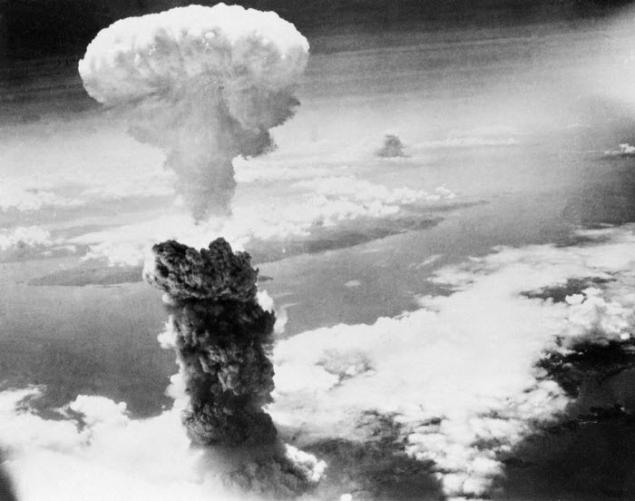 A huge column of smoke rising into the air after the second atomic bomb ever used in warfare, has exploded in the port city of Nagasaki on Aug. 9, 1945. The explosion of the bomb dropped bomber, B-29 Bockscar Air Force of the US Army immediately killed more than 70 thousand people, tens of thousands more died later from radiation exposure. (AP Photo)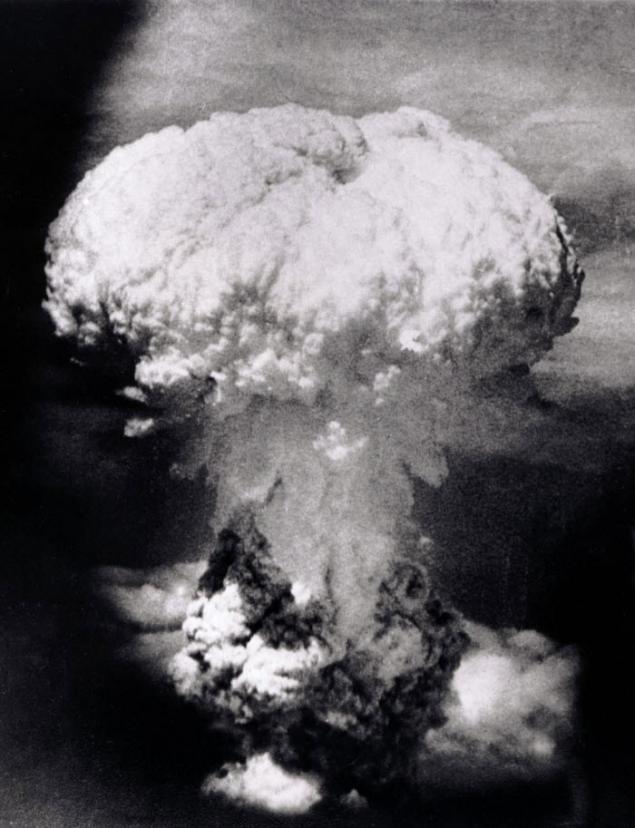 A huge mushroom cloud formed over Nagasaki, Japan, after a US bomber dropped an atomic bomb on the city of 9 August 1945. The blast killed 70 000 people, thousands more died later from radiation exposure. Nagasaki nuclear attacks occurred three days after the United States dropped the first ever atomic bomb on the Japanese city of Hiroshima. (AP Photo / U.S.Signal Corps)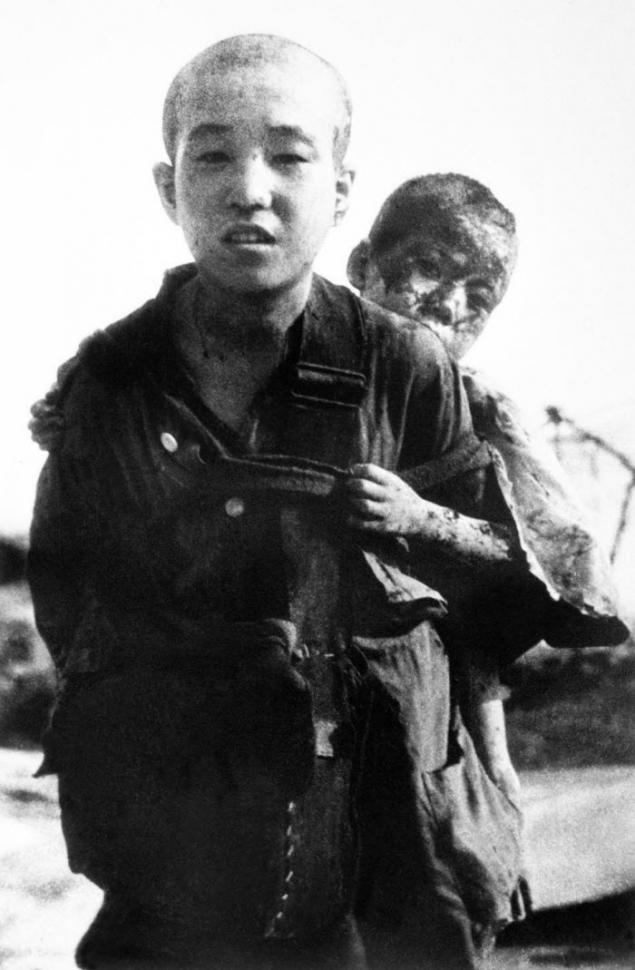 The boy bears on the back of his brother, suffered burns, August 10, 1945 in Nagasaki, Japan. These photos are not made public by the Japanese military forces, but after the war they were shown the world press UN staff. (AP Photo / United Nations, Yosuke Yamahata)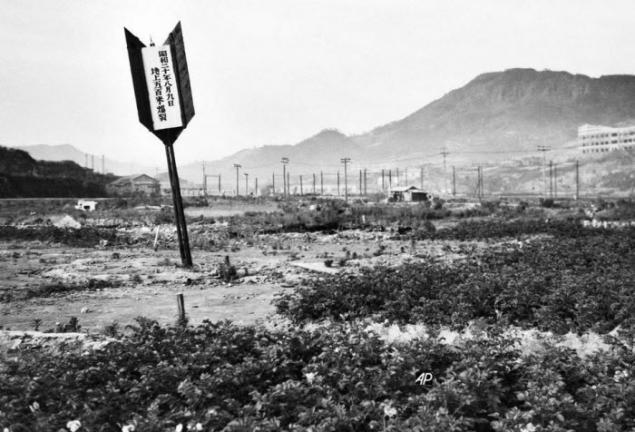 The boom has been set in place, which dropped the atomic bomb in Nagasaki, August 10, 1945. Most of the affected area is empty to this day. (AP Photo)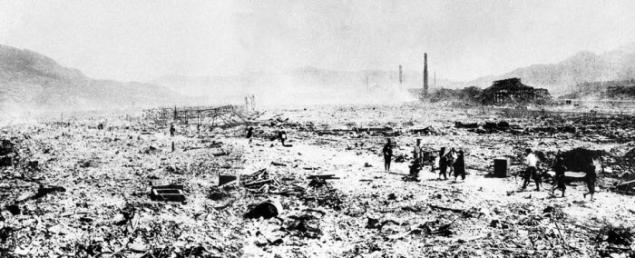 Japanese workers removed debris in the devastated territory Nagaski, an industrial town in the south-west of the island of Kyushu, after the August 9 it atomic bomb was dropped. In the background you can see the photos of the chimney and lonely building in the front - the ruins after the bombing of Nagasaki. The picture was taken from the archive of the official Japanese news agency Domei. (AP Photo)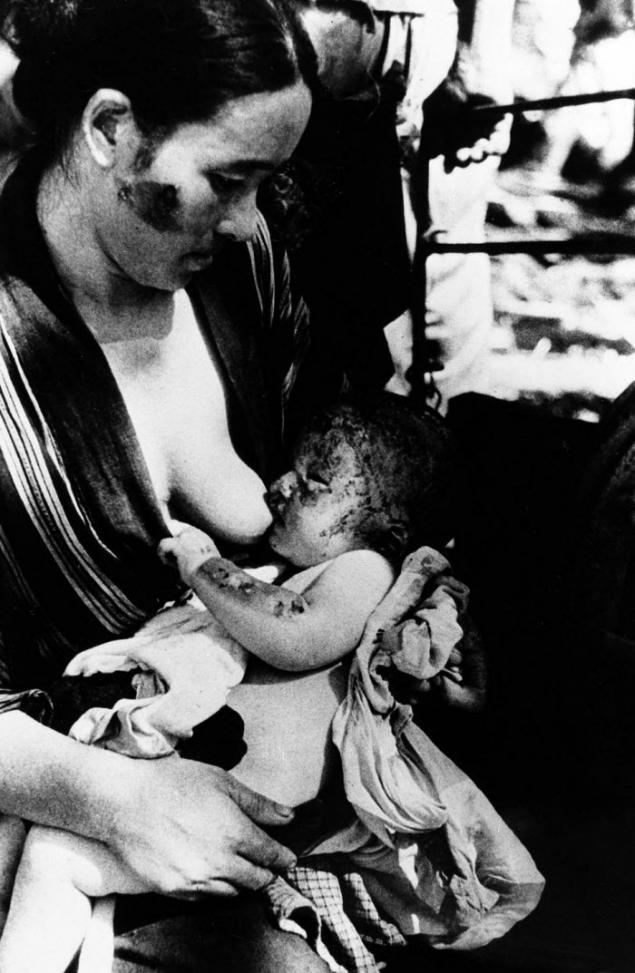 Mother and child are trying to live on. Picture taken August 10, 1945, the day after on Nagasaki, Japan, the bomb was dropped. (AP Photo / United Nations)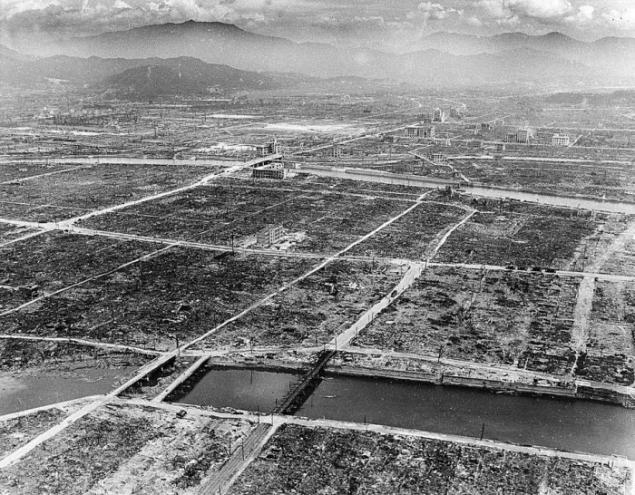 Several buildings and bridges of steel and concrete remained intact after the United States dropped an atomic bomb on the Japanese city of Hiroshima during World War II, as seen in this photo taken on September 5, 1945. (AP Photo / Max Desfor)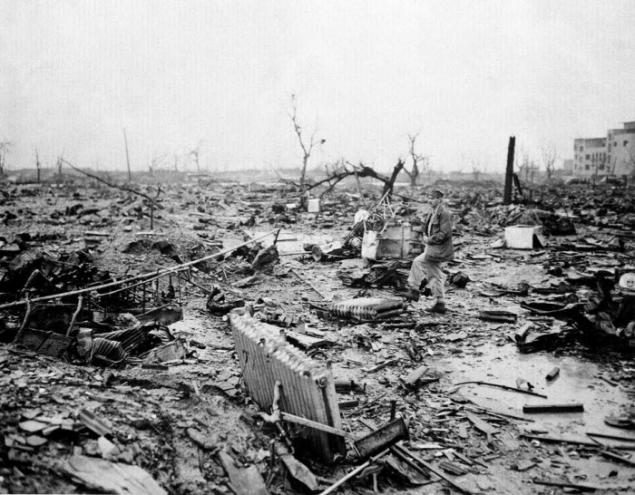 Allied journalist examines the ruins of Hiroshima, Japan, a month after the August 6, 1945 the first atomic bomb exploded. (AP Photo)
The victim of the explosion of the first atomic bomb ever used in warfare, is in otdelenii1 th military hospital in Hiroshima. Thermal rays released by the explosion burned outlines of clothes on the back of this woman. (AP Photo)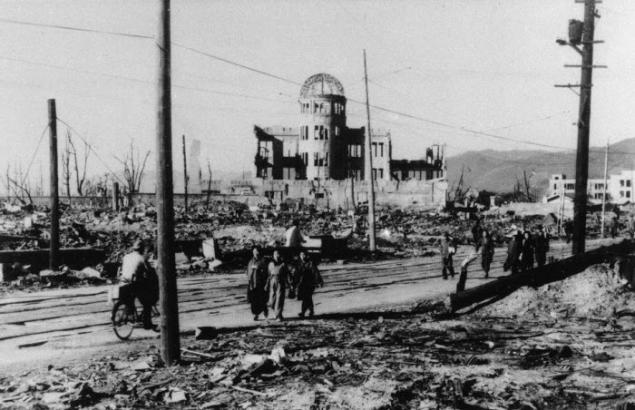 The area around the Sangyo-Shorei-Kan (Trade Promotion Center) in devastated Hiroshima after the atomic bomb 100 meters away in 1945. (AP Photo)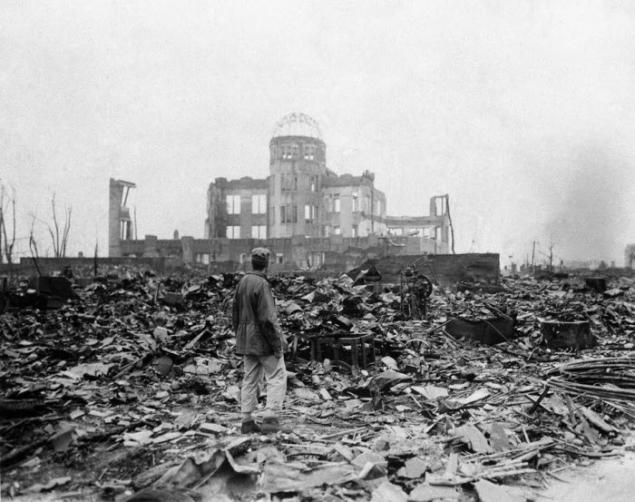 Allied correspondent stands among the ruins to the frame of the building, which used to be the city's theater, in Hiroshima September 8, 1945, a month after the first atomic bomb ever used in military action, was dropped by the United States to speed up the surrender of Japan. (AP Photo / Stanley Troutman)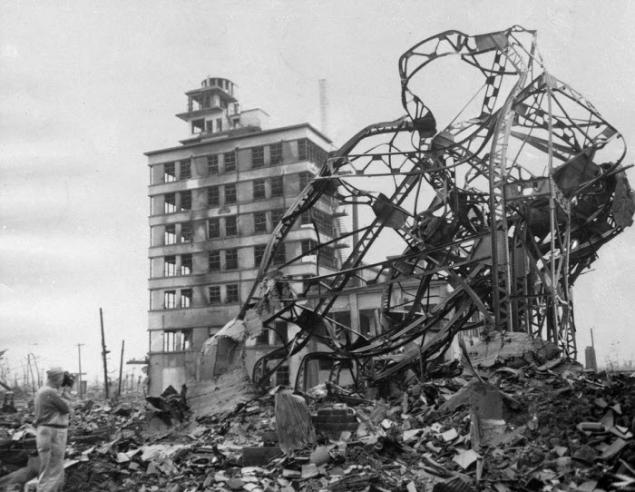 Twisted steel reinforcement and destroyed building can be seen among the ruins on the desolate land after the explosion of the atomic bomb over Hiroshima. Picture taken September 8, 1945. (AP Photo)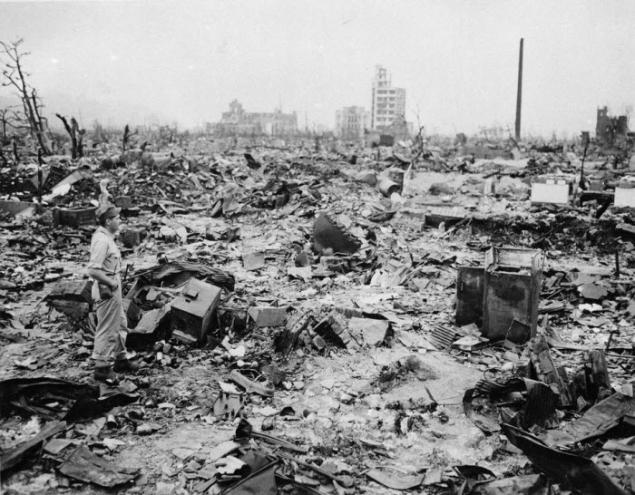 Only a few buildings remained standing in devastated Hiroshima, a Japanese city that was razed to the ground by the explosion of the atomic bomb, as seen in this photo taken Sept. 8 945 years. (AP Photo)