Another car from Touring Superleggera - this time the wagon made of Maserati Quattroporte. To the question, why bother to make such a car, so the creators are responsible - among moneybags amateur luxury cars, there are many of those who, together with the elegance of the executive sedan need a car for transportation of functional certain amount of cargo volume without loss of original properties of the machine.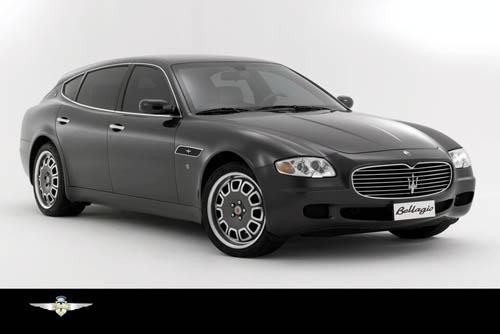 This can be useful when transporting golf bags, diving equipment or anything else. These wagons were popular in the fifties, and it is now possible to revive them in a new guise.
The basis of the car - Maserati Quattroporte, so if you want wagon based on it - give the company first sedan, but because it has already done what you need. And what happens in the end - you can see on the photo. By the way, the length of the trunk with folded rear seat number is 1 800 mm - many of which can fit there. Interior and many fine details are developed together with the customer, so that the world can hardly budut.2 identical cars.
Well, a fast ride on a Maserati Bellagio Fastback Tourin g without problems - the maximum speed is 275 kilometers per hour, and dispersal to "hundreds" takes only 5, 2 seconds. Eight "heart" of the car has an output of 400 horsepower and maximum torque of 451 Nm. Here is the truth "eat" it too much - 18, 9 liters of fuel per 100 km ... and the emission of harmful substances into the atmosphere equal to 440 grams per km.
Orders are accepted now.