Tina Turner continues to enjoy a fantastic
popular all over the world. Its wheels are still
sold out very quickly, especially in Europe, where
fans of the singer, even more than in the United States.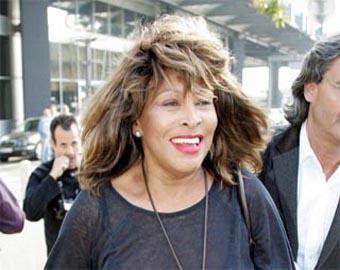 Singer Tina Turner declared the first eight years of a world tour, which starts in the US October 1 2008. Superstar returned to the big stage at the music awards ceremony Grammy, where she sang a duet with R & B-diva Beyonce, and then performed in Russia at the birthday party of the gas giant "Gazprom".
Tour Turner, is an honorary member of the "Hall of Fame Rock and Roll" begins a concert in Kansas City. All in all, within the framework of the tour will take about 30 performances in North America, after which the star is planning to hold several concerts in Europe.
Tina Turner announced the tour on the record, "The Oprah Winfrey Show," noting that tickets will go on sale May 12. Recall last tour of the singer in 2000 was, according to reports Billboard, the largest and most successful tour of the year.
After 89 concerts visited by over 2 million people, the singer managed to earn 110 million dollars. At that time it was the most successful tour of female singer in history. Then this record beaten Cher and Madonna.
Tina Turner (Annie Mae Locke) was born November 26, 1939. Since childhood, she loved to sing. In 1956, in one of the nightclubs he noticed her guitarist Ike Turner and invited her to his group of backing vocals. After her marriage to Ike appeared duet - Ike & Tina Turner, who enjoyed great popularity. In 1975, during a joint tour Tina went from Ike, and start an independent life. Tina Turner's career as a solo artist began only in 1983.
In the mid-1980s, Turner starred in «Mad Max Beyond Thunderdome», performing the song «We Don» t Need Another Hero & quot ;, which became a hit. The following year she performed a duet in Mickey Dzhagerrom in «Live Aid» masterpiece «We Are The World». In 1986, Tina Turner wrote his autobiography, which in 1993 was filmed («What» s Love Got To Do With It & quot;).
In 1995 there was a new James Bond film «Goldeneye», the soundtrack to which Tina Turner sang. At the end of October 1999 Tina Turner return to the top step of the rating in the UK with the song «When The Heartache Is Over».