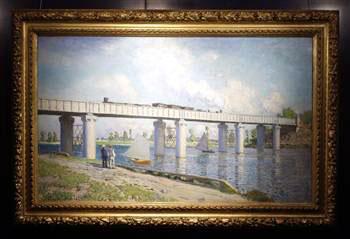 The work of Claude Monet titled "Railway Bridge at Argenteuil» ("Le Pont du chemin de fer a Argenteuil") sold by auction at a price exceeding $ 41.4 million. This broke all possible records set at the most famous paintings by French impressionists. In amazing in its beauty painting depicts a bridge over the Seine and two rushing towards each other train.
At the time, a suburb of Paris Argenteuil was a center of rest for the wealthy, and inspired many artists, including Renoir and Sisley, writing patterns. Monet, who rented a house not far from the majestic bridge, created his masterpiece in 1873
Buyer script Monet chose to maintain complete anonymity. Vendor is also known very little. However, assumptions are most likely it is the family Hamad, the largest art dealers, also owns a number of galleries and exhibitions in New York and London.
The previous record price was recorded in 2007 and amounted to $ 36.5, and served as the subject of buying Monet "Water Lilies» ("Nympheas), written in 1906