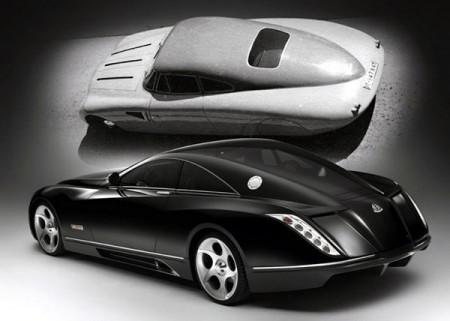 The company has built Maybach super-coupe Exelero. Huge machine exists in a single copy and can accelerate to 350-plus km / h. The purpose of this rather exotic supercar - a car built just for advertising tires - so, at least until the manufacturer claims.
Good advertising - the motor trade. But perhaps no one has yet not so keen on promoting their own product. German tire manufacturer Fulda, developed a new high-speed bus Sarat Exelero, decided not to be penny wise and in addition to videos and other traditional promotions ordered under its new tire corresponding car. And one of the most expensive brands on the planet - Maybach.
Serial Maybach near supercompartment Exelero, perhaps better not to - it does look like some S-Class limousine second or third freshness. Coupe length 5890 mm, width 2140 mm (almost like a HUMMER H1) even in the photos looks monumental, but also fast. It has something of the "Batmobile". Designers, however, inspired by no means transport mythical superhero, but a very real car, which in the 30s of the last century was used by Fulda for high-speed testing of their tires. This car with a streamlined body built for guttate shinnikov studio Dorr und Schreck in Hamburg also on the chassis Maybach - SW 38. So apparently anecdotal "tailoring a suit under the button found" taken shinnik not the first time and partly justifies the exorbitant cost of such advertising their products.
Maybach Exelero developed by engineers in conjunction with students from the College of Pforzheim, and built the famous Italian company Stola. He looks much more picturesque his utilitarian gray predecessor. Front car decorate huge chrome grille and predatory narrowed triangular headlights. Eye-catching and stylish small mirrors on long thin legs. On the sides pulled a thick exhaust pipes, ending with huge pipes - exhaust displayed sideways, as a "hot childbirth." But the back of unlike most supercars is not cocked, and old-fashioned narrows and falls as the stern of the yacht. This, however, did not prevent designers to build in "feed" diffuser - a mandatory attribute of high-speed cars.
Another indispensable attribute supercar - two bucket racing seats with four-point safety belts. These seats are quite in contrast with the overall style of interior - luxury-sport, but others here would be unlikely to be appropriate.
Under the long hood compartment hides present mechanical monster - a 12-cylinder V-engine 5, 9 liters, with two turbochargers capacity of 700 liters. p. The engine develops an equally monstrous torque of 1020 Nm at only 2, 5 thousand. Vol. / Min. For comparison, 6-liter V12 Lamborghini Murcielago develops 570 liters. p. and 650 Nm at 5400 rev. / min. During the high-speed races on the circuit in Berlin Exelero testers were able to overclock to 351 km / h. Acceleration time to 100 km / h were reported. It does not say as much as tolpiva The costs supercar, but given the fact that the fuel tank capacity of the machine as much as 110 liters, appetite "Maybach" should be abolished.
The cost of the car, whether it is serial, could be measured in parrots, or rather in the "Mercedes". But Exelero will remain in a single copy, thus saving composure hundred billionaires around the world, and along with the relative calm on the public highway. Fans of supercars from the machine would get only tires Fulda, in which it hopes German manufacturer of rubber products, they will shoe your Porsche and Ferrari.