Yes Yes! And how much do you want, if the length of nearly 6 meters and in base - 3390 mm - fit compact runabout?
At first glance, especially when you see the car alive, it seems that this monument of titanic proportions - the layout is not able to ride. He drives and develops ... more than 350 km / h! He does not shout!
German construction giant, started a bus company "Fulda". For almost 100 years it has orders to showcase their products unusual fast cars, even used trucks and buses. With "Maybach" in shinnikov long association. In the second half of 1930 on the chassis' Maybach-SW 38 "built streamlined coupe, capable to reach 200 km / h. Use the machine to complete the program could not - the war began, during which the car was gone. After 60 years of "Fulda" has created 23-inch tires "Karat Ekselero" and initiated the construction of a suitable vehicle. Therefore, it is possible coupe called not only the "Maybach" and "Fulda-Ekselero».
3 photos!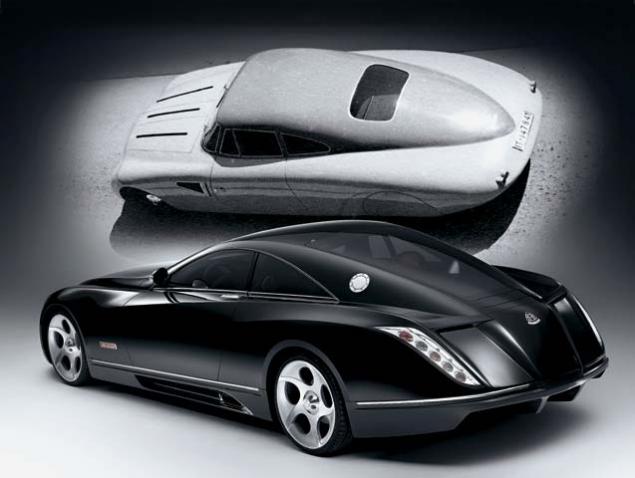 The project on a competitive basis, students worked under the supervision of "DaimlerChrysler" Harold Leshke. Then work including Italian design and engineering firm "table". Finally, using the platform of "Maybach-57" on the tubular frame slowly gathered a huge coupe, leather trimmed interior, aluminum and ultra-modern synthetics.
Obkatali car on company landfill were approved TU..V: «Ekselero" allowed to drive on public roads! Finally, May 1, 2005 at 7.28 happened: the Italian racetrack, "Nardo" driver Klaus Ludwig dispersed the coupe to 351, 45 km / h. Car and inflated in order to avoid excessive heating, to 3, 5 atm tires demonstrated viability.
What's next? Surely, "Ekselero" with honors in the company will be a museum. But really this is the last stage in the life of the machine record, around which at the Frankfurt Motor Show crowds of spectators? Rumors of a two-door "Maybach" go long. And if you remember that a four also started with surprise the size and design of the concept, and give free rein to imagination ...
Customers in the luxury coupe there would be little, but - what! And what noise would rise among the public and the press! And the huge, calculated on the crazy bus speed "Fulda" not gone to ...
and the photo of the track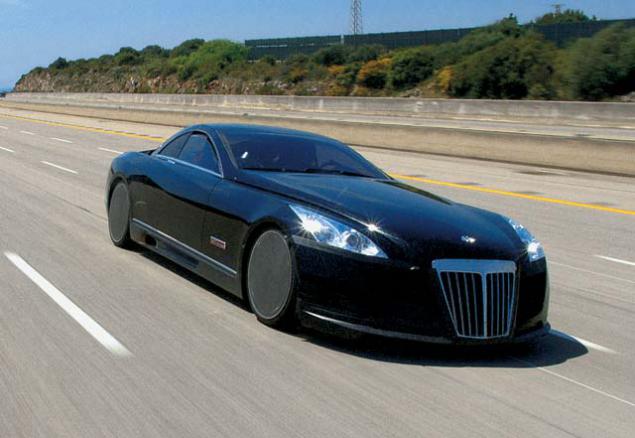 but in fairness add
"The company has built Maybach super-coupe Exelero. A huge machine exists in a single copy and can accelerate to more than 350 km / h. The purpose of this rather exotic supercar - a car built just for advertising tires - so, at least until the manufacturer claims.
Good advertising - the motor trade. But, perhaps, no one is not so keen on promoting their own product. German tire manufacturer Fulda, developed a new high-speed bus Sarat Exelero, decided not to be penny wise and apart of videos and other traditional promotions ordered under its new tire corresponding car. And one of the most expensive brands in the world - Maybach.
Serial near supercompartment Maybach Exelero, perhaps better not to - it does look like some S-Class limousine second or third freshness. Coupe length 5890 mm, width 2140 mm (almost like a HUMMER H1) even in the photos looks monumental, but also fast. It has something of the "Batmobile". Designers, however, inspired by no trucks mythical superhero, but a very real car, which in the 30s of the last century was used by Fulda to test its high-speed tires. This machine with a streamlined body built for guttate shinnikov studio Dorr und Schreck in Hamburg also on the chassis Maybach - SW 38. So apparently anecdotal "sewing costumes found under the button" Shinnik undertaken not for the first time and partly justifies the exorbitant cost of such advertising their products.
Maybach Exelero designed by engineers in conjunction with students from Pforzheim College, and built the well-known Italian company Stola. He looks much more picturesque than its utilitarian gray predecessor. Front car decorated with a huge chrome grille and predatory narrowed triangular headlights. Conspicuous stylish small mirrors on long thin legs. On the sides are drawn a thick exhaust pipes, ending with huge pipes - the exhaust side displayed as a "hot-birth." But Zadok unlike most supercars is not cocked, and old-fashioned narrows and falls as the stern of the yacht. This, however, did not prevent designers to build in the "stern" diffuser - a mandatory attribute of high-speed cars.
Another indispensable feature of a supercar - two bucket racing seats with four-point seat belts. These seats are quite in contrast with the overall style of interior - luxury and sports, but others here would be unlikely to be appropriate.
Under the long hood hides the compartment present mechanical monster - a 12-cylinder V-type engine 5, 9 liters, twin turbochargers with a capacity of 700 liters. p. The engine develops an equally monstrous torque of 1020 Nm at only 2, 5 thousand. Vol. / Min. For comparison, 6-liter V12 Lamborghini Murcielago develops 570 l. p. and 650 Nm at 5400 rev. / min. During the high-speed races on the racetrack in Berlin, testers were able to overclock Exelero to 351 km / h. Acceleration to 100 km / h were reported. It does not say too much at the same time consumes tolpiva supercar, but given the fact that the tank cars can hold as much as 110 liters, appetite "Maybach" should be abolished.
The cost of the car, whether it is a serial, can be measured in parrots, or rather in the "Mercedes". But Exelero will be in the single copy, thus saving composure hundred billionaires around the world, and along with the relative calm on the public highway. Fans supercar car tires would get only Fulda, in which, as the German manufacturer hopes to rubber, they will shoe their Porsche and Ferrari.
Exelero at the highest level for today embodies the brand strategy Maybach, consisting in targeting specific and exceptional wishes of its customers. When the first tests on a speed track in Nardo (Italy), this unique car a top speed of 351, 45 km / h (measured in accordance with the rules of FIA *).
The show car was designed by the designers "Maybach Manufaktur" with the active participation of university students in Pforzheim (Germany). The building of the car took over the Turin firm "Table" (Italy), specialized in the manufacture of prototypes. Mass production of this car is not planned. Consequently, when it put up for sale, it will cost even $ 1 million, so it's not just custom-made model - a rich history, and if finishing in part gold, then about $ 1 million out of the question should not be.
»
Source: