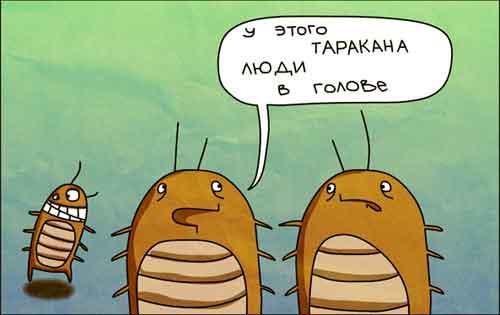 Beloved wife sits checks homework - writings of fifth graders entitled "Description of the animal." Who wrote about the cat who is about the dog.
But the boy did all Vanya. He composed a truly real thrash ballad about his apparently beloved pet.
And here is the text of the writings Vani:
Home cockroach can vyzhit at all. Radiatsyi nivee poisons do not kill all the poisons current nekataryi.
Radiatsyya sale of Hurts not very large Vreede chelaveka umeraet right or left difekty.
He eats everything that the Pope otpichatak finger motor oil, gasoline, moldy stuff, obetki.
He shield the most unique creation. He can detach his head he could razmnozhatsa up to two hours.
He can zhitv any conditions. Vsyrosti, vzharil the trash it is for them a paradise for us ristoran.
He vyglidit brown primougolny susami with six legs.
He lives in manholes and raschelinah in kalinezatsei. They are very well maskeruyutsa we will not see them sechas of banks, a chair under the garbage in the garbage for food! It is prepared by nasikomoe most strong, hardy, can nepit two months are they hand over their corpses rotstvenyh.
They kakby nravitsa but they have a lot of infection: food coli, worms eggs on their paws.
That's all.
This scans masterpiece works: