Renowned singer Avril Lavigne spoke about her next album, a new line of clothing and life with her husband.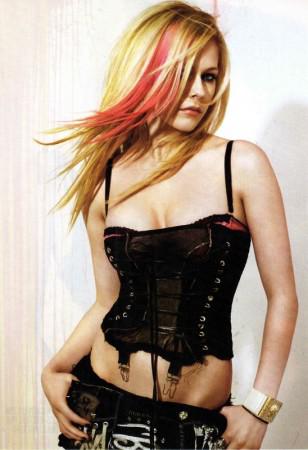 - What musical direction of your next album? How did you develop the music?
 - I want to write acoustic music. This is the direction in which I want to work now, but that does not mean that all of my album will be acoustic. I need it right now, so I'm going to write this kind of music and at the end and see what happens. I do not know, I really can not say anything definite. I was on tour the last six months, so now I can not say anything concrete.
 - Acoustic music really underscores your voice that really sounds great live.
 - I think every album should be songs that reveal your voice, and are not just a set of samples. But I'm not sure that the album will be in a similar style. Let's see.
 - Your clothing line «Abbey Dawn» was named so because of the nickname that gave you your father? How did you get this nickname?
 - He worked in Kingston, and it was my "street" name. He called me Abby, everyone at school call me Abby. Then it was my nickname in the early days, just so I wrote down in the hotels, in order not to attract attention. Therefore, this nickname became part of my life. I always thought that if I have a girl, I'll call her Abby, but now I have a clothing line called Abbey.
 - What do you like to do with her husband Derek?
 - Spending free time together in our house in Los Angeles.
 - What's the most enjoyable thing he did for you?
 - He's always doing nice things for me. It is generally very nice and helpful.
 - What is your favorite food on tour?
 - When I come to Canada, I always buy chips with ketchup and dill. But in general, I try to eat healthy food, because every singer should watch your diet - you have no right to poison or sick, because the evening you have to go on stage.
 - Do you have a personal chef?
 - No, my bus is no place for him. We have a refrigerator and a stove. When I get up, most often I eat the salad. We have a kitchen and I prepare myself what I want.
 - You do not think about the birth of children?
 - I think we should wait another ten years. Now I have something to do.
 - How do you look at a career in the movies?
 - When I finish a tour, I can think about it. I consider some of the proposals, and I think, I remove one or two films.
 - Do you plan to study cinematography, or hope for a natural development of a new field of activity?
 - I would like to learn acting, but has not yet found the time for this.
 - Your favorite movie?
 - I like "Home Alone" - it's my favorite movie from childhood.
 - Do you use the internet? What is your favorite website?
 - I do not particularly like the Internet. I check your blog on Myspace and read updates of your friends. Sometimes I'm looking for some necessary information or recipes. And I really like rock music.