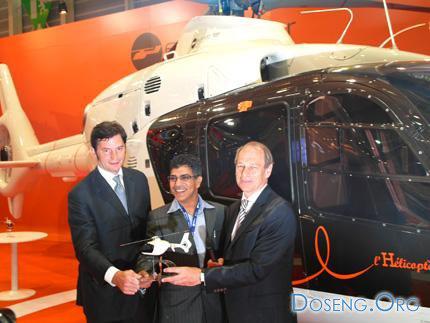 It turns out that there are not only cars Hermes, and helicopters. On the business aviation exhibition Ebace 2008 an agreement was signed for the sale of the first helicopter Eurocopter Hermes. The buyer was Falcon Aviation Services - airlines operate charter flights by helicopters in the United Arab Emirates and the Gulf countries.
Twin-engine helicopter based at the EC 135 in cooperation with the House combines the latest technical advances and advantages of the design execution. Handwriting brand evident in every detail of the interior. The spacious cabin freely accommodate four people. Surfaces from floor to ceiling are covered with original fabric 'Toile H', which is the brand used in the manufacture of bags from the 1920s. The seats are upholstered in leather handcrafted for exceptional comfort of passengers.
"Customers in the segment of business aircraft are extremely demanding. And our helicopter - it's not only convenient and safe means of transportation, but also a piece of art, a model of elegance and style. We hope passengers will be satisfied with the flight "- said senior vice president Philip Arash (Philippe Harache).
"We are delighted to be the first customer of the helicopter Eurocopter Hermes. In the cabin, where attention to detail, you feel surrounded by comfort, luxury and carefree atmosphere, "- said the head of FAS Salem al Kayumi.