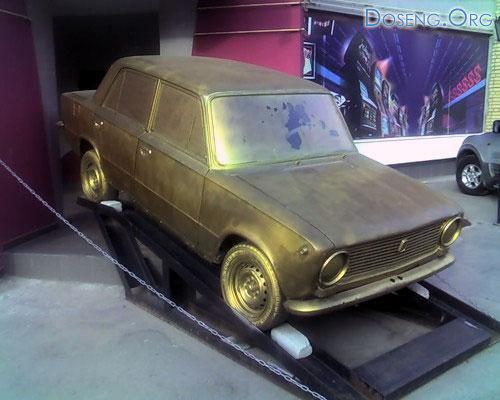 Too many people in the world nourish the love of cars, some of these motorists to gather a collection of car models, some of which reach tens of thousands of dollars. And it is really for the elite such models are created from real gold.
It specializes in creating golden statues of various brands of cars firm Mike Dunlap, its sculptors engaged in the life of the embodiment of a golden dream racers and collectors for over 25 years. Each model is unique in its own way, but all of them are made of 24-carat gold on a scale of 1:12. All models are performed manually in a single copy, prices fluctuate in the region of several tens of thousands of dollars, but no less than 50,000, it all depends on the brand of car to be copied.
And here is a copy of the boat, apparently, difficult to perform, and it costs more recently millionaire one of Dubai had to shell out 180,000 dollars for his favorite statue, cast in gold.
And what, by the way, good racing drivers rewards derived from such works of art, just think of the victory in the elite race brings not only the rank and status, but also the incomparable exclusive model of your car, for this is clearly worth fighting for.