The magazine In Touch has denied all rumors about the birth of Angelina Jolie,
making exclusive footage of the actress in the yard of her French home.
In the photo it is obvious that Jolie is still pregnant.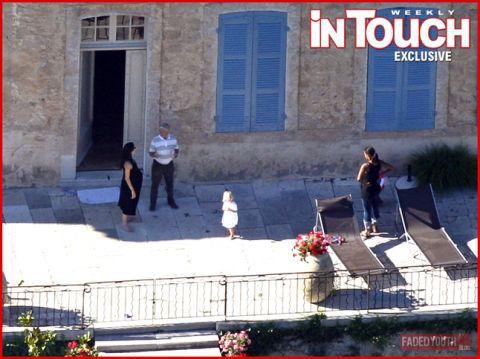 Angelina Jolie at the late stage of pregnancy, determine where to give birth. The twins were born in the recent lifting of Jolie-Pitt couple, luxurious mansion in the south of France.
Especially for delivery in the home is equipped with one of the rooms. It is the necessary medical equipment for Caesarean section, and for birth naturally.
Doctors take into account all possible risks, and the room converted into a kind of a mobile clinic.
The room, like the surgical units in hospitals, sterile. American star's personal physician is not willing that she gave birth in the hospital because of the risk to catch "hospital" infection. Apart from him, will be present at birth, two obstetrician.
Jolie-Pitt rented Chateau Miraval estate in late May. It is located in Brignoles near the city of Aix-en-Provence in southern France. The villa is located a few kilometers from the Mediterranean Sea.
The area of ​​the estate exceeds 400 hectares, the territory has an artificial lake, vineyard, forest, 20 fountains. The house has 35 bedrooms, indoor and outdoor swimming pools, a billiard room, separate gyms for Jolie and Pitt, sauna, jacuzzi and a huge banquet hall.
Earlier in the American and French press there were rumors that Jolie was going to give birth in one of the prestigious French clinic, and supposedly that is why she and her husband and children moved to France in early May.