Russian national football team climbed
to 11th place in FIFA rankings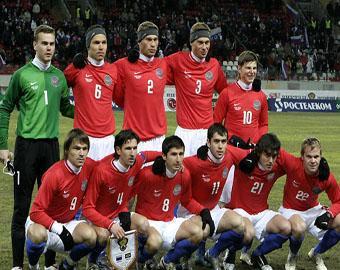 Russian National team that won Euro 2008 bronze medal, moved to 11th place in the rating list of national teams by FIFA, which was published on its website on Wednesday.
The Russian national team has made a significant leap in the ranking, having moved up 13 places at once, compared with the previous month. 11th place in the FIFA rankings - the best result for the Russian national team for the past 11 years.
In the June FIFA ranking Russian team ranked only 24 th place.
July FIFA rankings headed the winner of Euro 2008, the Spanish team, which rose from fourth place to first. Second place - from Italy, the third - in Germany. The top ten teams in the world are also included: Brazil, Netherlands, Argentina, Croatia, Czech Republic, Portugal, France.