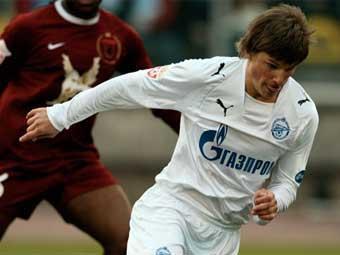 Head coach of "Zenith" Dick Advocaat said that the team leader Andrei Arshavin, has repeatedly expressed a desire to leave the St. Petersburg club at the end of Euro 2008, will not play for the Russian champions in the next matches.
According to the lawyer, the decision was made coaches and players together.
Arshavin must determine the order in which club he will continue his career in the next 11-12 days. During the European Championships, where the Russian team reached the semifinals, we were interested in the Spanish striker "Barcelona" and London "Arsenal", but in recent days in the British media reported that the most likely Arshavin enters "Chelsea».
However, the press attache of "Zenith" Alexei Blinov said in an interview that the St. Petersburg club has no information that Arshavin could leave the team. On Friday, the footballer took part in the morning workout "Zenith».
On Sunday, July 12 in the 12th round of the championship of Russia, "Zenit" will take in his field, "Tom." Due to the participation in the UEFA Cup the season-2007/08 St. Petersburg's team in the national championship held only six games, he scored seven points and occupies the 14th place in the standings.