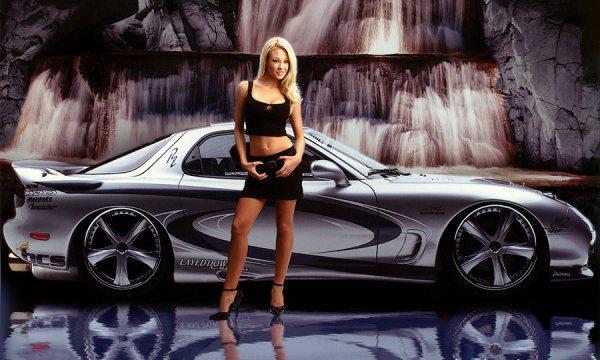 Besides the ubiquitous psychologists and psychoanalysts who like to comment on any abstraction, color effect on the perception of the subject person, the popularity of colors, depending on the fashion research and real professionals. Who better than a company producing paints, can know what kind of color in fashion today, because it is this knowledge brings them profit. The choice of car color - it is a serious marketing problem that can be solved with the help of research on the part of vehicle manufacturers and paint manufacturers. Ours, in fact, frivolous thinking about the color of the car - it is an occasion for serious reflection auto companies.
The largest paint manufacturer PPG conducts regular research the popularity of colors, shades, as well as fashion trends in clothing, interior design and other areas of the human environment. The main conclusion that has made PPG, - it is a gradual loss of relevance of pure silver in fashion. And if in 2006 about 33% of motorists upopno choose this wishy-washy color, now silver was the favorite color of 31% of car buyers. Silver takes place black, who, with 15% of the hearts of motorists in 2006, is now to be cleared for 18%. The third most popular in the world takes a white color, it is chosen 12, 5%, followed by blue - 12, 4%, red - 8, 8%.
Silver color is chosen not only because of the fact that it looks modern and stylish, but also because the car in a color easily resell at a higher price in the secondary market. PPG Experts believe that, as the trend is changing, silver ready for transformation. Already, a new collection of colors contain a rich palette of silver, but with lots of colors and pigments that make each one unique colors. The effect pigment inks - is the result of the application of nanotechnology, along with the new feature of the paint, which can be tightened after minor scratches. This already applies paint company Nissan.
PPG also makes predictions about the colors 2010-2011 model year vehicles. For example, in their new collections, new colors, such as silver with a hint of blue, light green with a red tint, brown with blue tint, natural yellow metallic colors citrus, cold green with a golden sheen.
In a fashion includes natural tones, composed of neutral black, white and silver. Particularly popular is the color of steel, which also turned the head and fashion designers. For the first time can be a popular brown color and its shades that were previously unimaginable. Brown - the color of earth, wood and leather, which means that the color is natural and naturally attracted unusually urban residents already crazed by bright neon cities.
However, no psychologists here, of course, do not understand. Marketers marketers, but really interested in personal portrait of the very customers who are not thinking about the causes, choose the most unsightly color, can only free sculptors of the human psyche - psychologists. And what portraits they paint.
Silver color. The owner of such a car is self-sufficient and feels meaningful, sometimes it is too pragmatic and boring. By the way, silver color - the color of lies, so most likely, the owner just wants someone to appear, in fact, trying to get away from excessive frankness. Silver as a shade of gray - the color of puritan postwar Britain.
Black - the color of mourning in Western culture, as is the color of anger and rage. The black car color means social weakness, lack of readiness to decisions. Mythologically black color is always a challenge to man tried to release its essence, that he went through the black, to know how much of it white. That is what our motorists and not enough, they hide behind imaginary tranquility of this funereal tone. Owner black - it's either "apparatchik" who wears a uniform, or overly self-confident, but too short-sighted tomboy, no matter how old he is.
White is popular in tropical countries, for example, sheikhs and rich Arabs prefer the car was the same color. Along with the practical side of things gives the image of a white car of purity and innocence, security. White - it is also the color of courage. White cars - is a challenge and notation that the person gives the car too much importance as an accessory, trying to improve their social status.
The red color in the automotive industry represents a sport and at the same time a desire to show off and compete. Red - it's natural color of blood. In ancient Rome, the purple color indicates the power. Psychologists are uniquely attributed to the owners of the red dissatisfaction with life and propensity for aggression by colored people try to express themselves without spending their emotional strength.
Blue Car - it's a sign of modesty, a certain compromise between excessive strictness and unnecessary black expressive alternative colors. A discreet, thoughtful but somewhat shy blue car owner loves a smooth ride, lazy and treat with attention to detail. At the same time, such a person is subject to the opinions of others, and in his heart inclined to obey and too keen on one thing, losing his mind and connection with reality.