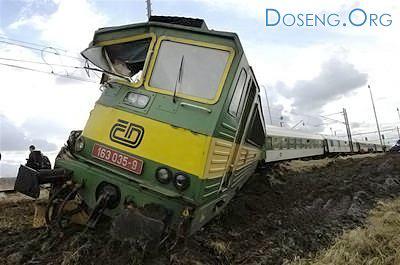 According to preliminary reports, at least ten people were killed and a hundred injured in a train crash in the northeast of the Czech Republic.
According to local authorities, international express composition "Intercity-Comenius" resulted from Krakow to Prague. At a speed of about 140 kilometers per hour, he crashed into the side of the scaffolding erected bridge, scattered on the tracks. The locomotive and six cars derailed.
The accident happened around 10.30 am local time in the north-east of the Czech Republic. The train derailed near the village of Studenka, 350 kilometers from Prague, near the border with Poland, RIA "Novosti".
Particularly badly damaged the front two cars. All of the victims were in them. Just a train was about 400 passengers.
Czech police spokeswoman Miroslava Mikhalkov-Salkova stated that "it is - a terrible tragedy," according to news agency "Rosbalt».
Reconstruction of the bridge began in April and be completed in October 2008, "Interfax».
On the scene there are 16 brigades of "first aid". According to preliminary data of more than 100 people injured.
Rescuers recovered from the mangled carriages 20 passengers miraculously survived, who escaped with minor injuries, according to ITAR-TASS.