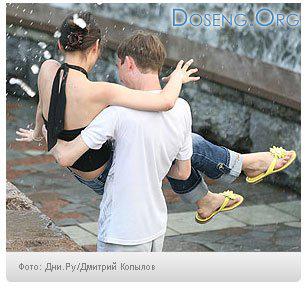 In the Moscow region moves powerful warming. According to weather forecasts, the thermometer finally overcome the 30-degree mark, and subtropical anticyclone will bring local storms and south wind.
As early as this weekend, the air in the vicinity of the capital has warmed up to 25 degrees Celsius, and next week the temperature will be higher. On some days, experts warn, the temperature can even reach extreme performance.
The fact is that the Atlantic cyclones during the last time of processing Moscow rains finally replaced by warm subtropical anticyclone, carrying with them a portion of the heated air powerful.
On Saturday afternoon, the thermometer will rise to plus 25 degrees and sunny windless. By region thermometers show plus 23-26 degrees. On Sunday, the temperature will continue to grow, reaching 24-27 degrees during the day. To join the local heat rains and thunderstorms.
Next week, the heat will increase, sometimes the temperature may exceed the 30-degree mark, promises CEO Gidrometeobyuro Moscow and Moscow region Alexei Lyakhov. It was then that Moscow will peak warming, and the rate of thermometers above normal by 5-7 degrees.
Compared with the current weather in warmer by 10 degrees or more, it is possible that some days will be repeated or even blocked by the maximum temperature extremes. As recalled by the business newspaper "Sight", this summer only twice - July 14 and 15 - the air temperature in Moscow exceeded the 30-degree mark.
In the third week of August again possible rains, winds and storms, and in September in the metropolitan area will be quite comfortable - warm and dry.