she thanked the Russian live for their help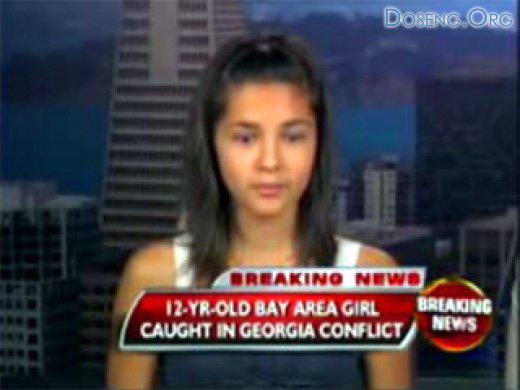 In the US, there was a sudden scandal on the famous TV channel Fox News. Live were invited girl, having been in the midst of the Georgian-Ossetian conflict, and her aunt. Suddenly, the lead they sounded not the most common point of view on the events in the US media.
12-year-old Amanda Kokoeva from San Francisco for six weeks vacationing with their relatives in South Ossetia. According to her, August 7, she was sitting in a cafe, when bombs began to fall, and she was very frightened. The next morning, he and his uncle went to North Ossetia, and the day after she arrived in Moscow, where flew back home to San Francisco.
How to tell her aunt Laura Tedeev-Koreviski, emigrated to the US 10 years ago, a girl called South Ossetia and briefly informed that around burning houses, does not stop the bombing, and she does not know who of your friends alive.
And as witnesses of the conflict, they were invited to air US channel, known for its aggressive support for advocacy efforts of the government since the days of the war in Iraq. After the girl was not the first time gladly giving interviews on this occasion, recounted outlines their adventures, she said: "But before we talk further, I want to say we were running from Georgian troops that bombed our city, not by Russian troops. I want to say thank you to the Russian troops. You have helped us. "
Leading quickly tried to change the subject, but the dialogue is now shared her aunt and even more radical vision of the situation.
"Yes, it was terrible, - said Aunt Amanda. - I want to say it on TV, I want everyone to know - who is to blame in all of the conflict. This war began Mr. Saakashvili, he was the aggressor ... and two days of my people, Ossetian people were killed, bombed - killed 2,000 people. Lead is trying to kill her, and then ether was suspended for a few seconds. Back in the air, the woman was able to briefly to finish his thought: "My home in South Ossetia, where I lived ... we can only blame one person ... And the Georgian government. I do not blame the Georgian people, I blame the Georgian government, it must resign ... ".
The moderator noted that "this is exactly what they want Russian" and completed the program, recognizing that in the coverage of the war in South Ossetia, there is a "gray zone".