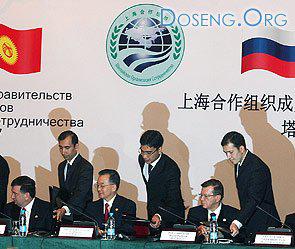 Photo: ITAR-TASS
Joint statement on the Georgian aggression in South Ossetia intend to take the Shanghai Cooperation Organization, said Tuesday, Foreign Ministry spokesman Qin Gang. "The SCO leaders presumably will announce positions on all issues of common interest - the fight against terrorism, the adoption of new members and the situation in South Ossetia. According to the results of the summit will be traditionally adopted a joint communique, "- said a spokesman for the Chinese Foreign Ministry.
A special place in the discussion will take the Georgian aggression against the breakaway republic of South Ossetia, which killed more than 1500 civilians. According to the diplomat, Beijing hopes for a "peaceful resolution of the Georgian-South Ossetian conflict through dialogue and negotiation».
As reminds RIA "Novosti", the Shanghai Cooperation Organization includes Russia, China, Kazakhstan, Kyrgyzstan, Tajikistan and Uzbekistan. Observer status in it have India, Iran, Mongolia and Pakistan.
In turn, the Group of Seven leading industrial nations of the world "disturbed" by reports that Russia could recognize the independence of Abkhazia and South Ossetia, said US State Department spokesman. Recall that on the eve of both chambers of the Russian parliament appealed to Russian President Dmitry Medvedev to recognize the independence of Abkhazia and South Ossetia. According to the State Duma Speaker Boris Gryzlov, relevant and legitimate posing this question makes a real threat of genocide against the population of the unrecognized republics.
As the representative of the US State Department, all seven countries (United States, Italy, Britain, France, Germany, Canada and Japan) "were united in support of Georgia's territorial integrity." "They are alarmed by reports of Russian plans to recognize Abkhazia and South Ossetia", - said the US official. Note that his words only confirmed what had previously announced the head of the White House, George W. Bush, who expressed concern about the possibility of Russia's recognition of the Georgian enclaves. "The United States will continue to stand shoulder to shoulder with the people of Georgia and their democracy, as well as to maintain its sovereignty territorial integrity", - says the statement of the head of the White House.