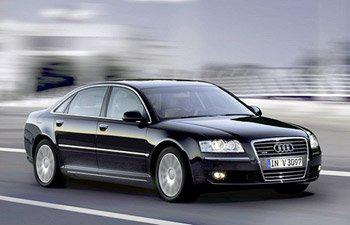 Very soon the servants of the people in the northern capital will drive a brand new premium sedan Audi A8. It is worth noting that this limo rides head of China or, for example, German Chancellor Angela Merkel.
In the spring of this year in St. Petersburg was a competition for fleet renewal for 70 million rubles. As the demands put forward a minimum of two LCD-TV with remote control, Hi-Fi audio system with subwoofer, DVD and CD-changer, chair seats with ventilation and electrically adjustable in length, height and inclination, and built phones «handsfree». Total was decided to purchase 17 luxury cars. As a bonus officials will receive V8 engine and chic interior trimmed in leather, alcantara and precious woods.
An interesting fact to Fontanka.ru reported. Among the requirements for vehicles indicated that they should be black pearlescent with a six-speed automatic transmission and eight-cylinder petrol engine in volume from 4100 to 4190 cubic centimeters. As a result, under the requirements of such large sedans gets only model A8. The closest - five hundredth Mercedes, he has a motor 4, 7 liters and a 7-speed automatic, Lexus LS - 4, 6, and eight-liter automatic transmission, the BMW 7-series engine capacity of four liters.
Following the "cones", decided to get comfortable transport and officials easier. Decided to allocate from the budget money to buy new cars Vice-Chairmen of Committees (they would get 15 Volvo S80 for approximately 1, 4 mln. Rubles.), Head of the central apparatus will buy (13 Ford Mondeo at 752 thousand. Rub.) To acquire all the remaining 29 Ford Focus for 592 thousand. rub.
If you believe the rumors, the initiative purchase luxury cars owned by the Vice-Governor Mikhail Oseevsky. He himself says that it is not so, the decision was made jointly. Ossevsky also said that Audi A8 decent car, and he like it very much. The new Audi bigger and better than his old Volvo.