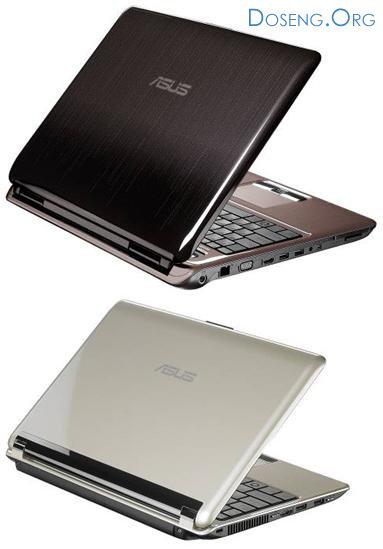 Taiwanese industrial giant ASUSTeK Computer introduced a new series of mobile assistants N Series, which includes models N20, N50, N80, and expensive High-End netbook N10.
All new items N series supports a number of interesting features and capabilities, including the Super Hybrid Engine (SHE), which automatically adjusts potreblinemuyu power depending on the load on the computer in order to extend battery life, built-in Express Gate operating system kernel on Linux, which allows you to boot the computer all 8 seconds for the Internet, listening to music and do other simple tasks, as well as an authentication system in the face SmartLogon as an advanced alternative to fingerprint sensors.
Netbook ASUS N10 includes 10 2-inch display, processor Atom N270 (1, 6 GHz), 2 GB of memory, hard drive capacity up to 320GB, powerful for this class of devices graphics GeForce 9300M GS, 1, 3-megapixel web camera, Bluetooth, Wi-Fi.
N20 is a 12, 1-inch subnotebook with long battery life up to 12 hours and audio system Altec Lansing, and the model N80 is equipped with a 14, 1-inch screen, video card NVIDIA GeForce 9 series and boasts support for Dolby Surround. These trends, depending on the specific modifications include an Intel Core 2 Duo T9400, P8600, P8400, P7350 or T5800, up to 4 GB of memory, hard disk capacity of up to 320 GB, 1, 3-megapixel camera and DVD-recorder or Blu-ray combo drive.
Feature 15, 4-inch laptop ASUS N50 is built ionizer. Recall, MSI still on March exhibition CEBIT 2008 demonstrated the world's first laptop anionic PR620, as we see, this idea gladly picked up competitors.
Performance and functionality of the N50 provides the latest Intel Core 2 Duo T9400, T5850, P8600 or P7350, 4GB of memory, a 500 GB SATA hard drive, 2-megapixel camera, Bluetooth, Wi-Fi, DVD or Blu-ray drive.
All new items N series come with the operating system Windows Vista (Home Basic, Home Premium, Business or Ultimate), and N10 to the list and adds Windows XP.
Pricing information manufacturer did not provide.