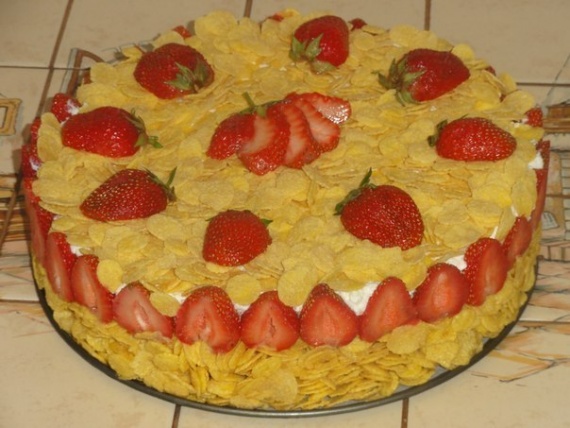 COMPOSITION:
200 GR. BUTTER
350 GR. Cornflakes
750 GR. COTTAGE CHEESE
250 GR. Smetana
1 package 20g. GELATINE
150 GR. SUGAR
1 sachet VANILLIN  
PREPARATION:
1.Slivochnomu oil let stand at room temperature for 1 hour to make it myagkim.300 c. Cornflakes mixed with livochnym with oil. RAZEMNUYU form to send parchment paper. At the bottom lay a mass of cereals and oils. gently squeeze it.
2. Soak the gelatin in 1/3 cup of the warm water and let stand 30 minutes of infusion. When gelatin swells bring to a boil, but do not boil. Stirring constantly. Allow to cool.
3.Tvorog mix with sugar, vanilla sugar and dissolved smetanoy.dobavit zhelatin.Massu put on the cake of kukurznyh flakes. Place in the refrigerator overnight. After remove the cake from the mold, sprinkle with remaining cereal and garnish with berries.
ENJOY YOUR MEAL!