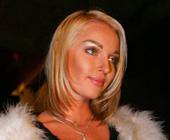 Anastasia Volochkova, who, after discord with her husband tipped the fate of the Moscow Art Theatre actress, again fell into despondency. Ballerina so masterfully portrays the victim, do not forget to get acquainted with the new oligarchs, the heart shrinks from pity. It Nastya wept everything adulterer became interested in yoga, love has passed, and pointe shoes at a crossroads: where to find a new love? Volochkova gathered courage and told LIFE.RU laid out a plan for the attainment of happiness and a new list of mental agony.
 - Now I need to do in this case, real life, rather than wait for the next incarnation - said Anastasia. - Igor is doing the opposite. Yes, he said wise things, but very deep in me an alien religion. Sometimes it seemed to me that he was under pressure. I am a Christian, and I always saved my mentor, my father Boris. I would be lost if he did not.
The lawyer Igor Vdovin surrounded Volochkova concern royal scale: chic gifts, unusual party in her honor, unearthly patience by whims. A few months after my husband traded Nastya on a yoga mat, a ballerina bored of old times.
 - I still love it, but I understand that because of this love does not work - sigh Volochkova. - I hope that Igor will return to normal life and create a new family. With me today are many plans for the future. I know that everything will be fine and I would meet her only, and I will have a wonderful family. I again face the child, and not just one. My heart is now open to love.
In that Anastasia really only meet, many colleagues are reluctant to believe in the secular shop. Said Volochkova romantic stories worthy of a separate binding. Incidentally, Nastya is actually writing a book. However, on the other.
 - Who is writing an autobiographical book, in it I will talk about the most important events in her life - says plans for the creative future Volochkova.
In addition to the book 33-year-old Nastya preparing a big tour - it will be charity events to help underprivileged children. The tour will begin in Beslan in spring there will be a master class in ballet for girls. Later Volochkova open school in these parts. Named after himself.
 - That's a lot of kids out there who need help. I also plan to open a school, but not ballet, and on the education of girls, - said Volochkova. - There are such disciplines as dance, etiquette, culture of the country that they deserve to be grown persons.
Probably thinking about education Nastya made its own experience with my mother.
 - Mom is very pressing on me. Can you imagine, I'm 33 years old, and she still controls my every step, every concert, act, word, - complains about a ballerina. - Makes her husband to come back to me ... it is very hard, I try to have my daughter with a stacked relationship.