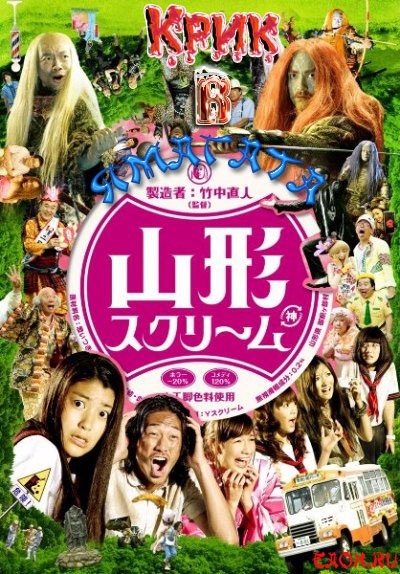 Creek in Yamagata [2009]
Yamagata Screa
Yamagata Sukurimu
山形 ス ク リ ー ム
Country; Japan
Genre: Comedy horror :)
Naoto Takenaka director / Takenaka Naoto
Duration: 106 minutes
Cast:
* Riko Narumi - Mikaё Okagaite / Mitsubue
* Akira - Santaro Ёmosuga
* Naoto Takenaka - the leader of the Red Baron / Yamazaki
* Maiko - Caique Katsu * Mirei Kiritani - Tyko Kaburagi
* Ikki Sawamura - Tsudzuranuki
* Saaya Irie - Binsukey
* Haru - Munae Hrayzen
* Yoichi Nukumizu - Yoichi Nukumidzu
* Tomoe Shinohara - Tepi
* Arata Saeki - Uruyan and other ...
Description: Together with the teacher schoolgirl go on a trip to the village Osakabe, where there is a shrine known ruler Tsuzuranuke Tadatsune that protects shizanuty barber with his grandmother. But the village manager has long been hatching plans to modernize the shrine (should have more to do with the size of stoetazhny house, etc.), in order to attract tourists ... And in that day, when we arrived the girl shrine demolished ... thereby incurring an ancient curse at all. The dead samurai rise from their graves, 800 years later, and of their master, of course, only a little later. And now everyone is waiting for revenge ... And a schoolgirl ... Tremble mortals! Will not be bored !!! Madcap comedy horror Naoto Takenaka from :) It is not only a lot of humor and references to famous film who will notice the attentive viewer, but also poignant drama about an immortal love that runs through the whole movie. ... And maybe this should tell the story quite differently: Once upon a time ... 800 years ago ...... famous ruler with his beloved Mitsubue flee from his pursuers, their blood thirsty ... He and she vowed that they would love each other forever. Tsuzuranuke Tadatsune carried a precious burden - the sacred sword. His servant Yamagata, volunteered their lives to apprehend the killers ... So then ended the story ... and continuing to the present, when the shrine was disturbed. Undying love does not stop, even after a century ...