Start Korablin "East" was made at 09:07 April 12, 1961 Moscow time from the Baikonur Cosmodrome. After completing one revolution around the Earth in 10:55:34 for 108 minutes, the ship completed a scheduled flight. At 10:48 in the overview locator electronic surveillance Engels airfield navigator Maj. M. Teplyakov in a southwesterly direction (azimuth 240 °) at an altitude of 8 km and 33 km removing fixed target. It was the lander with Yuri Gagarin on board. At 10:55 (according to Tass) not far from the route Engels - just next to the cliff opposite the village Smelovka Engels district landed CA (lander), and around 11:00 about 2 km from the CA, on the Volga River, landed Gagarin (the exact planting time is not fixed).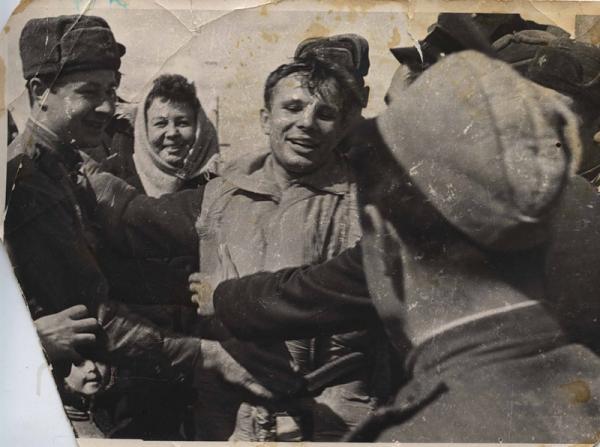 Cosmonaut number 1 call "Cedar". The first minutes of stay in Saratov ground after landing. April 12, 1961. Link
Surrounded by Yuri Gagarin military - search team, headed by the commander of a missile division, Major A. Gasiev (Division anti-aircraft missile military unit number 40218). During the meeting, Yuri Gagarin was A. Gasiev otrapartuet the successful completion of the flight. In turn, A. Gasiev tell the good news about Lieutenant Gagarin awarding the rank of major. Recalling this episode, A. Gassiyev usually joked: "It was the most rapid promotion - all for 108 minutes!" After all, as Yuri Gagarin spent in space.
At 11:15 A. Gasiev car GAZ 69 takes Yuri Gagarin in his division and will provide him with a telephone Kuibyshev (Samara). The commander of the Air Defense Division - Air Force Major General Yuri Vovk will next report Yuri Gagarin: "Please convey Air Force Commander: the task carried out, landed in a given area, feel good, no injuries and damage. Gagarin ". Photo: A. Major Yuri Gagarin Gasiev to come from the headquarters of anti-aircraft missile battalion.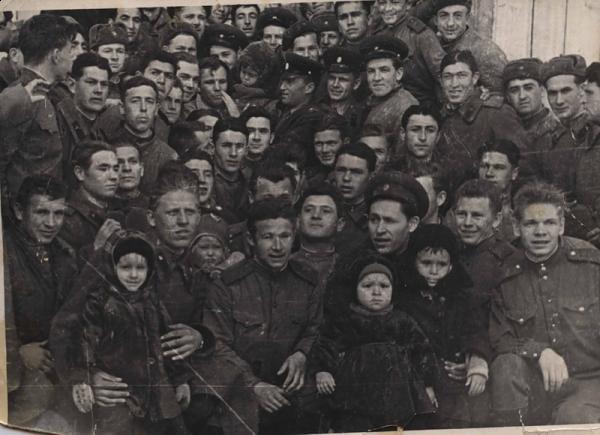 11:20 - Meeting Yuri Gagarin with the personnel division and members of military families. Found?) After five minutes Yuri Gagarin will be evacuated from the missile battalion helicopter Mi-4 on Engels airfield.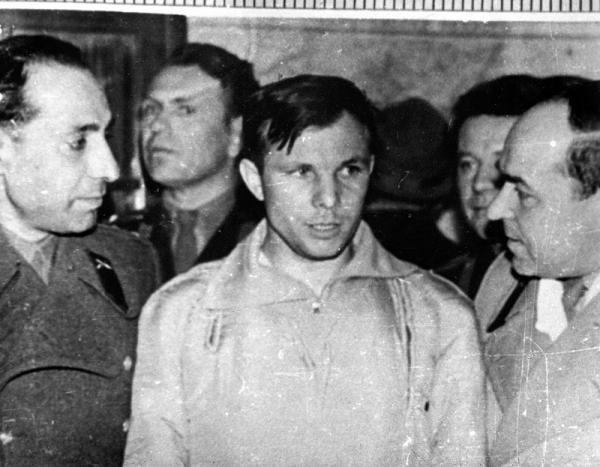 At 11:50 the helicopter with Yuri Gagarin sit on the Engels airfield, where he will meet the commander of the air group Air Force Major General S. Evgrafov with staff officers. Immediately Major Gagarin will be handed a congratulatory telegram from the Soviet Government. Photo: part of the flight, Engels, Saratov region., The right of the head of Yuri Gagarin Engels air defense missile School Smelivets G. Demian. Left Major N. Nasurlaev.