Small miracles become reality thanks to the new and unusual, but has already loved by many, kind of art - carving carving sheet or sheet (leaf carving), never ceases to amaze its subtlety and skill. There are many different kinds of thread: wood, stone, metal, ice, fruit and vegetables. But who would have thought that the fragile delicate fallen autumn leaf can be a canvas for these masterpieces.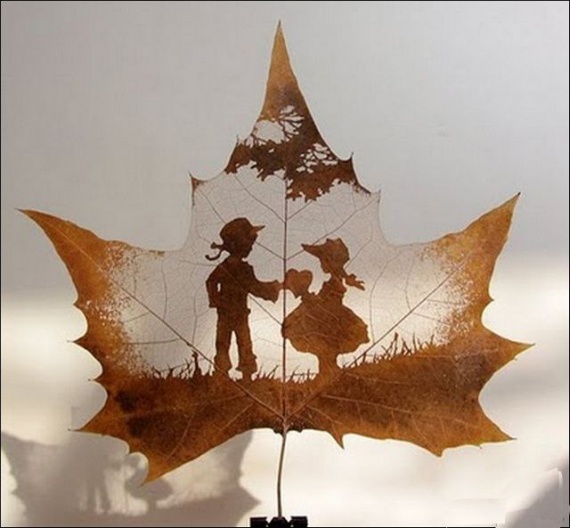 The leaves, which are applied to the image it is very similar to maple, but in fact it leaves the eastern Plane (European). Chinar - a widespread culture in India, Pakistan and China. There are also plane trees in the Caucasus and southern regions of Ukraine, so if our fellow Asian plane tree is not too different from him in the near future leaf carving master and our craftsmen.
The choice fell on sycamore leaves klenovidnye not accidental: they are different from other types of foliage more dense structure and tight streaks somewhat easier painstaking process thread. Also important is the fact that at home sheet carving in China, Chinar tree is considered lucky, bringing luck and prosperity.
The process of creating masterpieces sheet, which includes about 60 steps long and laborious. All the work is done by hand very carefully and delicately.
Imprint on the brittle autumn leaves, so clearly reminiscent of the transience and the transience of life, very different stories and moments: historical figures, prominent figures of our time, world classics, nature ....
We can only wonder and admire the beauty of nature, ingenuity and skill of the person and work of genius is born in their harmonious cooperation.