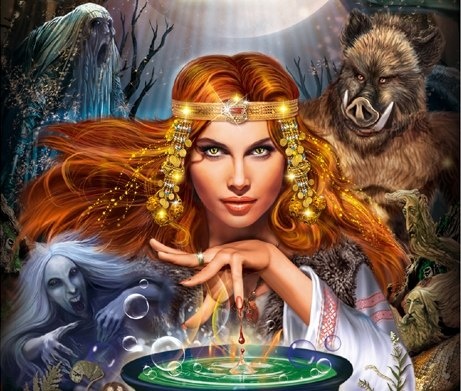 Sorcery, witchcraft, sorcery - the ability of some people to hurt or get rid of it by magic rituals, usually without the use of physical restraint that are an integral part of the life of the Slavs ...  
Ancient manuscripts, known as black magic - Volhovnik, Enchantress, Myslennik, Kolyadnitsa, Viator (book about the importance of the meetings), Voronogray (the flight of birds), Shestokryl et al., Contain information about it, indulged in by inheritance or from teacher to student. Slavs, like all other religions practiced by White and Black Magic. Magic was considered sacred by the ancient science of civilized and educated people, inseparable from religion ...
Both Magic practiced so far, but if you were previously a natural character, but now much more hidden. Magic is the science of communication with the divine, elevated Forces and management, as well as power over the forces of the lower realms, practical knowledge of the hidden mysteries of nature, because they are difficult to comprehend, not sinned against it ...
White or Natural Magic Magic contains constructive principle in relation to any living object, ie, creation, without harming anyone - ever.
Outstanding representatives of White Magic in Russia were:
DOCA - Russian name of a person, a sorcerer who can talk, that is, avert any damage and sorcery, but he is no sorcery produce can not or does not want. Comes from the value of "master" ...
Magi - Slavic magicians. Magi is synonymous with the concept of the Witch, in the literal sense of the word - guessing the water poured into the sacred chalice (goblet), equipped with a 12-month marks. Sorcery, ie, volhovanie - a reference to water (moisture vologe) which takes Magi - oblakoprogoniteli, ie, priests, managing dozhdenosnymi clouds, conjuring with water in the holy Char. There are circular charm, designed for hundreds of participants feast ...
WITCH - from the Slavic "know". Witches initially called the "wise woman" - until the day when the church decided to follow the law of Moses, who betrayed every witch or sorcerer of death. According to later Christian mythology, witches became known women who had an alliance with the devil (or other evil spirits), for the sake of gaining supernatural powers ...
There are many ways of divination, ie predicting the future, determining the present, the past, as well as other methods of using Magic:
VOSKOLEYSTVO - divination procedure using wax. Magician melts wax, adjusted to the person or the name by which the wonders pouring melted wax into the water and, considering vylivshuyusya figure for associations and similarities of the resulting shape, makes predictions ...
KLIDOMANTIYA (KLEYDOMANTIYA) - a method of divination in which the key is suspended on a string, a few inches long, wrapped around your finger so that the key could spin, swing or remain stationary. On the behavior of key determine the answers to the questions asked by myself or out loud ...