Twenty five million three hundred seventy seven thousand ninety five
If 2014 in Nizhny Novgorod is actively building housing the elite class, with 2017 the demand for such properties fell. Now buyers prefer the same number of rooms, but smaller. Therefore, new construction projects have been designed under the economical demands of investors. On https://nn.etagi.com/zastr/ there are such proposals in different districts of Nizhny Novgorod:
the most expensive apartments are located in Nizhny Novgorod and Soviet districts is the Central and the cultural part, where you always sought to move local residents and visitors;
housing at average cost can be found in Lenin and Sormovsky district, located next to the center;
inexpensive, but comfortable apartments to buy in Karwinska and PrioCom — with fully equipped infrastructure, to the centre not more than half an hour;
the least popular Avtozavodsky district, which covers industrial and suburban part of the Bottom.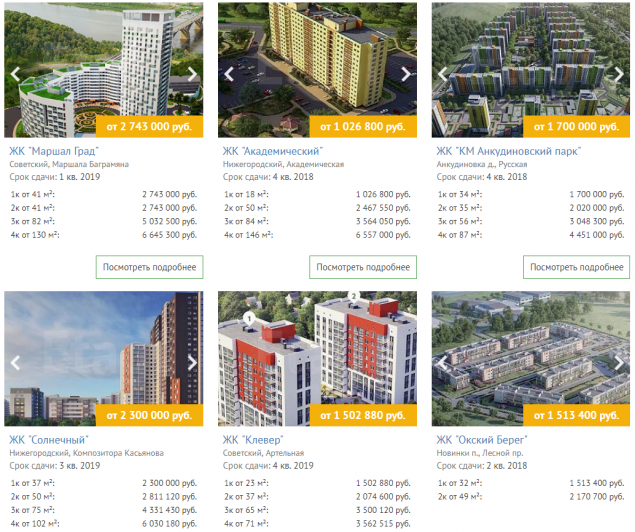 In General dimension, the prices for new housing fell and made the competition offers secondary market. Mortgage terms have also become more flexible, allowing buyers to choose the square meters in the center.
By what criteria choose a new apartment
If a couple of years ago was valued housing with a large area, it is now easier to pay for a small apartment. The developers have taken into account this trend and suggested options for new projects with standard ceilings 2,5 – 2,7 m instead of 3.0, and retained a number of rooms, reducing their area by 10 – 15%. The result is a flat economy class with these dimensions:
Studio – 35 squares instead of 46;
"kopeck piece" — is up to 50 m2 70 m2;
spacious two bedroom apartment, with 90 squares was reduced to 70 – 80 m2.
Four-room house 100 – 120 meters is rare and more available in the Central part of the city. All plan different separate rooms and the presence of balconies/loggias, even in the Studio versions.
Why apartments for sale in demand
According to the standard technology offered new housing with free planning and at the stage of rough finishing. Buyers had to spend money on the purchase of square meters, but also do construction and repair work, delaying the move.
Because now the demand for standard apartments with finishing "turnkey" also became popular. It is much nicer to get the keys and the minimum time to celebrate a housewarming party than to wait from several months to half a year while renovations are over. While owners of new homes can negotiate with the designers and immediately equip an apartment to your taste. In the end, at an affordable price in Nizhny Novgorod you can buy square footage for comfortable living for the whole family.