Screed – a layer of concrete, which is placed over the insulating layer when installing a warm floor. Equipping the screed should be to choose its thickness: if it is too large, it will adversely affect heat transfer. And insufficient thickness will result in cracking and punching shear of the floor covering.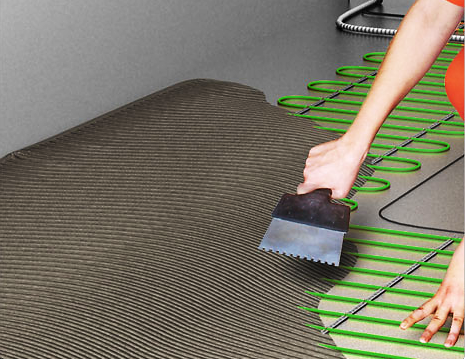 Rules of installation
Often warm floor mounted on the old base. The top is laid a layer of insulation. This rule is true if the arrangement of electric and hydraulic floor heating. Next, fit the piping or cabling. And at the end of the installed screed with a thickness of 3 to 5 cm this allows you to achieve rapid heating and to avoid alternating warm and cold zones. If installation conditions do not allow the screed of the desired thickness, it is necessary to add to the solution a universal plasticizer.
Important: when installing a warm floor in the coupler, it is necessary to note that the piping and electrical cables is relatively soft materials. To increase the reliability of the system, it is recommended to make holes in each m2, and to leave a free strip of 10 – 15 cm between the insulation and Underfloor heating. Another option 1 is to use self-leveling mixture (this will allow to increase the stability of the Foundation to loads).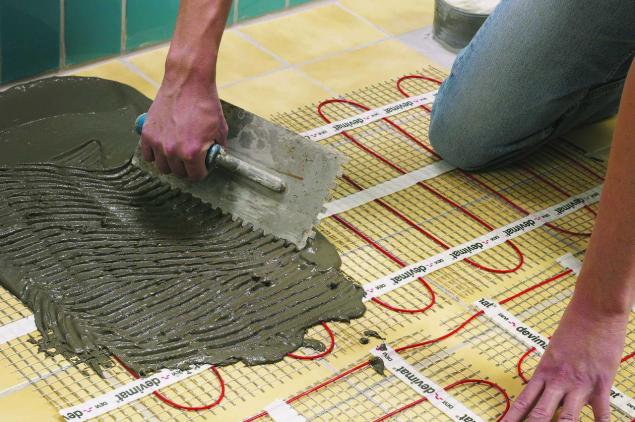 Step by step instructions
Installation of floor heating under the plate is performed in several stages:
On top of the rough screed falls insulation. Recommend to fix it by adhesive tape, glue and dowels.
Fit reinforced mesh. It not only improves rigidity, but also simplifies the layout when laying pipes, cables. As a heater, wire mesh is attached to the base.
Installation of damping tape. It helps reduce the coefficient of thermal expansion and improves thermal and sound insulation properties of the system.
On top of the damping strips, the elements are set Underfloor heating and connect to the coolant.
On top of pipelines and cables laid another layer of screed.
When the solution dries up, you can install the finish flooring.
Important: check the system is not within 45 days after installation – how much time required for complete curing of the concrete. If you turn there will be any problems, the zip tie will break, to fix the problem and pour again. Of course, this will lead to additional costs. To avoid them, it is recommended to purchase a set of warm floors from trusted manufacturers and order the installation from qualified professionals.